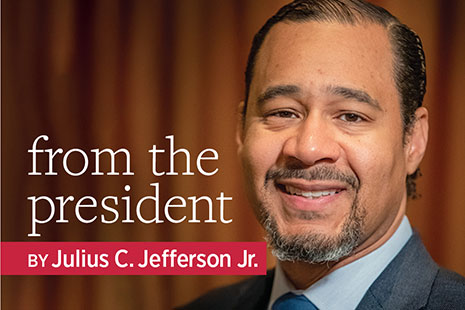 Are library professionals making our communities stronger? Are we addressing inequities, disparities, and racism? Are we making a difference? These are questions I ask myself every day as your president amid a deadly crisis and heightened racial violence.
I am beginning to see the light at the end of a dark COVID-19 tunnel. Many of us have been vaccinated or will be soon—a critical step toward healing all the communities hit by the global pandemic.
Another ray of light came on March 11, when the American Rescue Plan Act of 2021 was signed into law. The legislation provides $200 million to the Institute of Library and Museum Services, the largest single increase in its 25-year history. The package also contains billions for academic, public, and school library–eligible programs, including the new $7.2 billion Emergency Connectivity Fund. Administered through the Federal Communications Commission's E-Rate program, the fund will enable schools and libraries to provide devices and broadband internet to students, school staff, and patrons during the pandemic.
We celebrate the many advocates who worked with ALA's Public Policy and Advocacy team to secure this funding for libraries. You are making a difference.
I am also seeing signs of hope with growing attention to systemic racism and efforts to address it. During ALA Midwinter Virtual in January, we took another step toward the light in several timely sessions. One such session, "Disrupting Microaggressions: Engaging in Effective Actions," at which I spoke, addressed how to intervene when microaggressions take place, particularly in ways that maintain relationships with patrons and colleagues. Additionally, we explored how library workers may perpetuate or become targets of microaggressions. It was a preview of what a reenvisioned Midwinter Meeting could be. As we anticipate our 2022 LibLearnX event in San Antonio, look for a new schedule of interactive and topical programs that can make a difference in your life and library.
More imminently, Annual Conference Virtual takes place June 23–29, where I will have the privilege of presiding over ALA Council one last time as we deliberate resolutions from the Forward Together Resolutions Group. The group will propose ways to improve our governing structure, making our Association more nimble, responsive, and modern. Council will discuss these resolutions before they go to membership for a final vote in spring 2022. Join us in making a difference.
Over the past year, everything has changed. And yet in some ways, nothing has changed. Social and economic disparities and inequality continue. Libraries have demonstrated why they are trusted and valued institutions, and we now have the funding we need to rebuild better.
We must focus on staying connected and advocating for policies that ensure we all have equitable access to knowledge and information, as well as equal protection under the law.
The future of libraries must be inclusive and continue to convey the importance of knowledge and facts. Libraries must also level the playing field by helping patrons navigate information, technology, and social media. The role of the library worker as knowledge navigator—a provider of access to accurate, relevant, and authoritative content to diverse communities seeking information—will be key to the success of our democracy. In the future, library workers must position ourselves as activists, building and supporting inclusive, healthy communities.
As members of ALA, we are making a difference in our communities. Together, we will be the difference that our country needs.