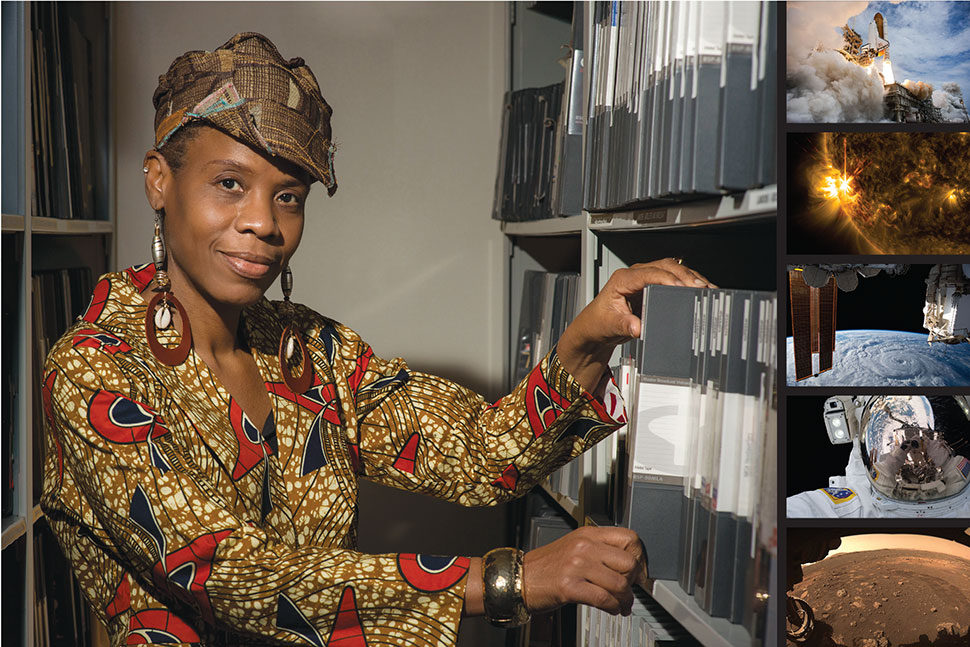 Most librarians don't work with astronauts or watch space shuttle launches, but it's all in a day's work for Sheva Moore.
A video librarian and researcher at Mary W. Jackson NASA Headquarters in Washington, D.C., Moore provides materials from the onsite video, photo, and audio collection to production companies, TV networks, advertisers, and private citizens with an interest in space and NASA. She also helps produce NASA's social media content, segments for NASA TV, and science and mission briefings.
NASA has video collections across the US, including at Johnson Space Center in Houston and Langley Research Center in Hampton, Virginia. Materials at NASA headquarters focus primarily on the International Space Station, unmanned missions, planet exploration, and space flight. Moore says she is drawn to the humanity captured in the footage.
"I really appreciate the stories about the people and their journeys to accomplish their achievements," she says. One such story is that of the Black women who worked at NASA in the 1960s, which became the basis for the book Hidden Figures and the film of the same name. Moore helped provide footage for the film and received a screen credit for her work. It was a career highlight, she notes.
"As an African-American woman, being a part of that project had so much cultural relevance," she says. "It was inspiring to be able to recognize the untold contributions of Katherine Johnson, Mary W. Jackson, Dorothy Vaughan, and so many Black women who helped advance science and technology in the US space program while having to contend with racism and sexism."