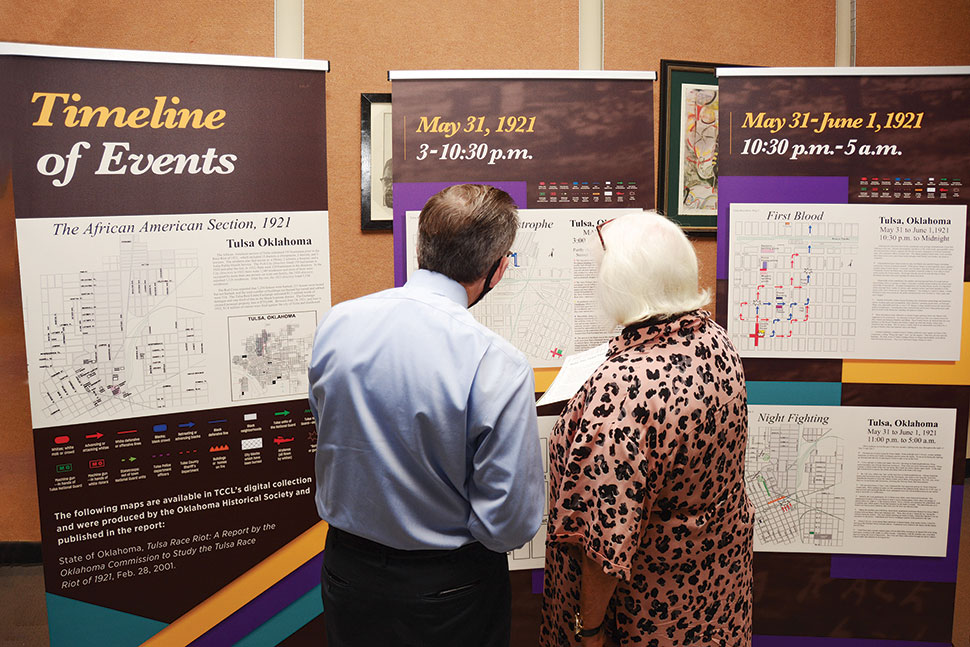 In the years after World War I, an affluent African-American community flourished in the Greenwood district of oil-rich Tulsa, Oklahoma, an area that came to be known as Black Wall Street. Then, in late May and early June 1921, racial tensions erupted and violent white mobs—spurred by a murky allegation of sexual assault—destroyed thousands of Black-owned homes and businesses. A 2001 commission confirmed a death toll of 39 (though local officials estimate as many as 300 people were killed), making it one of the deadliest single incidents of racist violence in US history, though for years the event was seemingly erased from news and historical accounts. Tulsa City–County Library (TCCL) commemorated the 2021 centennial of the massacre with an immersive exhibit and educational programming, with the goal of keeping the memory alive.
As the 100th anniversary of the devastating 1921 Tulsa race massacre approached and our library looked for ways to educate the community about a significant piece of our city's past, we had a disturbing realization: Many of our patrons, even those native to Tulsa, knew little to nothing about it. Decades of whitewashed reports and unacknowledged losses added up to a serious gap in how we understand our local and national history.
In the past, TCCL has invited the community to explore difficult topics related to historical or current events through interactive programs, panels, and in-depth resources. For decades researchers have used historical documents (telephone directories, newspapers, maps, photographs, oral histories, and more) from our African-American Resource Center at Rudisill Regional Library and the research center at Central Library to study the Tulsa race massacre. So in 2020, when local organizations were gearing up for the centennial, TCCL was already looking for ways to make this information accessible to multiple age groups.
Between February and May of this year, our library system promoted education, empathy, and healing around this long-buried piece of local history through more than a dozen virtual programs (featuring authors Robin DiAngelo, Mira Jacob, Hannibal B. Johnson, Clifton Taulbert, and others), educational take-home activity kits for youth and educators, and an in-person exhibit at Rudisill Regional Library. Through the exhibit "TCCL Remembers," we sought to foster education about the massacre by making free materials available and engaging to children and adults; build empathy by encouraging audiences to reflect on the human cost of institutionalized racism; and promote healing by sharing survivors' stories.
The goal was not only to ensure the facts of the atrocity were never again buried or forgotten but also to help normalize and encourage open conversations about difficult topics.
The exhibit and program series helped participants understand how and why the massacre happened, inspiring reflection on the racial and political conditions leading up to and following the event. The goal was not only to ensure the facts of the atrocity were never again buried or forgotten but also to help normalize and encourage open conversations about difficult topics. Our virtual events engaged more than 1,300 viewers, and the in-person exhibit received more than 3,000 visitors during its six-week run.
TCCL has always housed special collections and offered equity-focused programs, but the scale of the centennial commemoration efforts was unprecedented. We were fortunate to receive a grant from the 1921 Tulsa Race Massacre Centennial Commission, made possible by WPX Energy, and we benefited from multiple community partnerships. The Greenwood Art Project cosponsored an inscription of a poem honoring the victims of the massacre on the stairs leading into Rudisill Regional Library. The Tulsa Library Trust helped fund our events, and Friends of the Tulsa City–County Libraries helped with programming and general support.
As libraries, we have an innate stake in historical preservation. We offer common ground for different perspectives to meet and converse and the expertise to connect resources and shape programs that address sensitive and profound topics. Is there a sensitive topic in your community's history you wish to probe? We advise that you plan ahead, include diverse stakeholders as early as possible, and know your over-arching goal. Move forward with humility and flexibility as potential partners and perspectives come forward. Consider all opportunities that could help bring your community together for education, empathy, and healing.
Public libraries can serve their communities by offering programming and outreach that confront difficult topics like violent racial history. These confrontations are tricky to navigate, and challenges will certainly arise. The best you can do is research, facilitate, and be confident in how vital these conversations are.