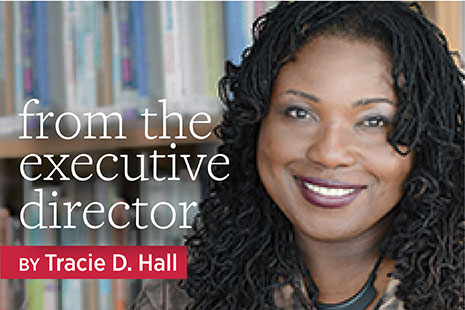 In an era when our access to education, employment, and public health—our primary quality of life indicators—is increasingly predicated on digital access, libraries are and must be deeply invested in ensuring the greatest level of connectivity for users.
This is a critical area of focus for the American Library Association (ALA) and for the LIS community at large. This past year exposed digital access barriers such as expensive and low-quality broadband, the ongoing paucity of technology in the lowest-income households, and the overlap of limited reading skills and limited digital literacy. Left unchecked, any of these barriers can impede socioeconomic mobility and agency for individuals and communities.
While expanding connectivity must continue to be a foundation of our work, we must also expand connectedness to and within our institutions.
In the organizational sense, connectedness is nurtured by prioritizing relationships, creating a culture of transparency (where successes and mistakes are opportunities for growth and learning), and developing a culture of trust that emphasizes collaboration, not competition.
At the individual level, a high degree of social connection improves physical health and emotional well-being, increasing the chance of living longer than average by 50%, according to research interpreted by Stanford University wellness expert Emma Seppälä. At the institutional level, this translates to recognizing and taking responsibility for the potential impact (or lack thereof) of the systems and operational cultures we create.
Activist and author Grace Lee Boggs reflected in her 2011 book The Next American Revolution that our long-term effect on people and systems often occurs because of small actions and activities "through the invisible fabric of our connectedness." Citing what author Margaret Wheatley calls "this exquisitely connected world," Boggs reminds us that "the real engine of change is never critical mass; dramatic and systemic change always begins with critical connections."
This desire to forge deeper connectedness to the libraries, practitioners, and users that rely on ALA's advocacy and technical assistance inspired us to create several new tools and resources:
The desire to build connectedness within ALA has resulted in the development of 20 new cross-functional teams on such topics as mentorship, customer service, professional development, and equity, diversity, and inclusion. Their aim is to increase synergy between our programs and services and break down organizational silos that impede the flow of knowledge and communication. By the end of 2022, every ALA staff member will be assigned to one of these teams.
Though connectedness is critical to ensuring that libraries and other information providers remain relevant and resonant, connectedness as a construct has an even larger aim: belonging.
As Boggs asserted, "I've come to believe that you cannot change any society unless you take responsibility for it, unless you see yourself as belonging to it and responsible for changing it."
My next column will be about this connection between belonging and change management.