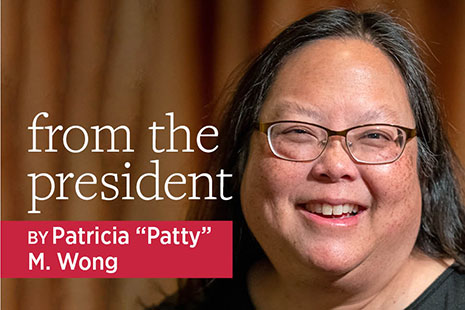 Strong school libraries and certified school librarians play an essential role in student learning. And for decades, school librarians, teachers, parents, and students have advocated their importance to school board members, as well as to local, state, and national lawmakers. Nevertheless, positions for school librarians have declined.
A study from 2021 shows that the number of school librarians in the US decreased from 52,545 in 2009 to 42,279 in 2019—a 19.5% drop. The investigators went on to note that school librarians were most likely to be absent in rural and Hispanic districts, as well as in districts with poor and minority students.
Like many of you, I am a staunch advocate for school librarians. I began my career in youth services in public libraries, so I know how essential librarians are to academic success. That's why, despite the headlines, I'm hopeful. In fact, recent advocacy victories in Washington, D.C., and Boston show what is possible when communities come together around this important issue.
Later this year, District of Columbia Public Schools could require all schools in their system, regardless of size, to have a librarian on staff. This hard-won milestone comes more than a decade after the district cut funding for librarians in schools with fewer than 300 students. And it comes three years after principals were permitted in 2019 to take funding meant for librarians to close budget gaps or fill other staff positions.
By August 2021, after strategic organized support among the city's school librarians and allies, D.C.'s city council introduced a budget amendment to allocate $3.25 million to ensure all schools have a librarian on staff. The amendment would return librarians to 36 schools, nearly half of them in predominantly Black neighborhoods.
The amendment passed, but funding was assured only for fiscal year 2022. To ensure continuity, the D.C. Council introduced the Students' Right to Read Amendment Act of 2021 in October. If passed, the act would require all D.C. public schools to have librarians.
Meanwhile in Massachusetts, a legislative commission in 2018 released the results of its study of the state's library programs that showed numerous inequities in school libraries. It found that many libraries were closed in urban districts and that rural and urban districts had limited computer access. The urban-suburban divide is especially stark: During the 2019–2020 school year, Boston had one full-time librarian for every 6,700 students, while the nearby wealthier city of Cambridge had one for every 295 students.
A 2021 survey found that 40% of public schools in Boston don't have a functioning library in their buildings. So, advocates were delighted when the Boston School Committee—the governing body of Boston Public Schools (BPS)—approved in October the BPS Library Services Strategic Plan to phase in librarians for almost all BPS schools by 2026. On March 23, the committee approved BPS's $1.3 billion budget, which includes $3.6 million for 33 full-time librarians.
Still, there are challenges. With news that Boston's school superintendent will step down at the end of the school year, some worry a new administrator may have different plans for the funds.
Successful efforts in Washington, D.C., and Boston serve as beacons of hope for those working hard to bring librarians back to schools. Both ALA and the American Association of School Librarians have advocacy tools in place to help you start—or continue—to advocate for school librarians in your district, town, city, or state. Your voices are being heard. Keep raising them.