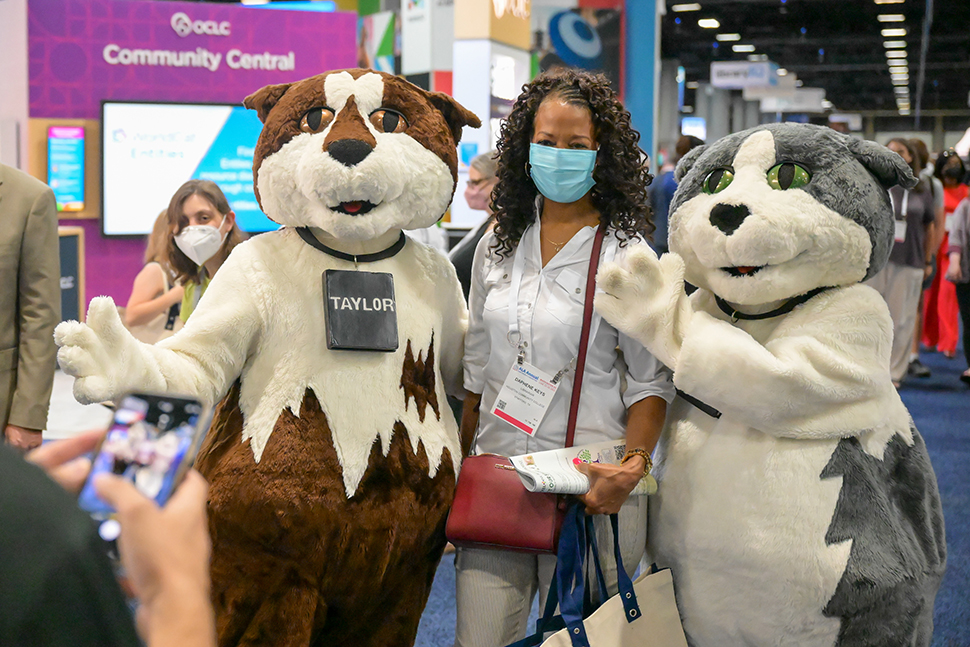 The American Library Association's (ALA) 2022 Annual Conference and Exhibition returned to Washington, D.C., June 23–28, and the mood in the exhibit hall was only slightly subdued compared with previous in-person conferences. This year's attendance of just over 14,000 people—though well below the 21,000 reported in 2019 in the same venue—was strong considering the ongoing pandemic. The Friday night opening of the Library Marketplace seemed frenetic, as usual.
ALA mandated COVID-19 vaccinations and face masks for conference attendees, which lent some confidence for personal interactions on the exhibit floor. While some vendors noted lighter traffic than in past years, there appeared to be a sense of appreciation for the return of a live marketplace—and a consensus that virtual conferences have not been able to create the exposure and networking opportunities that connect vendors with current and potential clients.
The theme of equity, diversity, and inclusion was prevalent across many products and services. On the business front, a hot topic was vendor consolidation, epitomized by the acquisition of ProQuest by Clarivate and the recent lawsuit OCLC has filed against Clarivate.
An emphasis on books
As in previous years, book vendors—ranging from boutique presses to international conglomerates—attracted the most attention in the exhibit hall. Publisher aisles were packed, with attendees lining up for author signatures and clamoring for advance copies of new titles, posters, and other reading-related giveaways. In addition to eight stages dedicated to book talks, the Live from the 25 podcast booth featured live author interviews.
Nearby, vendors promoted many products and services to help libraries manage their inventories of books. Companies including D-Tech, Lyngsoe Systems, mk Solutions, and Tech Logic demonstrated equipment for sorting, self-service, and logistical support geared to public libraries looking for efficient and affordable solutions for busy circulation operations. FE Technologies presented its Anytime Library, a standalone dispenser that allows borrowers to check out and return materials, while EnvisionWare demonstrated its 24-Hour Library, a self-service, offsite vending machine that allows patrons to place or pick up holds. International Library Services, which specializes in outreach kiosks, showed off its new AutoLend Library, a versatile standalone device for self-service borrowing, returns, and pickup.
Baker & Taylor, once again an independent company following its separation from Follett Corporation in 2021, continues to be a major distributor of library materials through its Title Source 360 ordering system. The organization highlighted related services, such as its new BTCat cataloging platform; its suite of Academic Services, including its digital content platform Axis 360; and its Diversity, Equity, and Inclusion Analysis tool.
BetterWorldBooks has partnered with the Internet Archive to offer services for libraries wanting to responsibly dispose of books weeded from their collections. Iron Mountain presented services for libraries that require collection relocation or outsourced storage of physical materials.
Ebooks were also top of mind as the pandemic has driven usage of digital offerings. OverDrive, the leading provider in this market, featured its "Access for All" initiative, which aims to reduce barriers to content for underserved populations. Bibliotheca continues to bridge print and digital formats with its cloudLibrary platform and focus on self-service, sorting, and unattended library services. Midwest Tape's booth featured hoopla, its streaming service for digital audiobooks, ebooks, music, and video.
Big business reigns
The super-sized library vendors, with their towering and well-staffed booths, were the landmarks of the Library Marketplace. Many of these companies make large financial contributions to ALA, the conference, and its programs.
The scholarly publishing sector was represented by major companies including Elsevier, Sage Publications, Springer Nature, and Wiley. Each demonstrated the advantages of its delivery platforms and analytics tools to measure the impact of authors, articles, and journals. These businesses continue to expand and diversify into new product and service areas—not just within the library technology industry but also in the broader research and scholarly communications space.
Gale highlighted its training and education programs offered through public libraries, such as its online diploma program Gale Presents: Excel Adult High School. For academic libraries, the company showed how its multidisciplinary collections of primary source materials are now complemented by the Gale Digital Scholar Lab, a turnkey platform for humanities research.
ProQuest's booth reflected its expansion and new ownership by Clarivate. In addition to ProQuest content and workflow products, the company now subsumes the offerings of Ex Libris and Innovative Interfaces. Ex Libris showed its flagship Alma library services platform, Leganto course list manager, Esploro research services solution, and Rapido and RapidILL resource sharing products. Innovative's Sierra and Polaris integrated library system (ILS) products were on display, though the focus was on Vega LX, a suite of components for patron discovery and engagement.
EBSCO Information Services emphasized its offerings for EBSCO FOLIO, an open source library services platform, in addition to its core products EBSCO Discovery Services and research platform EBSCOhost.
At the OCLC booth, staffers offered a busy slate of programs and demonstrations for its cataloging and resource sharing services, as well as OCLC Wise, a user-centered platform for public libraries, and WorldShare Management Services, a library services platform used mostly by academic libraries. The organization previewed its new interface for WorldCat.
A focus on the ILS
SirsiDynix featured its Symphony ILS and its growing suite of BLUEcloud applications, which offer modern, web-based interfaces for staff and patron services. Special attention was given to CloudSource OA, a new discovery and resource management subscription for open access content.
The Library Corporation continues as a mainstay of the conference and demonstrated its Library•Solution and CARL•X ILS platforms. LibLime showed off its Bibliovation ILS, which is now compliant with FedRAMP (the Federal Risk and Authorization Management Program) through its Amazon-based hosting services.
On the open source front, ByWater Solutions presented its services for the Koha ILS, Aspen Discovery, and the Libki reservation system for computers and other equipment. Index Data staffers were on hand to talk about their services for open source platforms FOLIO and ReShare, as well as other community-based projects.
Among the smaller booths demonstrating ILS products, TIND, a spin-off of CERN, shared information on its cloud-based TIND ILS as well as its institutional repository, research data management, and digital archive offerings. Simplicity, an ILS from new company Millonex, saw its debut at the conference. Simplicity features modern interfaces for mobile and desktop devices.
The Media Flex booth featured the open source OPALS ILS used by schools and other small libraries. Similarly, Book Systems demonstrated its Atriuum ILS for small-to-midsize school and public libraries. Insignia Software showed its ILS and discovery interfaces geared for school and public libraries, as well as its digital asset manager.
Enhancing patron experience
BiblioCommons demonstrated an array of patron-facing services, including its BiblioCore discovery interface, BiblioWeb platform for website building, and BiblioEmail marketing tool. BiblioCommons products integrate with all major ILSes used by public libraries.
Communico brought a trailer-sized "tiny library" to the exhibit floor to highlight its suite of patron-facing components oriented primarily to public libraries. These included Create (a website builder), Attend (an event management tool), Reserve (a module for scheduling rooms and equipment), and Broadcast (a digital signage solution). Also specializing in patron-facing interfaces for public libraries, Library Market showed off its LibraryWebsite, LibraryCalendar, and LibraryBrand, a marketing tool with a focus on customized branding.
While some vendors noted lighter traffic than in past years, there appeared to be a sense of appreciation for the return of a live marketplace.
SOLUS showcased its Library App, a mobile-friendly interface for catalogs and websites. Multiple ILS vendors have partnered with the company, which, most notably, has created a comprehensive digital presence for The Libraries Consortium, a 23-member, London-area organization.
Springshare showed its ever-expanding portfolio of tools and technologies, including the widely popular LibGuides, LibGuides CMS, LibAnswers, LibCal, and LibConnect, the company's newest offering for customer relationship management.
Plug-ins, analytics, and cataloging

The exhibition included an array of vendors promoting niche technologies. Atlas Systems highlighted its popular platforms ILLiad (for managing interlibrary loan requests) and Aeon (for requests, fulfillment, and tracking items in special collections). OpenAthens, an authentication and access management service, showed how its product can connect with SAML (Security Assertion Markup Language) sources and simplify remote access. StackMap, a digital mapping and wayfinding tool, enables libraries to visually map locations of items found in the catalog and integrates with any ILS.
Booths also featured products and services focused on data and analytics. LibraryIQ, a sister company of Library Systems & Services, provides a comprehensive analytics package that aggregates data from different sources into a single dashboard. Counting Opinions helps libraries collect, store, and analyze operational data and easily create reports and visualizations.
On the cataloging side, companies including Backstage Library Works and MARCIVE presented information to help libraries with projects related to their MARC bibliographic databases.
A hub for learning
Another subset of marketplace products focused on the library as a nexus for education and skill-building. Mango Languages, as in previous years, assembled a prominent booth to feature its language-learning programs and apps that can be made available through libraries and related organizations. Brainfuse featured its HelpNow online learning environment, which provides tutoring and homework help for a wide range of subjects.
Library Ideas demonstrated its suite of content and learning services, including Freegal Music, Rocket Languages, iVOX (an immersive storytelling tool), and Freading (an ebooks platform). The Evolve Project, an organization that works with libraries to conceive makerspaces, helped organize the Tech Test Pilot Playground, a section of the exhibit floor for attendees to try out gadgets and learning toys or complete a make-and-take project.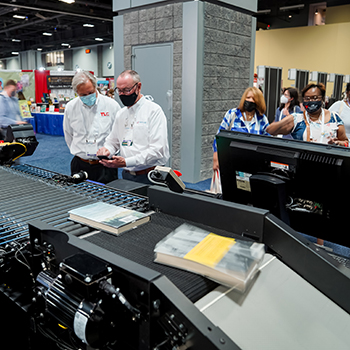 Google's digital upskilling arm, Grow with Google, offered information on how libraries and nonprofits can freely access the company's training resources to help community members with career advancement and small business development. The popular NASA booth featured short videos and presentations about selected space expeditions and related findings and research. And the Library of Congress booth highlighted its unique collections and programs; during the conference, LC held offsite open-house events, giving attendees a rare opportunity to see behind-the-scenes operations.
The Mobile App Pavilion gave developers a chance to show off their library- and literacy-related apps. Nonprofit service Sourcery helps researchers gain access to articles not available online. The mobile app developed by Little Free Library allows individuals and organizations to register their Little Free Library and find others nearby. Mobile apps were by no means confined to the pavilion, as they are mostly seen as a mandatory feature of any product or service these days.
Curating the future
Coherent Digital, a company founded in 2019, presented its expanding set of collections that curate, index, and organize "wild" content that is available on the web but may not be readily available for researchers. For example, its Policy Commons database includes 3.2 million documents from research centers, think tanks, and nongovernmental organizations.
Nonprofit LYRASIS presented its ongoing services related to open source projects, along with its recently launched Palace Project, a collaboration with the Digital Public Library of America that offers a library-centered e-content platform and marketplace designed to simplify user access to digital materials.
The Library Marketplace at ALA's Annual Conference continues to be the largest and most comprehensive opportunity for libraries to learn about the products and services available to them and meet the experts and entrepreneurs behind these innovations. While this roundup represents the range and variety of what was featured, it naturally omits many interesting and important organizations that participated in this year's event.