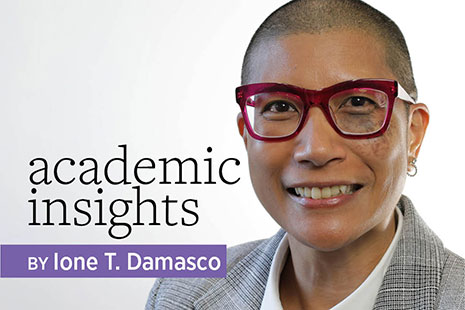 Over the last couple of years, my newsfeeds have been filled with stories of school boards and state legislatures trying to ban books and curtail curricula that openly discuss issues of race, gender, and sexual identity.
These incidents make it more critical than ever that we examine how we center whiteness in our culture—and especially in our workplaces—in ways that erase and exclude certain groups of people. Academic libraries can start by examining how white supremacy culture is embedded in our work environments.
Author and racial equity trainer Tema Okun identifies specific characteristics of this culture that show up in organizations that uphold oppressive systems, perpetuate harm, and produce exclusionary outcomes. A few characteristics I would like to highlight are a sense of urgency, "either/or" thinking, overworking as an unstated norm, and a fear of conflict.
How can a sense of urgency be exclusionary? Consider what happens, for example, when a project with a tight deadline comes along, and only two choices are offered on how to proceed. Who presents those options, and who gets to make the decision? Are we failing to create timelines that allow for flexibility and adaptability? Are we inviting alternative approaches or regularly excluding people with marginalized identities because of time constraints?
Libraries can also demonstrate a tendency toward "either/or" rather than "both/and" thinking, which can lead to the oversimplification of complex issues. For instance, your library might host a film screening that is inclusive because the film is centered on the experiences of a specific underserved community, but it may also be exclusive because the film does not have closed captions that allow people with hearing disabilities to enjoy it. The opportunity to be truly inclusive was missed because of an oversimplified idea—that if a film is about diversity, then the event promotes diversity.
Consider these questions: Is there an unstated expectation that everyone takes on more work than is in their official job description? Are people regularly putting in extra unpaid time outside of work to complete tasks? Is "diversity work" assigned more often to employees with marginalized identities? How is conflict handled? Are people discouraged from challenging policies, processes, or other people's harmful behaviors in the name of politeness or civility? The answers can illuminate how your workplace norms have created an environment that feels hostile or unwelcoming, making it difficult to challenge the status quo.
Here are some things to start doing: Set realistic timelines. Give everyone the space to address issues as they happen. Encourage alternative approaches when "either/or" language surfaces in decision making. Resist oversimplification of complex issues and cultivate critical inquiry. Ensure everyone has access to the same information and is given time to process it. Create an environment where anyone can raise questions around a decision or policy without fear of retaliation. Accept that discomfort is a natural byproduct of the learning process.
Actions are important, but so is naming why those actions are resisting historical practices of exclusion. It is not enough to say we will slow down; we should also say why we are slowing down. As we unpack our practices and policies, we should monitor whether we are centering some people's emotional, psychological, and physical comfort over others'.
We often operate with an unconscious mindset that uses the term professional as coded language for specific ways of dressing, speaking, writing, feeling, and thinking that privilege white, cisgender, heterosexual, nondisabled, and upper-income class experiences over those of other people. We need to transform the culture of our workplaces to ensure every person's humanity is recognized and centered and to integrate diverse ways of knowing and being into the very core of our libraries.