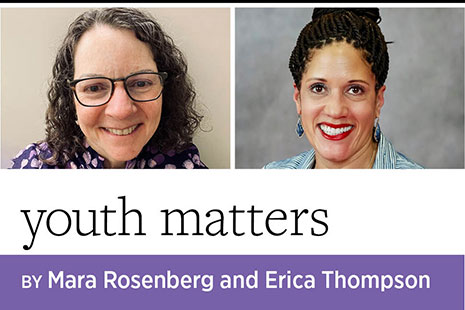 Citywide and institution-wide book clubs have long been used to unify communities around literacy. In 2016, staffers at our school, St. Patrick's Episcopal Day School in Washington, D.C., wondered if a book-of-the-month program would do the same for our K–5 division. Could a one-book initiative engage students and enrich our program?
We envisioned a club where students, teachers, and caregivers could share a common experience around literature. But it was also important that book selections modeled positive behaviors that align with our school values and fostered conversations around social-emotional learning and equity, diversity, inclusion, and social justice (EDISJ).
To bring our community together, we turned to picture books. Picture books are highly effective as schoolwide titles; they are short enough for readers to get through a new title each month but still cover a range of topics written at different levels. The books are read aloud in homerooms and advisories, and many are shared again during chapel services.
We piloted our Book of the Month program with grades K–3 during the 2016–2017 school year. Teachers in grades 4–5 became interested in how the books were promoting critical thinking and joined in. By the 2021–2022 school year, we expanded the initiative to include students in nursery through 8th grade.
Initially, instructors in grades 7–8 appeared skeptical, as they hadn't previously used picture books in their teaching. But the writings of educators Jillian Heise and Pernille Ripp, which show the value of using picture books to strengthen visual thinking and discuss complete and complex texts, reassured us that this medium would be successful. With older readers, for instance, we can ask "What is this book really about?"
Some of the titles we have selected throughout the years include Norman Didn't Do It! (Yes, He Did) by Ryan T. Higgins, Alma and How She Got Her Name by Juana Martinez-Neal, Milo Imagines the World by Matt de la Peña, and After the Fall (How Humpty Dumpty Got Back Up Again) by Dan Santat. The books have allowed us to delve into topics such as identity, gender bias, food insecurity, religious tolerance, and socioeconomics. Students often tell us they appreciate how the selections give them an opportunity to connect with other cultures.
It was important that book selections modeled positive behaviors that align with school values.
As the program has progressed, we have formalized the selection process. Erica initially picked the books with input from the school library team. For the 2021–2022 school year, we used a grant from our parents' association to invite teachers and administrators to select titles over the summer that met curricular goals and covered a range of developmental needs. Since then, a smaller group of librarians, EDISJ professionals, school counselors, and our director of teaching has chosen the books.
A selection committee ensures that a variety of artistic styles and identities—among authors, illustrators, and characters—are represented across titles. It also identifies behaviors and habits, such as empathy, agency, and resilience, that we want students to emulate. The books that have been the most influential are the ones in which students see the importance of the message in their daily lives.
To facilitate conversations about these books, Erica and our counselors created slides for teachers and advisors to use. Instructors can tailor the depth and sophistication of their discussions to fit their grade or classroom.
We use the phrase exceptional literacy to describe the core of our curriculum. Our Book of the Month program has strengthened this foundation while supporting our students' social-emotional growth and upholding our strong sense of community.
If your school or library is interested in launching a similar book-of-the-month program, we recommend starting small. Gather a group of colleagues to plan your idea before presenting it to administrators. Try committing to just a few books the first year. We have developed resources to help you get started.