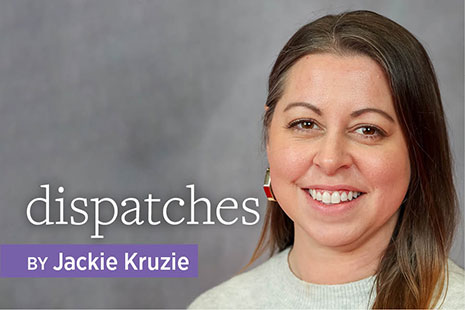 When my daughter Gracie was diagnosed with autism, we were advised to seek speech and other forms of therapy to help aid her development. When she was 7 years old, her speech pathologist recommended aided augmentative and alternative communication (AAC).
An estimated 4 million Americans cannot communicate using speech and rely on other forms of communication like AAC. These modalities may include gestures, sounds, written communication, pictures, photographs, body language, sign language, communication boards, and speech-generating technology devices.
For my daughter, we chose to purchase a small tablet and designate it as her talker, a common term used to describe personal AAC devices. For others, their talker may be a cellphone, laptop, or other multiuse device.
As librarians, we understand the importance of access to information for all individuals. When considering the services I wish my child would receive, I came up with a four-step approach I call the PASS Approach. PASS is short for patience, attention, speak, and support.
Patience. This is paramount when assisting a patron who uses a speech-generating device. While my daughter's AAC device is user-friendly and simple enough for a young child to navigate, it still takes time to select separate buttons and compose a sentence. Talkers are designed to announce each symbol pressed. A user must then press a go button before each selected item is read consecutively as a sentence. Remember to wait for them to hit go before responding. An AAC program allows only one sentence to be created at a time.
Attention. An interaction with a patron who uses a talker will take longer than average. Knowing and accepting that from the beginning will help library staffers provide the proper level of attention to ensure the patron is able to effectively communicate and access what they need.
Speak. Many people who use a talker will have a caregiver or aide who accompanies them. This does not mean the person using the AAC device is incapable of having a one-on-one conversation. When they use their devices to address you, address them back. Speak to them as you would anyone. They will pick up on your tone, body language, and capability to address them as an equal. If it's necessary to address the caregiver for clarification, immediately return your attention to the person operating the device. Don't cut them out of the conversation by addressing only the caregiver. Never speak about the patron to their caregiver as if they're not present.
Support. This is the most important step for libraries and library workers. It's imperative that directors, supervisors, and staff all support the PASS Approach. When you notice a colleague engaged with someone using a talker, understand that they may be assisting that patron for quite some time. I was once told that my job is to direct the patron to what they need and move on. Exceptions must be made for those with communication issues. Staff and supervisors should support one another and allow ample time to spend with the patron even if that means a daily task is delayed.
Patience is paramount when assisting a patron who uses a speech-generating device.
Sometimes, unique opportunities to provide support present themselves. One scorching day my daughter's speech pathologist called, needing to cancel my daughter's therapy appointment because of a broken air conditioner. As the then-director of a small rural library, I suggested she temporarily use our conference area until the AC unit was fixed. Not only would this prevent my daughter's session from being canceled, but it would also benefit her other clients who rely on seeing her consistently.
The library saw many new faces enter for therapy and leave with a book. By using the PASS Approach, staffers ensured that the speech therapy clients who had not visited the library before were met with open arms and encouraged to return.
Adapted from Serving Patrons with Disabilities: Perspectives and Insights from People with Disabilities, edited by Kodi Laskin (ALA Editions, 2023).