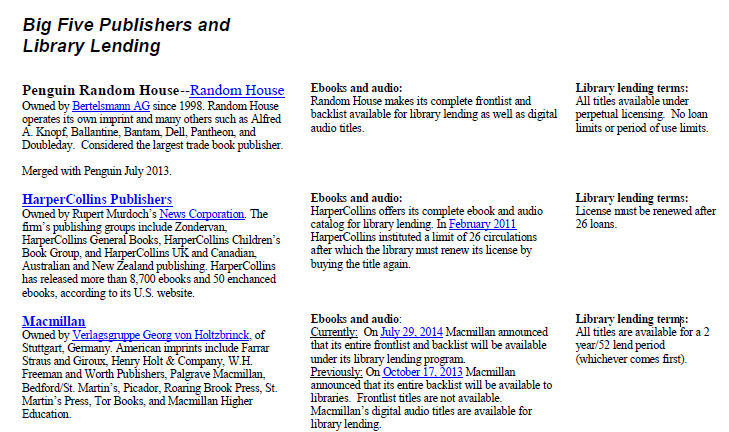 If you've been following the E-Content blog, you know that we've been keeping track of the Big Five publishers (Penguin Random House, Macmillan, Simon & Schuster, HarperCollins, and Hachette Book Group) and the terms they offer to libraries for their ebooks. Today's updated matrix (PDF file) provides a complete list of the distributors that each publisher uses and fuller information about library consortium access, including specifics for public, academic, and school library access.
Among the Big Five, only Hachette Book Group does not offer public libraries the opportunity to license its ebooks through consortia. Hachette says it evaluates each consortium on a case-by-case basis "using criteria including number of libraries, size of population, and circulation numbers." Some consortia have been approved. The other publishers say they license to public library consortia without limit. When asked if they impose any limit on public libraries in consortia by size of population served, each responded that it does not.
The publishers are not as open to school library consortia. Only Penguin Random House and HarperCollins report licensing to school library consortia, while Hachette, Macmillan, and Simon & Schuster license to school libraries on an individual basis.
Academic library consortia may license from Penguin Random House, HarperCollins, and Macmillan. Individual academic libraries may license from Hachette, but Simon & Schuster does not license to academic libraries at all.
The Big Five reported working with a total of 17 distributors, but just four distributors have relationships with all five: 3M Cloud Library, Baker & Taylor Axis 360, OverDrive, and Recorded Books One Click Digital. Some of the 17 distributors do not serve the US market and at least one works with audio only. With the expanded scope of this matrix, Follett and Mackin make their first appearance. Newcomer Odilo is listed for the first time as well.