Lorelle Swader has held five different positions in her 25 years with the American Library Association (ALA). On March 26, she began her latest role: associate executive director (AED) of ALA Offices and Member Relations, as well as AED of ALA–Allied Professional Association.
As AED, Swader will provide leadership and management for the following ALA groups:
Office for Accreditation
Office for Diversity, Literacy, and Outreach Services
Office for Human Resource Development and Recruitment
Office for Intellectual Freedom
Library and Research Center
Public Programs Office
Membership Development Office
Member and Customer Service
She will also help coordinate and liaise with ALA round tables.
Before coming to ALA in 1992, Swader was coordinator of reference services at East Chicago (Ind.) Public Library. Prior to that she held positions as library services manager at Detroit Bar Association Foundation Library and as law librarian at Marion County (Ind.) Law Library. Swader has also been an adjunct professor at the School of Information Studies at Dominican University in River Forest, Illinois.
She has a bachelor's in speech communication and an MLS, both from Indiana University Bloomington. She also has a master's in communications and training from Governors State University in University Park, Illinois, and is a Certified Association Executive.
Swader answered our "11 Questions" to reintroduce herself to ALA members.
Coffee, tea, other?
Other. I prefer cold drinks. Although I will drink coffee and tea from time to time, I prefer an ice-cold Diet Coke by far.
What's the first website or app you check in the morning?
WhatsApp. My family has a group on the messaging app, with more than 40 of us subscribed, and this is how we start our day and keep in touch with one another.
Best career advice you've ever received?
Hire well, and always keep learning new skills.
What drew you to librarianship?
I was a work-study student for the Halls of Residence Libraries as an undergraduate at Indiana University Bloomington and worked with several graduate students in the library school. During the last semester of my senior year, my supervisor (who was in the program) asked if I had ever thought about librarianship as a career. I really hadn't, but he told me I would be good at it and took me to meet the director of admissions. The rest, as they say, is history.
Most distinct aspect of your personal office?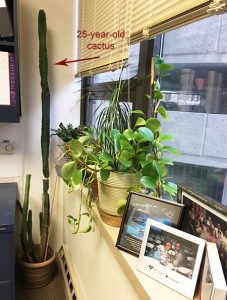 I have a cactus that I got when I left my previous job [at East Chicago (Ind.) Public Library], and it is still going strong after 25 years. I think of it like my career here at ALA: It has been moved a few times, but it's still here!
Guilty pleasure?
British or mystery television shows and movies. I could watch the same episodes of Murder, She Wrote; Midsomer Murders; or Perry Mason a hundred times and never get tired of them.
First job?
When I was 16 years old, I was a money counter on "Collection Saturdays" at the Gary (Ind.) Post-Tribune newspaper. Once a month, all the paper boys and girls would bring in money they collected on their routes and turn it in. It was then that I learned how to work a coin machine at a bank and learned the value of accurately counting money. (I still make sure that my dollar bills are turned the same way in my wallet.)
What do you hope to bring to ALA and members?
I am hoping to build on the member relationships I have established over my 25-year tenure at ALA working with divisions, round tables, offices, committees, Council, and the Executive Board.
If you had to choose any other profession, what would it be and why?
Professional genealogist. I have done family genealogy research for more than 20 years and love it. I started with my own family tree, but I have also done some research for others as well.
Book you're reading?
Intentional Living by John C. Maxwell.
Tools used for keeping your life organized?
My Android phone and Outlook calendar.