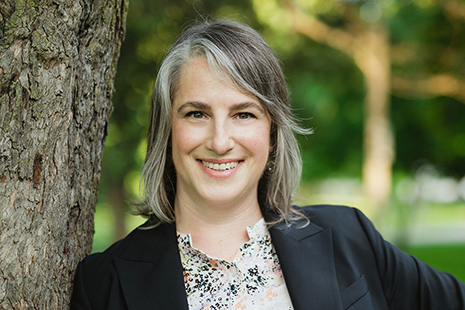 Melanie Napoleon Welch became director of ALA's Public Programs Office (PPO) on May 2. She joined the Association in 2015 as PPO project director, was promoted to deputy director, and later took over as its interim director following the retirement of Deb Robertson in 2021.
Welch has nearly 25 years of nonprofit management experience and started her career in environmental education and community engagement after receiving a master's degree in biology. Before joining ALA, Melanie founded the Great Lakes Conservation department at Chicago's Shedd Aquarium and was a 2010 Catto fellow at the Aspen Institute in Washington, D.C.
She answered our 11 Questions to introduce herself to ALA members.
Coffee, tea, other?
Both! First thing in the morning, I drink one Nespresso, black. Later in the day I like a cup of tea, especially in the winter. I'll make black tea with milk and honey if I need a little pickup, but usually it's an herbal tea like Lemon Zinger.
What's the first website or app you check in the morning?
I hate to say it, but it's Twitter. But! I follow a lot of journalists, scientists, historians, and comedians, so my feed is usually informative or funny.
Best career advice you've ever received?
Nothing in life is certain and things can change at any moment. I learned that about 10 years ago from a former NHL player I got to know, and though it took me living through a pandemic to finally embrace it, it's something I try to remind myself in both my career and life. Being comfortable with changing course and letting go of things I can't control has helped me manage stress better.
What drew you to library work and ALA?
I've spent my career working in the nonprofit sector, mostly in informal education, programs, and grant-making. I'm also a lifelong library lover. I was looking for an opportunity at a large national organization with a mission I believed in, so when I saw the ALA Public Programs Office job posting in 2015, I immediately threw my name in the hat. I'm so glad I did. I have the most wonderful colleagues in the world and working for and with librarians is a true pleasure. I'm honored and delighted to grow my career at ALA as director of the Public Programs Office. I'm fulfilled and motivated every day by the impact our work has in libraries and communities across the US.
Most distinct aspect of your personal office?
In my home office, it's my cat curled up in her bed next to my laptop. At ALA HQ, it's a Missy Elliott READ poster.
Guilty pleasure?
Watching makeup artists like Erin Parsons and Lisa Eldridge online and looking at eyeshadow palettes and lipsticks and even maybe splurging on something … and then almost never wearing it.
First job?
Babysitting. My first real paycheck was from working at a hotel gift shop.
What do you hope to bring to ALA and members?
Opportunities! The Public Programs Office is a creative and productive team, and we work in collaboration with incredible organizations and people, from national organizations like the United States Holocaust Memorial Museum and the American Anthropological Association, to individual scholars and library professionals. One of my favorite parts of my job is working with these experts to develop ways to bring their resources, knowledge, and teachings into libraries. My hope is that all ALA members become familiar with PPO and take advantage of the unique opportunities we provide, like the upcoming World on the Move: 250,000 Years of Human Migration exhibition.
If you had to choose any other profession, what would it be and why?
Biology professor or medical doctor. I love science and making a difference in people's lives.
Book you're reading?
I'm between books right now and am waiting for You Should Have Left by Daniel Kehlmann from my holds list. I'm next in line to get it, and I can't wait. I'm going through a reading phase where I'm trying to scare myself (I might need to unpack that) and recently liked The Only Good Indians by Stephen Graham Jones and The Queen of the Cicadas by V. Castro.
Tool used for keeping your life organized?
Outlook calendar. I'm a parent, so it's critical in keeping my work priorities and personal and family commitments organized.