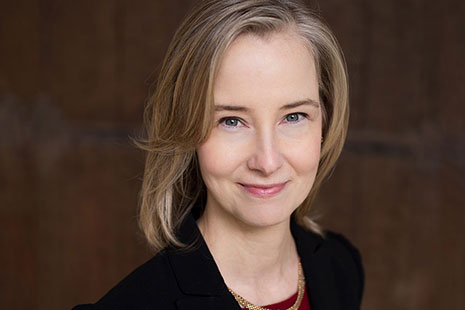 Mary Davis Fournier began her first official day as executive director of ALA's Public Library Association on June 14, but she's no stranger to the Association. During her 20 years at ALA, Fournier has worn many hats, most recently that of deputy director of the Public Programs Office where she helped spearhead projects such as Libraries Transforming Communities and the National Impact of Library Public Programs Assessment. She coedited Act, Listen Empower: Grounding Your Library Work in Community Engagement (ALA Editions, 2020), which documents the field's shift toward library-led community engagement. (Read an excerpt of the title from our June issue.)
Prior to ALA, Fournier worked in neighborhood development, as program director at the nonprofit Near South Planning Board in Chicago. There she directed the Printers Row Lit Fest, the largest free outdoor literary showcase in the Midwest, and the Authors in the Schools literacy program. She also worked in higher education as programming associate at Miami Dade (Fla.) College's annual Miami Book Fair International.
Fournier answered our "11 Questions" to introduce herself to ALA members.
Coffee, tea, other?
Coffee in the a.m., ginger tea in the p.m.
What's the first website or app you check in the morning?
My family calendar app.
Best career advice you've ever received?
Make sure that there is something in your job that gives you joy, or go find something else.
What drew you to librarianship/ALA?
I'm a generalist, but as I look back, it seems as though access to literature and learning have been my guideposts. I worked in journalism and bookselling, in publishing and arts administration, but it wasn't until I came to ALA to manage a grant project called LIVE! @ your library that I truly understood and appreciated the power of libraries and the unique place they occupy in our democratic society. Through ALA and librarianship, I felt as though I had found my professional home.
Most distinct aspect of your personal office?
My yoga mat—you never know when a sun salutation might make everything better.
Guilty pleasure?
Action blockbusters. I'm talking Mission Impossible, Bourne Identity, Marvel movies—the more spies, superheroes, and heists the better!
First job?
Babysitting. As the oldest of five, I was amazed to be paid to watch kids.
What do you hope to bring to ALA and members?
I hope to bring the same level of dedication and commitment to ALA and its members that I've brought over the past 20 years (yikes—20!) at ALA. I'm thrilled and humbled to lead the incredible team at PLA as we support public library workers during this time of transition from crisis to recovery.
If you had to choose any other profession, what would it be and why?
Can I automatically be great at the other profession? If yes, then professional surfer, because it is obviously the coolest thing ever.
Book you're reading?
I just started The Night Watchman by Louise Erdrich. And she just won the Pulitzer for it. So glad I snagged it before the waitlist became months' long at my library!
Tool used for keeping your life organized?
My family runs on the Cozi family calendar app, and I also love Trello for keeping my many projects and priorities moving forward.