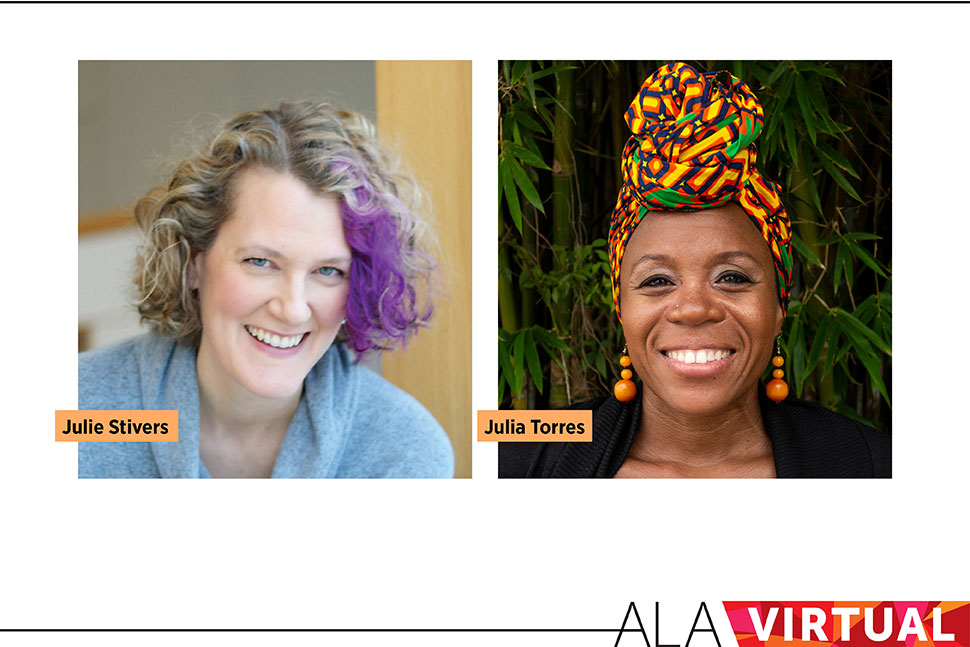 Reading trauma—reading as a potential source of pain, insecurity, humiliation, or stress—disproportionately affects marginalized communities. But educators can interrupt traumatic reading practices in schools and make their spaces healing and inclusive instead.
In "Healing Reading Trauma: Rebuilding a Love of Reading through Libraries for Liberation," a June 24 on-demand program of ALA Virtual, two school librarians offered best practices for building foundations and collections that undo harm.
"We wanted to make sure our libraries are spaces where students not only feel that they are welcome to join in the process of developing a love for reading at any stage, but also that our libraries are practices of liberation," said Julia Torres, teacher-librarian at Denver Public Schools. "We are about student empowerment."
Torres and Julie Stivers, teacher-librarian at Mount Vernon Middle School in Raleigh, North Carolina, began their session by reviewing factors that contribute to reading trauma: high-stakes testing, a fixation on what education systems consider to be classics, toxic or lack of meaningful representation, trauma-centered narratives, and shaming students for reading choices.
"If we're measuring literacy growth only through test scores, we're failing them," said Stivers. She added: "We know how problematic some of the 'classics' are."
To illustrate this point, Torres shared a chart of the New York State Education Department's top 20 book titles read in its public schools (such as The Great Gatsby, The Catcher in the Rye, and Adventures of Huckleberry Finn), of which a majority were written by white men and take place in historical time periods.
"A lot of these students don't read these books because they don't feel they relate to the lives that they're living," said Torres, who noted that the top books among her students this year were Long Way Down, The Hate U Give, and The Poet X, as well as poetry, manga, and graphic novels.
To interrupt traumatic practices, Torres and Stivers had several suggestions—the first of which includes realigning the role of the school librarian.
"Students are more important than books. We're not gatekeepers of books, that's not our role," said Stivers. "I would much rather lose a book than a reader."
Other interruption strategies included redefining what "counts" as reading and deploying inclusive programs and policies that emphasize diverse, reflective collections. At Stivers's library, for example, she and her students created a set of guidelines for professional and collection development called the #LibFive, which includes tenets such as "Graphic novels and manga are not extra" and "Show the joy in our stories."
Her library also holds a True Book Fair, in which students are invited to select new books intentionally curated to their interests without any associated cost (as opposed to a traditional book fair, where titles must be purchased).
Citing the ways in which Laura Ingalls Wilder wrote about Indigenous people and Harper Lee wrote about Black people, Torres stressed that decolonization is essential to the process. "Decolonizing your mind is something we always have to do and support our students in doing," she said. "Our conversations shouldn't be debating the humanity of characters."
To that end, Stivers cautioned that white librarians should not be acting as "saviors" for their students, but as partners. "I'm not saving my kids because I'm pointing them in the direction of Jason Reynolds and Angie Thomas. I'm not doing things for them; I'm doing things with them." She stressed that librarians should be prepared to read the books themselves and do the antiracist work surrounding the literature.
Overwhelmingly, these strategies have holistic benefits. "When we interrupt traumatic reading practices, it will show up in our circulation data and also in other data throughout the school," said Stivers.
So will other, less tangible benefits: "We honor each other by showing each other we recognize the ways in which our lived experiences may be different," said Torres. "[Students] see the library as a place that's more than transactional."