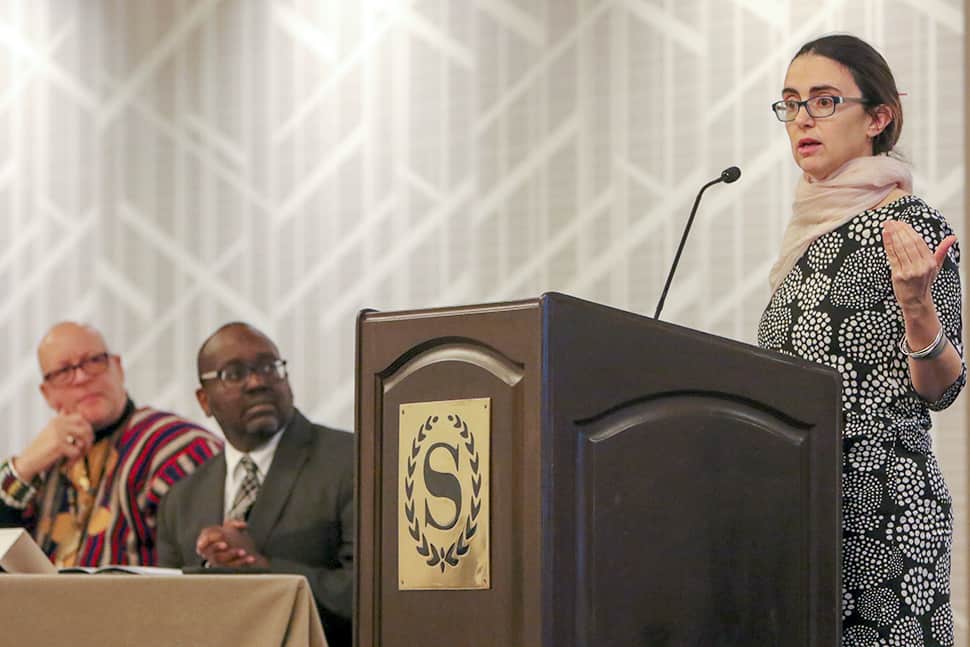 Reflecting on its history, speakers commemorated the 20th annual Martin Luther King Jr. Holiday Observance and Sunrise Celebration on Monday at the ALA Midwinter Meeting & Exhibits in Seattle.
Virginia Moore, past chair of ALA's Social Responsibilities Round Table (SRRT) Martin Luther King Jr. Holiday Task Force, talked about the origins of the annual Midwinter celebration. "Libraries lead the way," she said. "Keep the dream alive."
Satia Orange, former director of ALA's Office for Literacy and Outreach Services, reminded the more than 200 attendees that "our day of service is every day." She said: "This is what we do. But more importantly, it's what you do when you go home—not only for the people you're serving today, but for those unseen that you'll serve tomorrow."
Keynoting the event was author and scholar Jeanne Theoharis, who wrote the bestselling The Rebellious Life of Mrs. Rosa Parks (Beacon Press, 2013) and the more recent A More Beautiful and Terrible History (Beacon Press, 2018).
Theoharis spoke of the "national fable" that has created a story of "good guys, bad guys, and a happy ending" to demonstrate the "power and strength of American exceptionalism."
According to Theoharis, the key elements to this national fable state that (1) there had been this injustice; (2) once these courageous individuals pointed it out, it was corrected; and (3) thus the greatness of American democracy is proven.
King and Parks are "key linchpins of this fable," Theoharis said. "Honored and trotted out, over and over and year after year as proof of our national progress and as a way to paper over current injustice."
She says these civil rights icons have been turned into "Thanksgiving Day balloons—jolly, larger than life, unthreatening, bobbing along, proud of our progress." This type of distortion creates inaction by putting "racism and struggle safely in the past," she said.
Similarly, Theoharis noted, this fable puts the civil rights movement on a pedestal and out of reach, making it hard for any individual now to imagine how they could be like King or Parks.
She also highlighted the achievements of Coretta Scott King, who, she said, insisted that the word "obey" be taken out of their wedding vows and who was in many ways more political than her husband. Coretta, for instance, came out against the war in Vietnam long before Martin, Theoharis said, and continued in the decades after his death to push for divestment in South Africa because of apartheid and was a strong supporter of LGBT rights.
"To the end of her life, she is saying, 'There is more work to be done,'" Theoharis said. "She really makes Dr. King's work a living legacy."