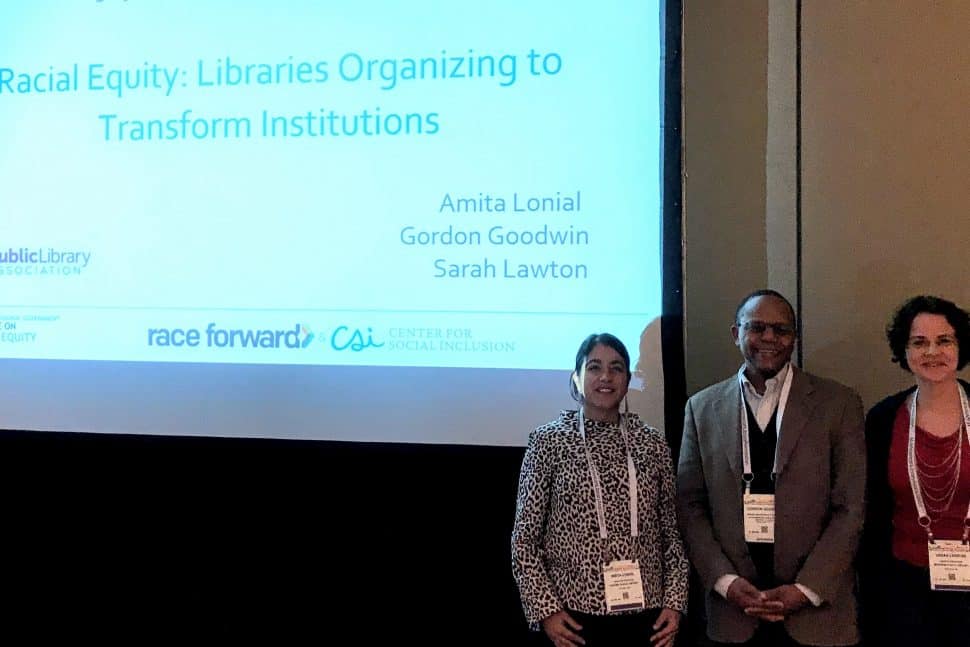 The room filled quickly for "Racial Equity: Libraries Organizing to Transform Institutions," the Symposium on the Future of Libraries held during the American Library Association's 2019 Midwinter Meeting & Exhibits in Seattle. Gordon Goodwin, Government Alliance on Race and Equity (GARE) Midwest regional project manager, urged participants to fill in open seats prior to beginning his presentation. Co-presenters included Amita Lonial, assistant library director, Tacoma Public Library; Sarah Lawton, neighborhood library manager, Madison Public Library; and Andrew Harbison, assistant director of collections and access, Seattle Public Library.
Goodwin began by asking, "Why focus on race?" Infant mortality rates are 10 times higher for people of color than for their white counterparts, regardless of any other aspect of their identity. Race, zip code, and gender affect a person's success across many arenas, such as education, health, and criminal justice.
According to Goodwin, "Racial equity means closing the gaps so that race does not predict one's success while improving outcomes for all." Dismantling systemic racism will improve experiences for everyone in the same way the American Disabilities Act made things easier for everyone, including those without disabilities.
Goodwin also pointed out that most people born after 1950 don't talk about race. Why? We're taught that it's impolite to talk about race, and that if we don't talk about it, it must not exist. Wrong. Ignoring race perpetuates implicit racism. Fair isn't always equal, and people who face extra barriers need additional resources to have the same quality of life as others.
Goodwin defined three types of racism:
Individual racism: Bigotry or discrimination by an individual based on race
Institutional racism: Policies, practices, and procedures that work better for white people than for people of color, often unintentionally or inadvertently
Structural racism: A history and current reality of institutional racism across all institutions, combining to create a system that negatively impacts communities of color
Goodwin suggested asking different questions. Instead of asking, "Who's a racist?" ask, "What's causing the racial inequities?" As librarians, instead of asking ourselves, "How can we fix what just happened?," we should be asking "What [are some] proactive strategies and solutions?"
Additionally, there is bias in library work both at the institutional level and the individual level. Explicit bias is generally easy to recognize. Implicit biases can be trickier to identify; while they may be unintentional, that doesn't make them any less detrimental. Institutional implicit bias comes in the form of policies that negatively impact one group more than other groups, such as "enforcement of fine collection disproportionately creating barriers to people of color, who are overrepresented among low-income populations," Goodwin said. Individual implicit bias includes library staff who unintentionally waive charges for white patrons more often than they do for patrons of color.
Goodwin posited a framework for advancing racial equity with three ongoing, overlapping stages: normalize, organize, and operationalize. The first step: normalizing conversations about race. "Everybody has to become comfortable having uncomfortable conversations about race," said Goodwin. Lonial added that "people of color are marginalized and often get burdened with the emotional labor [of having these difficult conversations], often nonconsensually."
Organizing includes partnering with like-minded individuals in the community. Operationalizing involves creating a racial equity action plan. "Libraries are a predominately white space, [and] we have a responsibility to our communities to interrupt the systems of racism," Lawton said. To learn more, check out the Government Alliance of Race & Equity Libraries Interest Group.