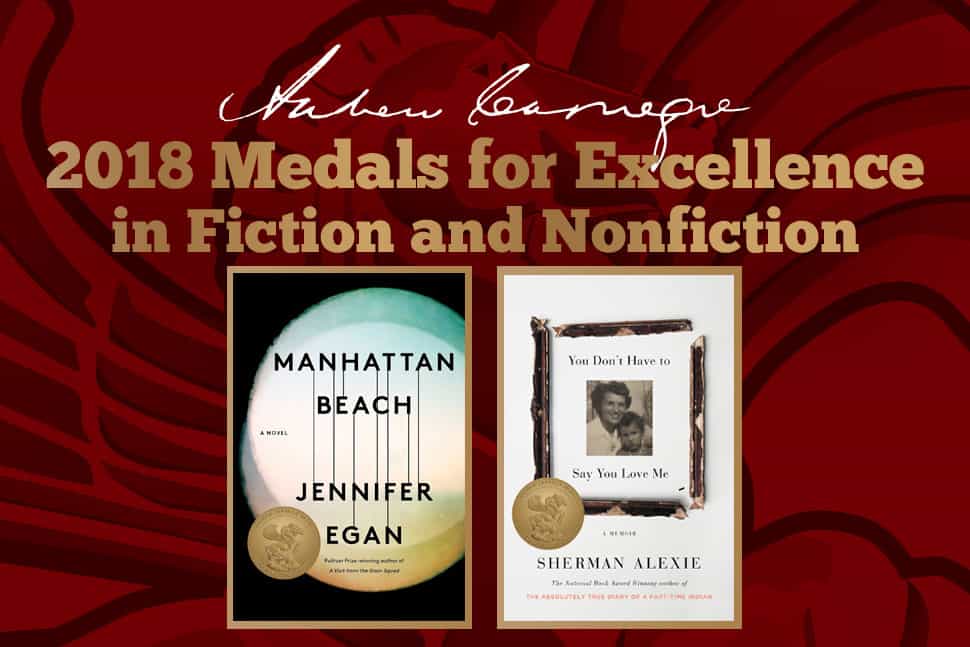 The American Library Association (ALA) selects Manhattan Beach (Scribner) by Jennifer Egan as the winner of the 2018 Andrew Carnegie Medal for Excellence in Fiction, and You Don't Have to Say You Love Me: A Memoir (Little, Brown) by Sherman Alexie as the winner of the 2018 Andrew Carnegie Medal for Excellence in Nonfiction.
The selections were announced February 11 at the Reference and User Services Association's (RUSA) Book and Media Awards sponsored by NoveList, during the ALA Midwinter Meeting & Exhibits at the Colorado Convention Center in Denver.
From New York mobsters to the first woman diver at the Brooklyn Naval Station during WWII to the archetypally motley crew of a merchant-marine ship in U-boat-infested waters, Egan's Manhattan Beach portrays intriguing individuals during wartime.
Alexie's You Don't Have to Say You Love Me: A Memoir is told in prose and poetry and pays tribute to his Spokane Indian mother. The memoir reveals many complex traumas and tragedies of reservation life as well as Alexie's own struggles.
"It has been an honor to be part of the dedicated committee selecting the 2018 Andrew Carnegie Medal winners," said award committee chair Victoria Caplinger, director of book discovery at NoveList. "We are very excited to finally get to share this news—it has been hard keeping it to ourselves. We hope many readers enjoy these books—both the winners and the finalists—as much as we have."
"Today's selections illustrate how the expertise of librarians and library staff can help lead efforts to support adult literacy by identifying titles that resonate with adult readers," said ALA President Jim Neal. "Today's medal selections will serve as a guide for those who are looking for the best of the best in fiction and nonfiction for adult readers, thus transforming lives through education and lifelong learning."
The 2018 fiction finalists included Lincoln in the Bardo (Random House) by George Saunders and Sing, Unburied, Sing (Scribner) by Jesmyn Ward. Nonfiction finalists included The Doomsday Machine: Confessions of a Nuclear War Planner (Bloomsbury) by Daniel Ellsberg and Killers of the Flower Moon: The Osage Murders and the Birth of the FBI (Doubleday) by David Grann.
The Andrew Carnegie Medals for Excellence in Fiction and Nonfiction, established in 2012, serve as a guide to help adults select quality reading material. They are the first single-book awards for adult books given by ALA and reflect the expert judgment and insight of library professionals and booksellers who work closely with adult readers.
Carnegie Medal winners will each receive $5,000. All the finalists will be honored during a celebratory event at ALA's 2018 Annual Conference and Exhibition in New Orleans in June. The medals are made possible in part by a grant from Carnegie Corporation of New York in recognition of Andrew Carnegie's deep belief in the power of books and learning to change the world and are cosponsored by ALA's Booklist and RUSA.
More information on the awards can be found at ala.org/carnegieadult.