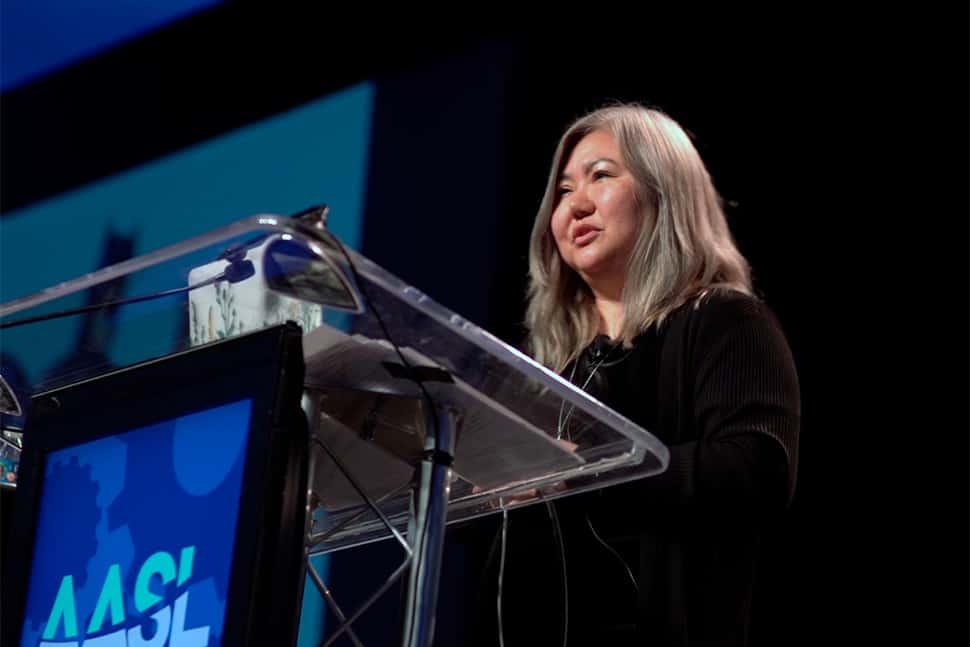 The 2019 American Association of School Librarians (AASL) National Conference began on November 14 with a bang: a rousing performance by Louisville's (Ky.) Central High School drumline and dance team. AASL Executive Director Sylvia Norton followed with news that more than 2,300 library professionals had registered for the biannual conference—record-breaking attendance numbers, she said.
The energy permeated the opening session at the Kentucky International Convention Center, with attendees waving state flags and cheering as their state associations were recognized by AASL President Mary Keeling. Applause broke out when Jefferson County (Ky.) Public Schools (JCPS) Superintendent Marty Pollio noted that 100% of JCPS schools have librarians.
Keynote speaker Ellen Oh, children's book author and president and cofounder of We Need Diverse Books (WNDB), kept the momentum going as she described a serious issue—the lack of diversity in children's books. Oh opened her talk with a quick analysis of the phrase "Once Upon a Time," projecting the words in a Disney-esque font onto two large screens flanking the stage. The words connote the beginnings of adventure and transformation for many young readers, but it was different for her growing up, she said.
"It always felt like something was missing for me," Oh said. "There was a sameness [to the books]." That sameness excluded her because she isn't white, she said, and that sense of exclusion continues into the present.
"There are still more books about animals and inanimate objects than people of color," Oh said. The lack of representation led Oh to pen books that reflect her own heritage, particularly YA horror and monster stories drawn from South Korean folklore, like her Spirit Hunters series.
Oh said she cofounded WNDB, a nonprofit that advocates for the publishing industry to produce and promote literature that reflects the lives of all people, as a reaction to the lineup at BookCon 2014, which comprised only white male authors and Grumpy Cat. The organization presents the annual Walter Dean Myers Award for Outstanding Children's Literature to published authors who champion marginalized voices in their stories. WNDB also awards grants to young writers—one winner was Angie Thomas, who used her $5,000 prize to buy a computer to finish the manuscript that became the bestseller The Hate U Give.
Oh relayed intimate stories about her own children's often-troubled lives, including suicide attempts, and the important role that books played in her life growing up. The common thread running through these experiences is the power of books to teach empathy. "Unless we teach empathy, the cycle of violence will continue," she said.
She also shared how libraries shaped her life, laughing as she said that her parents would just leave her at the local public library for hours on end when she was a child.
"In books, you can be anything you want. They allowed me to escape the hardships of life; they were a solace," Oh said. "The library provided me with everything."