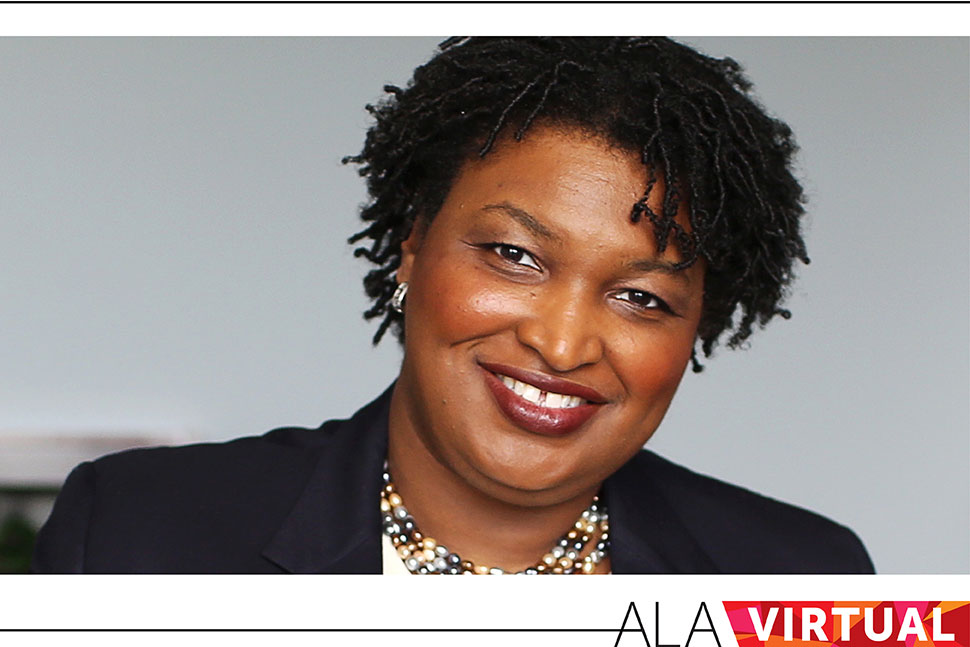 Before American Library Association (ALA) President Wanda Kay Brown introduced political leader and bestselling author Stacey Abrams as the featured speaker of her President's Program at ALA Virtual on June 25, she made an impassioned plea to diversify the profession.
Brown prefaced the main event—a conversation between Abrams and ALA Executive Director Tracie D. Hall—by noting how both COVID-19 and police brutality disproportionately affect African Americans and other communities of color. "The coronavirus is new, unlike racism, which is as old as time," she said. Brown asked if deaths like George Floyd's could have been prevented if more Black people were represented in positions of power—in legislatures, state houses, in publishing, in librarianship. "Would that make a difference?"
She urged the redoubling of efforts to diversify the field, saying it was "necessary and urgent." Increasing representation would be a "big step forward," Brown said. "It won't bring back any of those we have lost tragically, but it might begin the process of healing and move us toward justice."
Disenfranchisement and police brutality
Abrams—who served 11 years in the Georgia House of Representatives and in 2018 ran for governor of Georgia, a seat she has famously refused to concede because of allegations of voter suppression—has continued to fight for civic engagement. Her name has been discussed as a potential running mate for Joe Biden.
Hall began her interview by asking Abrams about disenfranchisement and the use of deadly force by police, especially of Rayshard Brooks in Abrams's home state of Georgia.
Abrams said the nation is in the midst of "two massive conversations."
First, she noted the "disproportionate effects of inequities that have been laid bare by COVID-19." She cited that African Americans are twice as likely to contract the virus than any other community in the US, despite representing only 13% to 14% of the nation's population. What's more, she noted, was not only the illness and death from the pandemic but also the economic collapse that has ensued.
Second, she said, were the "twin horrors" of police brutality and systemic injustices.
Abrams suggested the need for reformation. In terms of police policy, she said, there need to be restrictions on policies, changing behavior, eliminating immunity, eliminating the use of chokeholds, and following the best practices of what's being done in other nations. "When these changes are put in place, lives become safer."
She also called for a focus on transformation. That, Abrams said, entails restructuring how we invest with redistributive economic policies: putting more money into health care, education, and affordable housing. "If some of those dollars need to be siphoned away from having social workers with guns, then that is our obligation."
We must call out injustices, she said. "Part of their persistence is that we have these flares of recognition" and then "we forget what we know." Abrams added: "When there is calamity, it visits Black Americans first and hardest."
Abrams said that one of the best ways to fight these inequities is at the ballot box. "Voting is the most fundamental power possessed by a citizen in a democracy," she said. While voting may not provide an immediate solution, "it is the only power that has the persistence that can actually create change."
She said protest is fundamental to democracy: "We need protest in the streets to remind us of our failings, and we need protest at the ballot box to peacefully overthrow the government that is not serving everyone's needs."
She cited a line she wrote in a recent New York Times op-ed: "Voting will not solve every problem, but silence damns us all."
Microcosms of America
During the nearly 40-minute conversation, Abrams also touched on topics ranging from the importance of the 2020 Census, having women in leadership positions, identity politics, the role of the US abroad, and the need to diversify librarianship.
Abrams, whose mother is a librarian, said she remembers sleeping in the stacks and checking out lots of books over the summer. She urged that leaders support libraries.
"Libraries have this remarkable moral neutrality [in that] everyone should have a chance to participate," should have access to information, technology, and "the answers."
She added: "It is the role of libraries to be seen as microcosms of America and to be intentional about placing themselves in space and in community with those who need them the most."
Abrams called librarians "superheroes" who can help transform our society: "In the midst of the time of separation, now is the time to say that libraries not only close the divide, but they bridge distances and difference."