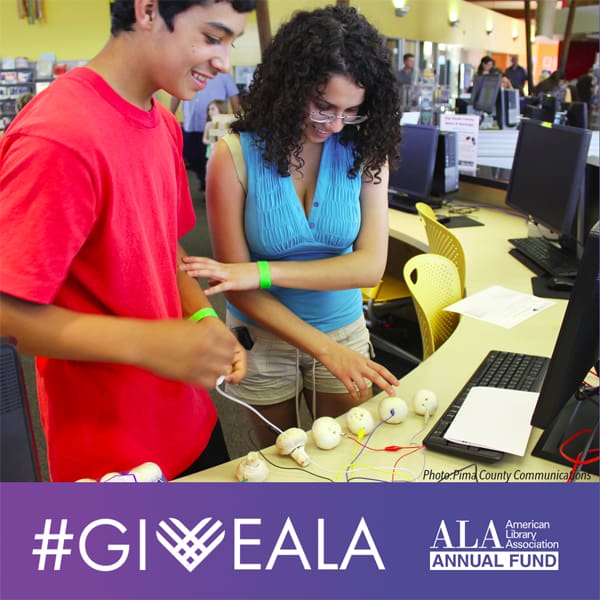 As the season for gift giving approaches, the American Library Association (ALA) announced that an anonymous donor is matching gifts made to the ALA Annual Fund, beginning November 1, 2017. Donations are tax-deductible, and gifts from an individual donor, up to $1,000, are eligible for the match.
The match caps at $10,000 total per ALA unit, and $100,000 overall. Donors can participate by giving online or sending a check to ALA, Attn: Development Office, 50 East Huron St., Chicago, Illinois, 60611.
ALA is asking its members, library advocates, and the public to consider making a gift to help support its efforts to build a world where libraries of all types are central to transforming lives through education and lifelong learning. By giving to ALA, donors can assist efforts to enhance library programs, services, and free access to information by strengthening resources for the profession.
"Our nation's librarians and library workers play such a critical role in leading efforts to empower individuals to better their lives through education," said ALA President Jim Neal. "Any means of support, providing a financial contribution, and/or serving as an ALA Annual Fund Ambassador, are welcome and greatly appreciated. Thank you in advance to those that join in our efforts to help enhance information services and the profession of librarianship."
Library supporters can make a difference by actively sharing why they're supporting ALA's year-end giving campaign and encouraging others to donate via social media using the official campaign hashtags #GiveALA and #GivingTuesday. Donors can visit http://www.ala.org/aboutala/annual-fund-2017 to contribute and to learn about how to become an ALA Annual Fund Ambassador.