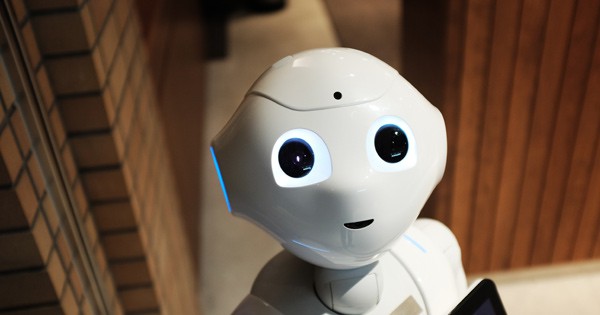 There was no shortage of libraries participating in April Fools' Day this year, with everything from puppies and dragons to owls and trees getting in on the fun. Here are some of our favorite library pranks of 2019.
Libraries are fir everyone
Nearly half of Oregon is forest, but the state's trees are a remarkably underserved population. Tigard (Oreg.) Public Library addressed that with a brand-new storytime for plants, guaranteed to help saplings grow healthy and strong.
One Seed, One Library, 1 million damaged tires
Pima County (Ariz.) Public Library already operates a seed library, but for April Fools' Day it announced a new take on the One Book, One City initiatives common among libraries nationwide with its "Growing Together: One Seed Pima County" program. This year's seed is goathead, the kind of plant we can't believe isn't prized among all serious gardens. Also called puncturevine, goathead is known for its toxicity to livestock and its spines, which are sharp and sturdy enough to injure humans and pop bicycle tires.
Lifelong skills
For five years, Johnson County (Kans.) Library's "6 by 6: Ready to Read" early literacy initiative has helped parents and their young children develop six skills to prepare for reading. This year, the library expanded the program to a slightly older audience with "60 by 60: Ready to Retire," the skills every adult should master by age 60. (Number nine is a bit suspicious—we're not certain anyone can explain Brexit.)
A bridge too far
Davenport (Iowa) Public Library lends passes for local attractions, and this year it added one that can have a big impact on patrons' day-to-day lives: a Skip the Line I-74 Bridge Pass. During a one-week checkout, patrons can gain access to the double-secret passage that will let them bypass the congested bridge over the Mississippi River to Illinois. All they have to do is show the pass to a disgruntled construction worker and say "There are no oranges in the canoe," and if the worker responds with a smile and "The albatross flies at midnight," a quick trip is secured.
Rave On @ Your Library
Saratoga Springs (N.Y.) Public Library announced its first-ever after-hours program: A foam party complete with DJ, glowsticks, and 10% discounts in the Friends Book Shop. As Library Director Isaac Pulver observed, "Parents overwhelmingly told us there was a real need for a family-friendly place to enjoy EDM [electronic dance music]." If successful, rumor has it that future library foam parties will feature expanded musical selections, including bluegrass, glam rock, skiffle, and grindcore.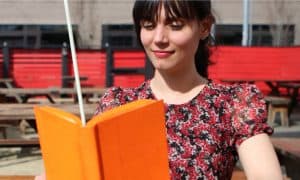 Reading lets you use your melon
Powell's Books in Portland, Oregon, launched Cantaloupe, a 90% vegan book-sharing system, with a fleet of more than 300 books (each colored orange and marked with orange flags) scattered throughout the city. The service costs only 15 cents per page, although a disposable safety helmet costs $38, so you may wish to bring your own.
Faxes pose a special challenge
Greenwich (Conn.) Free Library's commitment to local businesses and artisans took a huge step forward as it replaced its photocopiers—with scribes. Documents can take up to two weeks for copying, and the cost is $150 apiece, but the calligrapher's guild is over the moon about the news.
She's got her eyes on you
Täby (Sweden) Bibliotek hired Beata Boksson, a new employee whose mission is to track down overdue library books in the field by any means necessary—technology, stakeouts, intimidation, and even traps. No word yet on a Die Hard crossover film.
Delivery will only happen overnight
Harry Potter fans at the University of North Florida's Thomas G. Carpenter Library in Jacksonville can finally send letters to friends and family via the library's new Owl Mail service.
Expanded collections
Many libraries announced cute additions to their circulating collections. Puppies entered the catalog at Carmel (Ind.) Clay Public Library; James Madison University Libraries in Harrisonburg, Virginia; and Jefferson County (Colo.) Public Library. Not all libraries will need to add baggies to the 636.7 shelves, however, as Toronto Public Library and Monroe County (Ind.) Public Library added kitties to their collections.
Patrons looking for a more active companion can check out a robot assistant from McCracken County (Ky.) Public Library—they obey Asimov's Three Laws of Robotics, although the $1 million replacement fee for damaged robots may pose some barrier to library usage. Patrons attempting to conquer Westeros can check out a dragon from Hoover Library at McDaniel College in Westminster, Maryland. But even more frightening than dragons are the descendants of dragons: Bentonville (Ark.) Public Library has converted the library's former café space into a checkout center for live chickens.
Skating through life
Racine (Wis.) Public Library found a wheely neat way to speed up patron services. No word on whether staffers have installed a half-pipe to make it easier to reach the upper shelves.
A splashy renovation
Virginia Beach (Va.) Public Library installed a trio of waterslides to help patrons speed their way between floors at its Central Library. A simple system of plastic bags should protect library materials, although the library carpets may need a dedicated drying system.
Too many authors can be confusing
Daviess County (Ky.) Public Library turned its entire collection over to E. L. James and the 50 Shades of Grey trilogy, renaming itself the Christian Grey Lending Library. In a few years, we expect a second library containing only books from Christian's point of view.
Meanwhile, A. C. Hunter Public Library in St. John's, Newfoundland and Labrador, dedicated all its displays to the oeuvre of noted author and literacy supporter James Patterson. Let's just hope that high worldwide levels of cell phone and petroleum usage don't adversely affect the books' pheromones and cause them to start attacking humans.
Are you being watched?
Greene County (Ohio) Public Library noticed that some of its books had woken up. Fortunately, their intentions were completely peaceful (if a bit meta) with some light reading and even a storytime. Nevertheless, we encourage everyone to be vigilant, because books can be dangerous things.