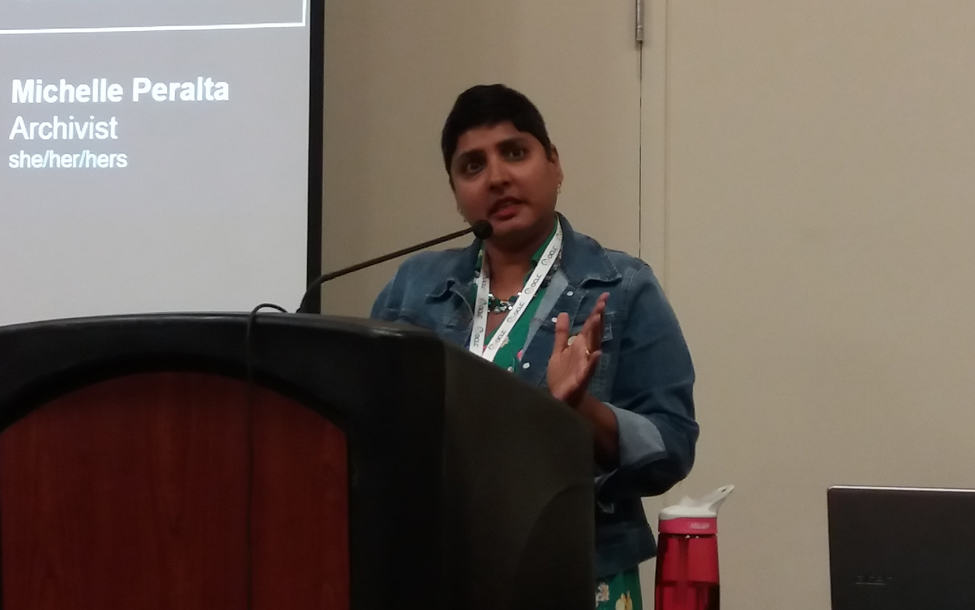 "We can all understand that there are issues in our collections," said archivist Michelle Peralta. "What are the next steps and how can we approach this lack of care?"
At "Proceed with Care: Steps Toward Building Trust with Marginalized Communities," a September 29 session at the third National Joint Conference of Librarians of Color in Albuquerque, New Mexico, two former Escondido (Calif.) Public Library (EPL) employees shared with attendees how they created a participatory archives to engage marginalized communities and put "justice-seeking, caregiving, and community-oriented frameworks" at the center of the collection.
In Escondido, more than 50% of the population is Latinx—but in the collections, their voices are largely unheard.
"I knew I wanted to do a project that had to do with immigrants," said Peralta. "As a woman of color and a daughter of immigrants … I know how our stories have been manipulated, appropriated, and used against us."
Peralta knew she would be "asking communities who had no reason to trust us to be vulnerable," and so she did the "legwork to minimize harm." She was mindful of the frameworks of Caswell and Cifor, knowing she wanted to apply "radical empathy" in building an archive that values multiple narratives from multiple communities and honors communities' right to self-determine. She just needed to find participants.
That's where Lalitha Nataraj, at the time EPL's adult education librarian, came in. Peralta pitched the project, and Nataraj said that the idea of approaching her adult learners—many of them immigrants struggling with the invisible barrier of illiteracy—and asking them to do narrative reflection was appealing to her.
"Representation is important to those who receive stigma," said Nataraj, who herself is an immigrant. "From this vantage, [I] understood the aims of the project."
With Nataraj and Peralta cementing a partnership between EPL's traditional library services and archives, the two set about looking for funding and support.
"You need to get buy-in," said Nataraj. "Public libraries are subject to political agencies to which they're accountable."
With that in mind, the two tailored their pitch for different stakeholders. For some, they emphasized the partnership with adult literacy services or that the materials in the collection would be used in future exhibitions. When pitching to the literacy Friends group, Nataraj said, "I could emphasize the immigrant aspect of this project."
The vast amount of funding for the archives came from the California Library Literacy Services grant, and what emerged was "Home: A Living Archive Exhibition."
"When we think of an archive, it's tied to the past," said Peralta. "We have to create a new model."
Peralta made sure to introduce herself to every participant and brought the adult learners into the archive so they could better understand the space, project, and how their personal narrative was going to be used. At the opening, "they brought their families with them, which is a huge deal, because literacy learning is very private," said Nataraj.
Though there were some flaws to the project—Peralta said, in hindsight, she wished they had followed a coteaching model rather than a train-the-trainer model—the participatory archive was seen as successful.
"We embarked on this project with the goal of building trust with marginalized communities," said Peralta. "Building trust is something you continually work on. What we did is a beginning."