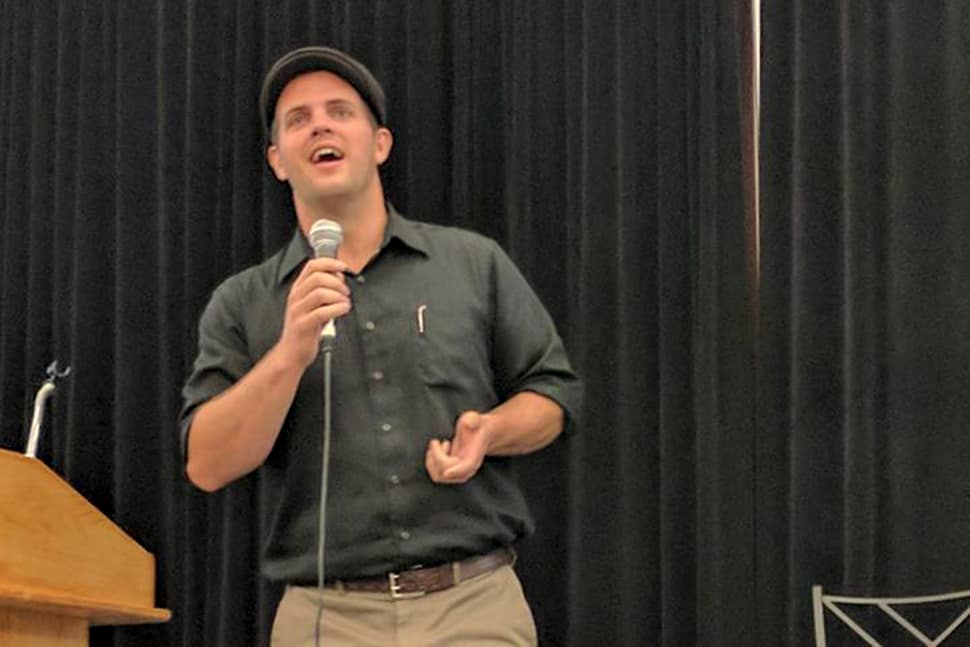 The positive vibe that permeated the first two days of the 2017 Association for Rural and Small Libraries (ARSL) Conference, held September 6–9 in St. George, Utah, continued in the conference's final two days. The conference's small size made that possible—approximately 550 people were in attendance at the Dixie Center on the outskirts of St. George, population 82,000. Frequent, scheduled refreshment breaks between sessions and shared breakfasts and lunches made mingling a requirement. As faces and names became familiar, ARSL 2017 felt as much like a family reunion as it did a library conference.
The Friday and Saturday keynote speakers did much to accentuate the feeling of togetherness. Blind musician/motivation speaker Clint Lewis and YA sci-fi/fantasy authors Brandon Mull (Fablehaven) and Lance Conrad (Price of Creations) praised their hosts and delivered talks that stressed the importance of following your passions and not being afraid to fail. The speakers—all Utah natives—also discussed their lives in their home state, adding local flavor that helped create a sense of familiarity between speakers and audience.
The comradery continued in ARSL sessions. Programs offered practical advice on everything from starting a seed library and rebranding your library to quashing local rumor mills and providing proper legal advice to patrons. These programs stressed collaboration, among staffers and between library and community.
Jennifer Lyon and Roseanne Wetzel, library technicians at Ukiah (Calif.) Public Library, began the session "How to Start a Seed Library on a Local Level" by asking attendees to imagine that the conference room was a map of the United States and directing them to stand in the room where their state would be. From there, attendees were instructed to greet their geographic neighbors to create connections that could help with sharing regional seeds in the future.
Creating a seed library is a collaborative effort, they said. Libraries should reach out to local farmers and gardeners, farmer's markets, community gardens, college agriculture departments, and online resources like Seed Libraries for inspiration, tips, and partnerships. The relationships will benefit the library and local community as well as the overall health of our food system, they said.
In "In Connecting Library Users to Legal Services," Deb Person, associate director of George William Hopper Law Library at the University of Wyoming College of Law, urged librarians to learn about local, state, and federal law and free legal services. Knowing those resources and other research options will help patrons who may come to librarians with questions and concerns about issues facing small and rural communities: foreclosures, domestic violence, divorce, DUI, and drug arrests.
Judicial websites, Google Scholar, and state bar associations all offer opportunities for help but can be difficult to navigate and understand. Librarians can become vital to their communities by mastering these tools, Person said.
"It's astonishing how many people don't know these services exist," she said. "Public libraries are perfect sources for people who need these resources."