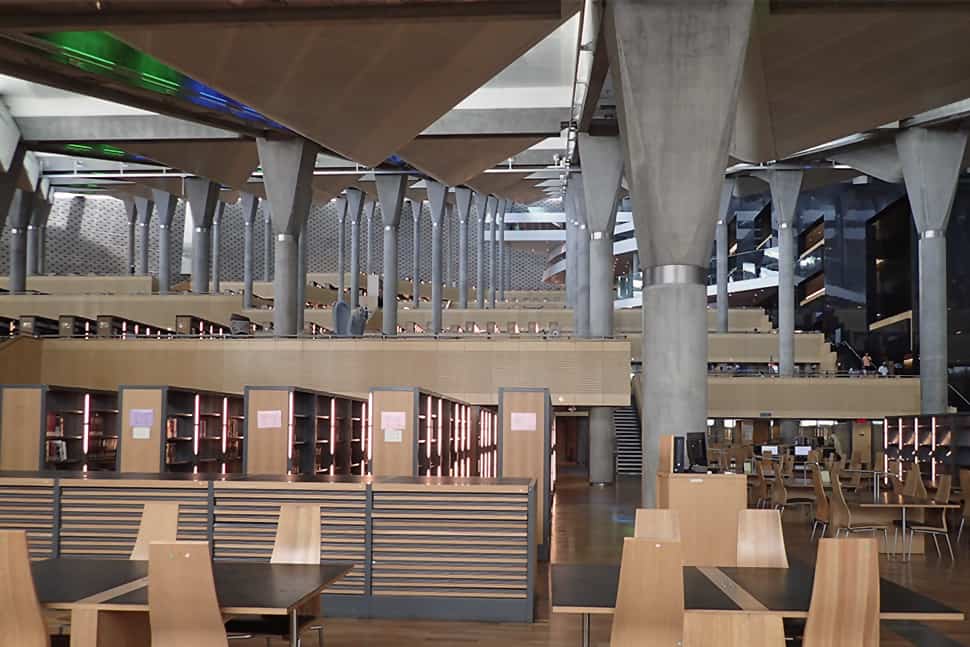 The ancient library of Alexandria, Egypt, once held the largest collection of manuscripts in the world, though it burned down in the 3rd century. In October 2002, Bibliotheca Alexandrina (the new Library of Alexandria) opened and has become a mecca for learning. While in Egypt on vacation this summer, ALA Librarian Rebecca Gerber visited the Bibliotheca Alexandrina (BA) and the American University in Cairo Libraries (AUC), with assistance from ALA's International Relations Office. American Libraries spoke with Gerber to hear more about her visits.
The new Biblioteca Alexandrina
The Bibliotheca Alexandrina complex comprises not just a library building but also a planetarium and conference center. A large fence with guard stations about every 25 meters runs along the corniche. This was once where you could enter the grounds, but due to security precautions prompted by political turmoil, the entrance is not found there. The actual entrance is not well marked by signage, says Gerber. It is off a side street and looks more like one for a museum. Director of Networks and Outreach Nabil Reda and other library workers met with Gerber and shared experiences about their respective libraries. BA librarians worry about easy access to information due to the new security precautions. Gerber learned that some controversial items such, as those with alternative political points of view, are kept in the Safe Room but are still available to those over the age of 16 upon request.
Touring the library
Free public tours are available in several languages, and visitors can ask at the front desk about taking a tour. Anyone over the age of 6 can use the BA library, but they must have a library membership to check items out. At 40,200 square meters (432,709 square feet), the building is enormous and airy inside, designed to absorb sound and soothe the eyes. The building's 11 levels cascade, which makes the structure feel intimate despite its size. Interestingly, the books are classified using Dewey, not Library of Congress (LC). BA contains a mirror site of the Internet Archive, six specialized libraries, four museums, and several exhibitions. In a country where disability is not much talked about and may have a social stigma, the BA contains the Taha Hussein Library for the visually impaired and an area for people with disabilities and their families to learn and use technology.
BA seems like the LC because it is a research library, but it is not the national library – that's Dar el Kotob in Cairo. BA does tremendous outreach to citizens living in the Alexandria area, providing many educational opportunities, including literacy programs offered at local schools. It offers many options for children and young people to build their literacy during the long summer break. Children and young people must check out books from their special library areas on their own cards.
The American University in Cairo Libraries
Kathryn Vanderboll, librarian for research and information services at AUC, met Gerber at a quiet time, while classes were on summer break. Again, security has changed the way the operations run. Vanderboll noted the university had moved most of its services and classes from the Tahrir Square location to New Cairo, mostly due to security issues. While the new campus is beautiful, open, and has many green spaces for students, faculty, and staff to relax, it is far away from the center of Cairo.
The inside of the main library looks much like any US university facility, with study carrels, a learning commons, public-access PCs, and study rooms. The stacks are arranged by Library of Congress Classification, and students, staff, and faculty have access to hundreds of databases and ebooks. A reference desk, circulation, and copy center are all easily identifiable. Signs in the building are in both English and Arabic.
A white-glove treatment for AUC rare manuscripts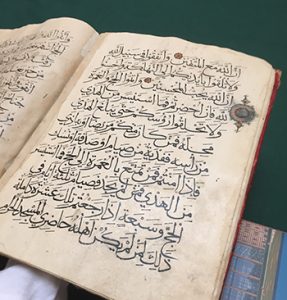 Gerber's visit highlight was to the Rare Books and Special Collections Library (RBSCL) at AUC. Nada Yassen, a rare books librarian, showed and allowed Gerber to don white cotton gloves and handle a 14th century Mamluk Quran, a first edition copy of the 19th century Description de L'Egypte, and a Latin-Arabic translation of the Four Gospels that was printed in Rome in 1591. Gerber also saw the AUC archival collections, including that of Boutros Boutros-Ghali and VanLeo. The library also contains AUC's historical papers and copies of all the books published by the AUC Press.
Access to information
Gerber learned from the librarians that the availability of online resources in languages other than English was a big topic. While many researchers are able to use English databases, native Arabic databases would be a great improvement, staffers told Gerber. The Egyptian government negotiated a deal in 2016 with several database vendors called the Egyptian Knowledge Bank and this provides all Egyptian citizens and non-Egyptian faculty and students with online access to many databases. Both AUC and BA librarians voiced some concerns with this database: Accessing the resources requires a person's national ID, which could lead to the government being able to see what users search and how often. Questions of continued access have arisen: It is unclear how long the various vendors have agreed to allow access, when that access ends, and how institutions will renegotiate with the vendors. Though internet access is available in large cities like Alexandria and Cairo and reliable at both libraries, the speeds are highly variable and access is not as consistent elsewhere in the country.
"I found that the desire to provide information, to encourage literacy, and the pride in being a librarian was very much the same in both Egypt and in the US. There are certainly challenges that Egyptian libraries face that most other libraries do not, but I felt that we were much more similar than I had expected," Gerber says.
Save
Save