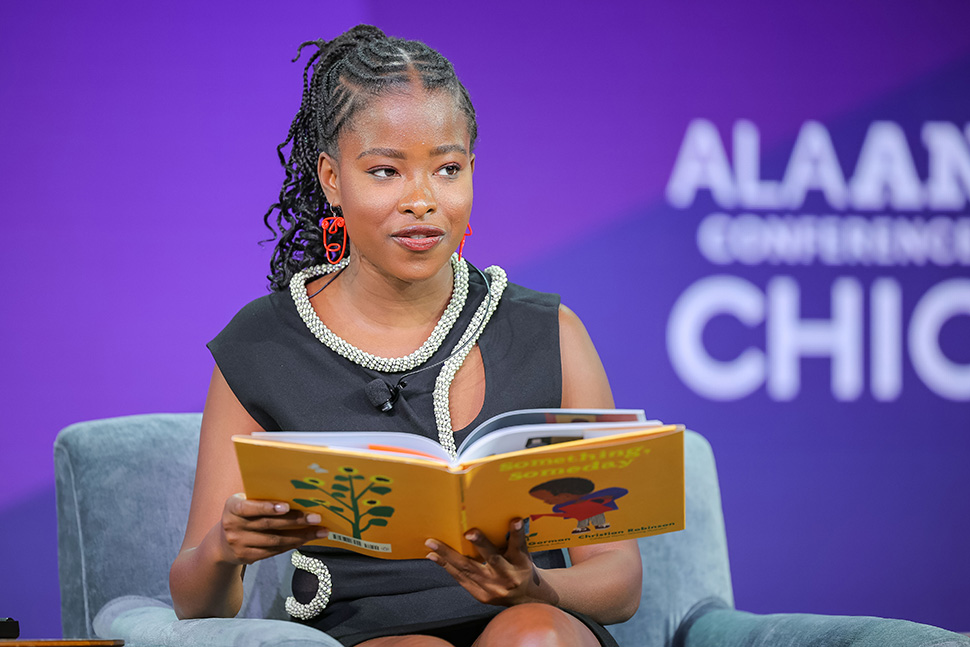 Something, Someday, a new picture book authored by poet Amanda Gorman and illustrated by Caldecott Medal honoree Christian Robinson, is a book about fixing problems. It makes space for hope and disappointment. It is a story of envisioning what could be.
Together, working
together, beginning,
over and over,
over and over,
Until you're no longer beginning,
you're winning.
Gorman began the Closing Session of the American Library Association's 2023 Annual Conference and Exhibition in Chicago on June 27 by reading this passage to the audience.
"I'm sure I'm not the only adult feeling a little weepy," responded sociologist, author, and artist Eve Ewing, the session's moderator.
Ewing engaged Gorman and Robinson in a conversation about how Something, Someday (Penguin Random House, September) came to be, who their influences are, and what inspires them to be their best selves.
Gorman said that after she wrote a poem that was mostly for adults called Fury and Faith following the death of George Floyd, she wanted to create a book that was accessible for children.
"[I wanted to] communicate, in that type of language, what it feels like having macrocosmic issues," she said, "but that our individual actions do matter."
Gorman's words were brought to life with Robinson's vibrant, papercraft-style images. She described the collaboration as one that was done apart but with "unspoken energies that we could tap together."
"Christian wasn't in the room while I was writing, but he was in my heart when I was writing, and it makes the book better for it," she said.
"Same!" exclaimed Robinson. The duo, to the surprise of the audience, was meeting in person for the first time at Annual.
Robinson noted that his illustrations and their distinctive color palette have been influenced by fine artists Elizabeth Catlett, Jacob Lawrence, and Ezra Jack Keats. One of his main challenges on this project was illustrating the concept of hope.
"I love dandelions, I'm just going to say it," he said with a laugh. "They're there doing really good work in that soil. They're like this hopeful thing to me that is literally changing the environment."
What is it that gives Gorman and Robinson hope and inspires them to be the best versions of themselves?
"Wherever I see darkness, I try to look extra hard for the helpers," Gorman responded, evoking children's television host Fred Rogers. "How could I not feel like a small light could do anything?"
Robinson said that Something, Someday is dedicated to the late Buddhist monk Thich Nhat Hanh. Hanh's teachings have been a balm for Robinson and inspired the book's concept of transformation.
"Garbage is real, and it's smelly, and it's inconvenient," Robinson said. "But if we are mindful, if we know how to handle it with care and skill, something beautiful can come out of it."