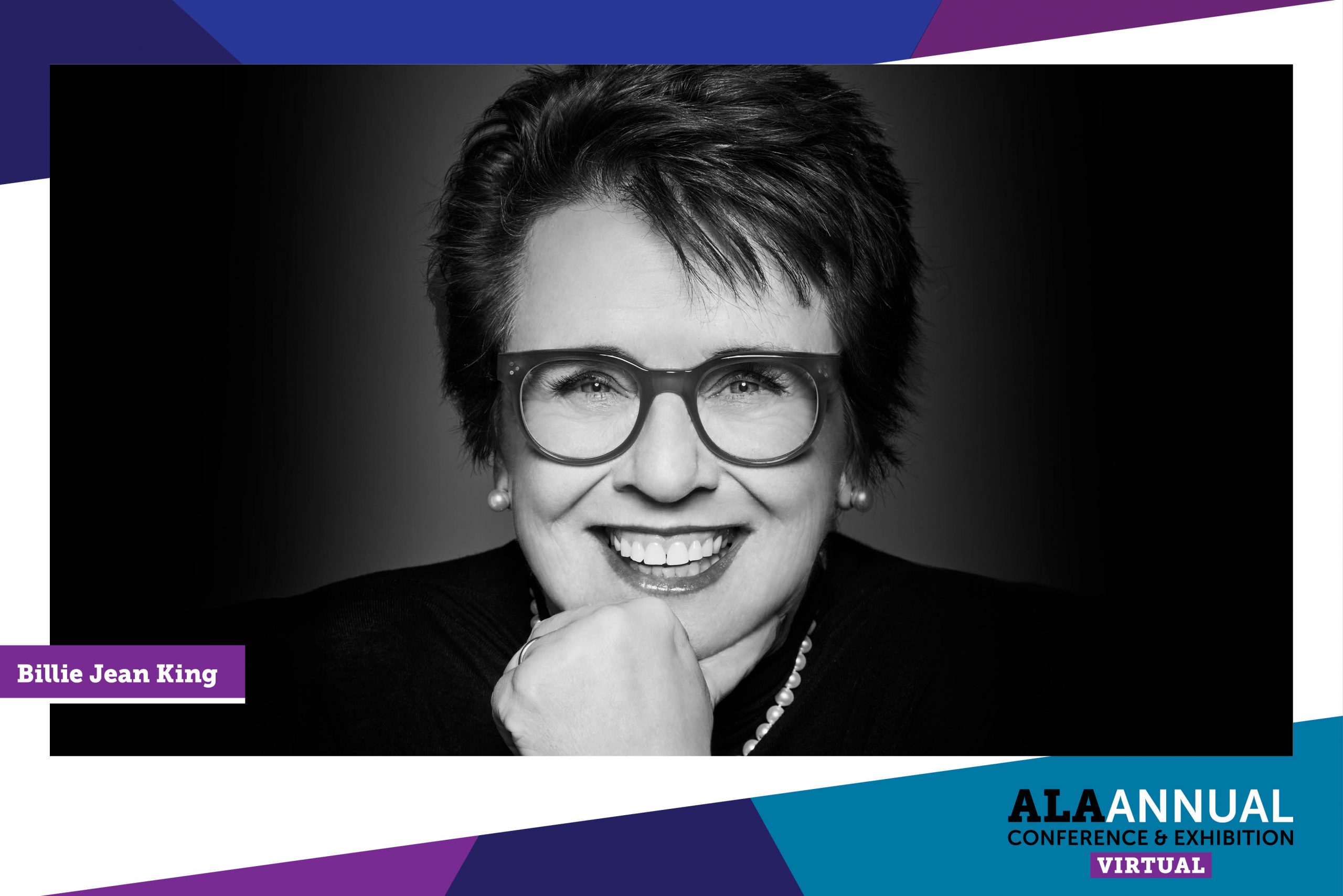 Tennis legend Billie Jean King was in "the zone." From discussing pay equity to police brutality to affordable childcare to the rights of transgender athletes and people with disabilities, the sports great hit ace after ace at the American Library Association's 2021 Annual Conference and Exhibition Virtual on June 25.
"Show up, speak up, stand up," the 39-time Grand Slam winner told attendees during her nearly hourlong talk. "Everyone is an influencer."
Best known for her 1973 "Battle of the Sexes" tennis match—and victory—against Bobby Riggs, King said the event "was about tennis, but not really. It was about social change." More than 90 million people around the world tuned into the match.
She credits the 1972 passage of Title IX, which prohibits sex discrimination in any education program or activity receiving federal financial assistance, for helping to level the playing field for female athletes. "It blew open the doors," she said, allowing access to better coaching and equipment.
Growing up in Long Beach, California, she said she was fortunate to have community support. In fact, the people of Long Beach pooled money to help King play her first Wimbledon tournament at age 17. She and Karen Hantze Susman went on to become the youngest pair to win the doubles title there, in 1961.
"It is so important to have free access," she said. "For me, it was the tennis courts." That resource and free coaching from the local parks system helped shape her life. "We were little park rats, because my parents only cared about two things: health and education." Her parents, she said, also gave her space to grow.
"Sports teaches you about self-awareness," King said. Because you either win or lose, you learn to be resilient and tap into your inner strength and confidence. These lessons are especially important for girls, she said, because you learn to trust your body, yourself, and gain a deeper understanding of those around you. "I want girls in sports because it will teach them to navigate whatever culture that we're in."
Among her heroes—or "sheroes"—is Althea Gibson, who in 1956 became the first African American to win a Grand Slam tennis title. Representation for girls, especially girls of color, is key, she said.
"If you can see it, you can be it."
Despite her storied 32-year career and breaking barriers on behalf of women and LGBTQ athletes, King said writing her autobiography All In (Knopf, August) was "one of the hardest things I've done." Coauthored with Johnette Howard and Maryanne Vollers, the book, she said, is "raw," giving a glimpse into her struggles with an eating disorder and being gay in the public eye.
King considers herself one of the lucky ones. "It's good to share," she said, "because we really aren't alone."