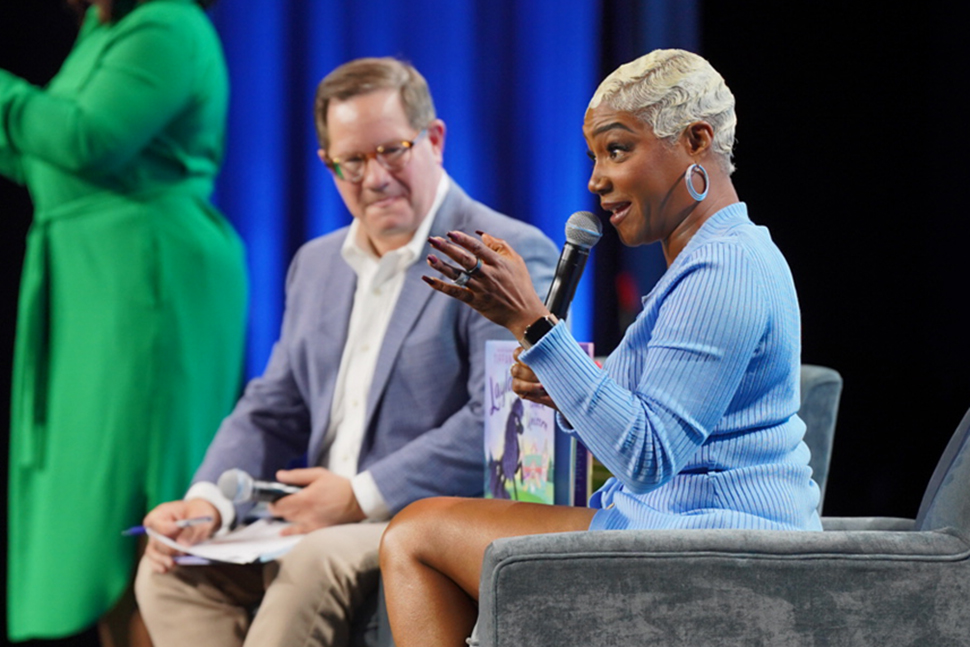 Before taking a seat onstage, actor and comedian Tiffany Haddish danced in place and bellowed her signature catchphrase: "She ready!" Judging by the cheers, the librarians were ready for her, too.
Haddish appeared as a featured speaker on June 25 at the American Library Association's 2022 Annual Conference in Washington, D.C. In a lively conversation with Andrew Medlar, president and director of Carnegie Library of Pittsburgh, she spoke about her early experiences with libraries, her new picture book, and her outlook on life.
"This is my first library conference. I know you librarians can get a little wild," Haddish joked.
For Haddish, who grew up in foster care, the Inglewood (Calif.) Public Library was one of her favorite places to visit. "When the internet first started coming out in the 1900s, we were all hanging out there," she said. "[Librarians] helped me start my first AOL account, which I still have and never check."
Haddish says that when she started to become curious about boys, she went to the reference desk with a lot of questions: "Do you have books on reproductive stuff? Where's your books with pictures of organs?"
And though she says she "wasn't the best reader" as a child, she remembers how storytimes left her captivated and puppet shows left her wanting to participate. "I wanted to be able to create a book that inspires a child's imagination," said Haddish said.
Her first picture book, Layla, the Last Black Unicorn (HarperCollins, May), cowritten with Jerdine Nolen and illustrated by Jessica Gibson, tells the story of a lovable but awkward unicorn who doesn't realize that what makes her different is also what makes her special. The book was inspired by Haddish's own life and has a message that she felt kids needed to hear.
"Children [need] to know that whoever you are right now is fine, and you are going to evolve," she said. "You're perfect the way you are. You're born this way because there's a journey you're supposed to go on."
Haddish's own personal journey wasn't an easy one. "I grew up in foster care and I feel like there are a lot of failures in the system," she said. She remembers having to move from home to home with her belongings stashed in trash bags. "That sent a mental message to me that I was garbage."
Today, Haddish runs the She Ready Foundation, an organization that, among other things, provides suitcases to foster children to give them a sense of pride and ownership over their belongings. On top of that, she has started a Hollywood internship program ("I want to see more people like me in my industry"), is currently filming the second season of the Apple TV+ murder mystery-comedy The Afterparty, is taking executive courses through Harvard University, and has another book, I Curse You with Joy (HarperCollins), coming out in January.
So how does she do it?
"I have my mind set on wanting to bring joy," Haddish said. "Every single day is a gift."