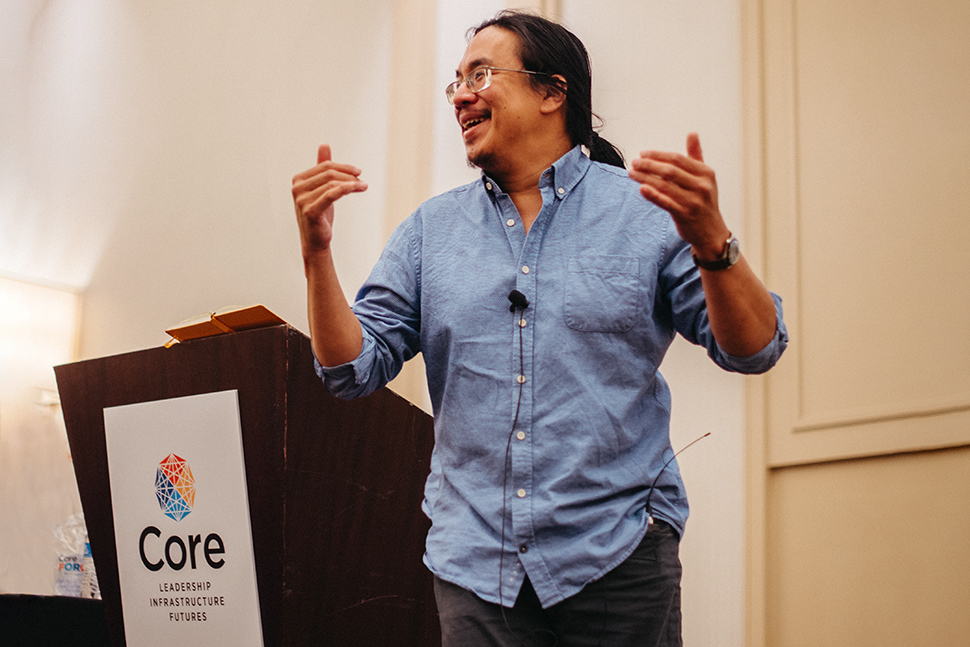 The picturesque Wasatch and Oquirrh mountains surrounding Salt Lake City set the stage for the first in-person Core Forum, held October 13–15. The three-day event was the inaugural conference for the American Library Association's newest division, Core: Leadership, Infrastructure, Futures. It featured programs designed around six different education tracks: access and equity, assessment, buildings and operations, leadership and management, metadata and collections, and technology.
Game collections as 'library of agencies'
Core Forum kicked off October 14 with "Games and Agency," a keynote presentation from C. Thi Nguyen, associate professor of philosophy at University of Utah in Salt Lake City. The game enthusiast and former food writer spoke about the ways that our social structures and technologies shape how we think and what we value.
"Various technological mediums let us record human experience," Nguyen said. "Fiction and movies let us record stories. Paintings and photography let us record images. Games let us record forms of agency."
Nguyen noted that games are a way of communicating different kinds of agency, with a collection of games serving as a "library of agencies" for players to explore. He suggested that nongamer library workers often tend to build their collections around overtly intellectual and educational games and not necessarily those with innovative mechanics or emergent gameplay. Others, he said, may base their game collections on user requests, which often reflect the highest-selling games.
"Board games and tabletop roleplaying games are an extremely rich area with a dissemination problem: There's no established canon, and what's popular is often determined by marketing contingencies," Nguyen said. He offered practical recommendations for providing physical games in libraries and emphasized the benefits of having community game curators do this work instead of those who may not be avid gamers.
Buildings as social infrastructure
At "See the Change," the closing keynote on October 15, architect Jonathan Moody discussed how buildings can function as a community resource. Moody, president and CEO of architecture firm Moody Nolan, stressed that libraries are an integral part of our social infrastructure and when they are constructed, they signal a community's values.
"Every library building, every school building, every housing project is an investment in a neighborhood—a statement that this place matters," Moody said. He discussed the role of architects in ensuring that an investment lasts, particularly in the face of change. When the demographics of a community are constantly fluctuating, Moody said, it forces architects to consider how they will meet future challenges and create physical adaptability in their buildings.
Moody emphasized that libraries are both a mental space where people can reflect on what is happening in their communities as well as a physical place that reflects who they are as a community. "We know that when people feel a space is for them, they are more likely to use it," he said. "Through the design and construction process, we can find opportunities for changing communities to see themselves in libraries. Through this process, we see how people can be empowered to make change."