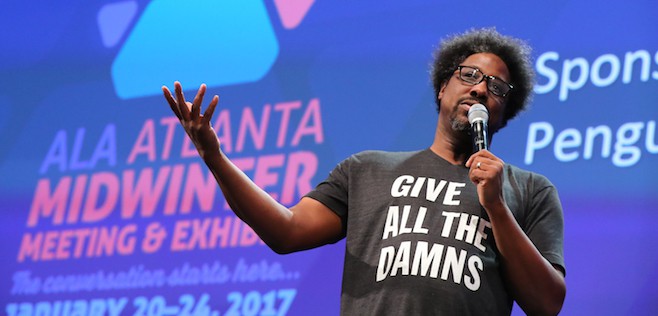 "They said I can say anything!"
W. Kamau Bell exclaimed that phrase often during his Opening Session talk at the 2017 ALA Midwinter Meeting in Atlanta. His candor was necessary.
The stand-up comic and host of the CNN program The United Shades of America and the Politically Re-Active and Denzel Washington Is the Greatest Actor of All Time Period podcasts was the perfect choice to kick-off a Midwinter Meeting that opened on the same day as Donald J. Trump's inauguration as the 45th president of the United States. Bell's comedy provided a salve that soothed burns still fresh from the contentious election. The audience needed to laugh and vent, and Bell enabled.
Bell's talk ranged from his work as a stand-up comic and podcast host; his experiences on The United Shades of America, which took him face-to-face with the KKK; race relations; fatherhood; and a hilarious story about his appearance on The View, but the Trump presidency was a thread throughout the session.
Bell joked that when he accepted the job to be the Opening Session speaker many months ago, it didn't occur to him that it would fall on inauguration day. Due to the socio-political bent to his work, he said his friends and colleagues assumed that he'd be marching on Washington that day, but he had to explain to them that he'd be talking to librarians instead. It was an experience that held as much power as hitting the streets, he said.
"People inherently understand how important you are and how important your profession is, especially in this current era," he said. This is particularly important in regards to kids and education, he said. Bell explained how he and his wife determined which school to send their young daughter by looking at the condition of the schools' libraries. The school with the best library won, he said. "You put books in kids' hands," he said. "You have the power to expand their worlds and how they see the world."
Librarians' ability to help shape perceptions is vital now. Bell didn't mince his words to explain why.
"Is Trump a racist? Yes, he's a racist!" he yelled to energetic audience applause. Bell drove the point home by detailing Trump's role in the birther movement and how he refused to rent apartments to African-Americans in New York City in the 1970s. Trump's election is seen by many of his supporters as a legitimization of racism, but we cannot let this become the new normal, he stressed. The way to combat it is by rebuilding our communities.
Physically going out into the community to meet your neighbors is essential to breaking down barriers and creating stronger bonds of understanding, Bell said. "Get off your phones and social media and do this," he said.
Trump has been on Bell's radar since 2015, he said, when he co-wrote an article for Salon about the then-TV celebrity's rise to power. And he was exasperated by how his warnings were ignored.
"He's not Voldemort!" Bell said. It was this collective refusal to take Trump seriously and confront him early that led to where we are now, he said.
Despite everything, though, Bell is optimistic.
"I feel energized" he said. "I'm not afraid."
Bell's positivity waved through the Opening Session audience, who gave the comic a standing ovation at the conclusion of his talk. It continued into the post-talk Q&A session. One librarian asked Bell where he finds the strength to do what he does. She held back tears and her voice cracked as she asked the question. Without missing a beat, Bell jumped from the stage, ran up the aisle, and gave her a hug.