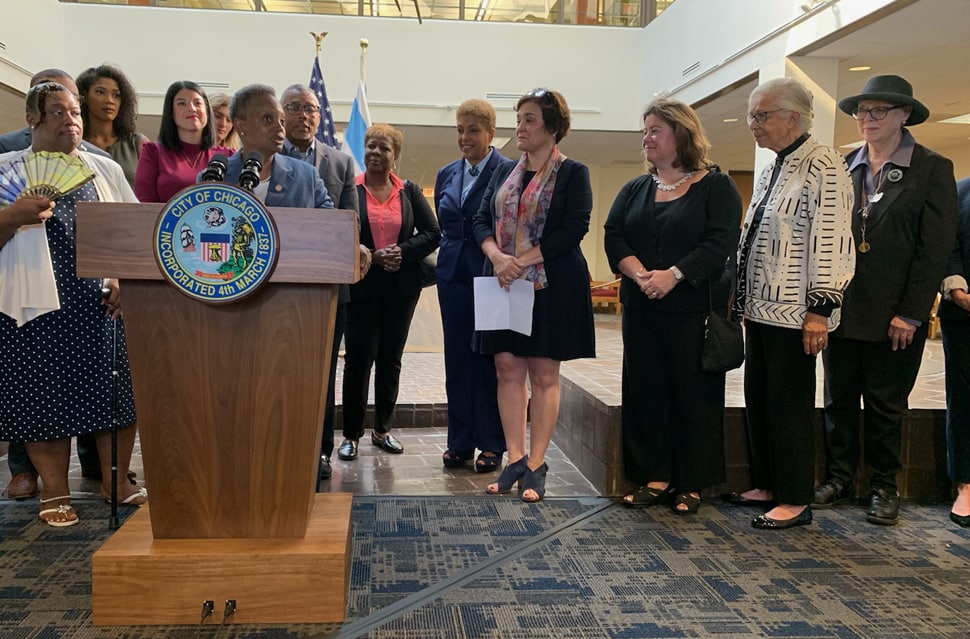 At a September 30 press conference at Woodson Regional Library, Chicago Mayor Lori Lightfoot, Chicago Public Library (CPL) Commissioner Andrea Telli, and CPL board members announced the elimination of late fees as a way to increase access to libraries citywide. With the announcement, Chicago becomes the largest city, and the largest public library system in the US, to eliminate overdue fines.
Starting October 1, CPL will eliminate overdue fines on all CPL-owned items currently in circulation, which it said will remove barriers to basic library access, especially for youth and low-income patrons. CPL's data shows that one in five suspended library cards citywide belong to children under age 14. The data also indicates the disproportionate impact late fines have on different communities in the city, with one in three patrons in CPL's South District currently unable to check out items because they owe $10 or more in fines and fees; on the city's wealthier North Side, the number drops to one in six.
"In many cases, people simply never return to their libraries because of this—so we lose the fine, the patron, and the material, but the fine is really the most unimportant part," Telli told the Chicago Sun-Times. Late fines constitute just 0.7% of CPL's total budget, according to a September 30 press release.
CPL has found amnesty programs to be more effective than fines for getting materials returned, the press release noted. A fine amnesty in 2012 resulted in the return of 101,301 overdue items, valued at approximately $2 million, and 29,500 library card renewals or sign-ups. The most recent fine amnesty in 2016 resulted in more than 15,000 new patrons and the return of more than $800,000 worth of CPL material.
"The essential mission of publicly funded libraries is free, equal, and equitable access to information in all its forms," said American Library Association (ALA) Executive Director Mary Ghikas in the press release. "We applaud Mayor Lightfoot's and Commissioner Telli's move to eliminate Chicago Public Library fines, which create economic barriers and negatively impact the working poor, children, and marginalized populations. Every member of the community has a right to library service. Eliminating fines in Chicago will transform lives through education and lifelong learning." ALA passed a resolution at the Midwinter Meeting & Exhibits on January 28 calling for the abolition of monetary fines.
By eliminating late fines, CPL said it can better fulfill its goal of providing free and equitable access to lifelong learning. "This is honestly the most exciting thing to happen at CPL since I've been here," said Lisa Roe, manager of CPL's Bucktown-Wicker Park branch, in the CPL statement. "It's amazing to 'walk the walk' with regard to free and open access for all patrons."