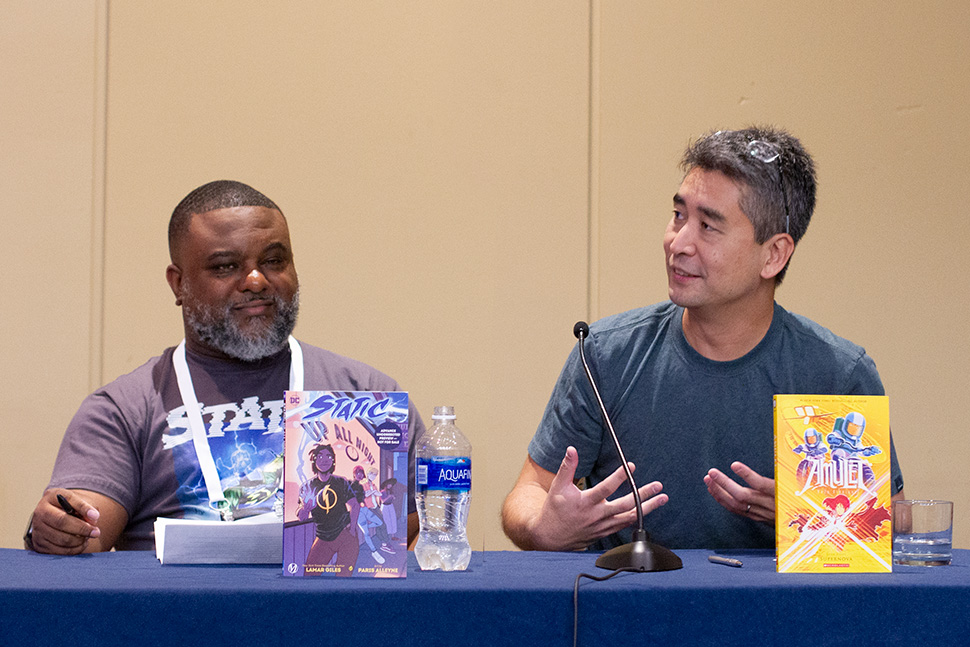 Author Lamar Giles remembers the first time he saw that his local library in Chesapeake, Virginia, was going to host its very own comic convention.
"As someone who grew up loving comics but often hiding them from my peers," said Giles, whose book Static: Up All Night based on the DC superhero will be released this November, "it was exciting to know that this was gonna be something happening in a place where I used to go to feel safe about what I read."
Giles joined authors Harmony Becker (Himawari House), Kazu Kibuishi (the Amulet series), and Jeff Smith (the Bone series) at the Graphic Novels and Comics Round Table's (GNCRT) President's Program, "Comics in Libraries: Past, Present, and Future" during the American Library Association's (ALA) 2023 Annual Conference and Exhibition in Chicago on June 24. The authors discussed how graphic novels, comics, and manga have been targeted by censorship attempts, why the format is loved by young readers, and what they'd like to see in the future.
The panel, moderated by GNCRT President-Elect Robin Brenner, was also a celebration of the GNCRT's 5th anniversary and a retrospect of the 2002 Young Adult Library Services Association Preconference on graphic novels, where comics authors and librarians connected. There, authors discovered how much librarians loved their work and wanted the format in their libraries. 
Despite their popularity, comics are currently present in banned books lists, and there are still some who question whether they are a form of literature. "Comics are unfortunately a target very often because they're visual," Brenner said. 
Smith, whose Bone series made ALA's Top 10 Banned Books List in 2013, expressed support and gratitude for librarians who are "on the front lines" of censorship attempts. "What's going on is disingenuous at best," he said. "Yes, there are parents with real concerns, but that's not who's doing this, screaming at librarians and demanding."
Kibuishi mentioned how accessible the format is to children, who are often learning how to read or may be reluctant to read. "Kids were gravitating towards [Amulet] partly because, I think there's so much information in their lives right now," he said. "[Graphic novels] give them a reprieve because they can understand [them] so quickly." 
Panelists also discussed artificial intelligence and its role in creating graphic novels. Becker joked that AI could be a good tool for drawing things she didn't want to draw, but she's not too worried. "The kind of comic an AI could write at this point would just be a mix of all comics that doesn't really have anything original," she said. "It's more a product rather than a work of art or something you want to communicate."