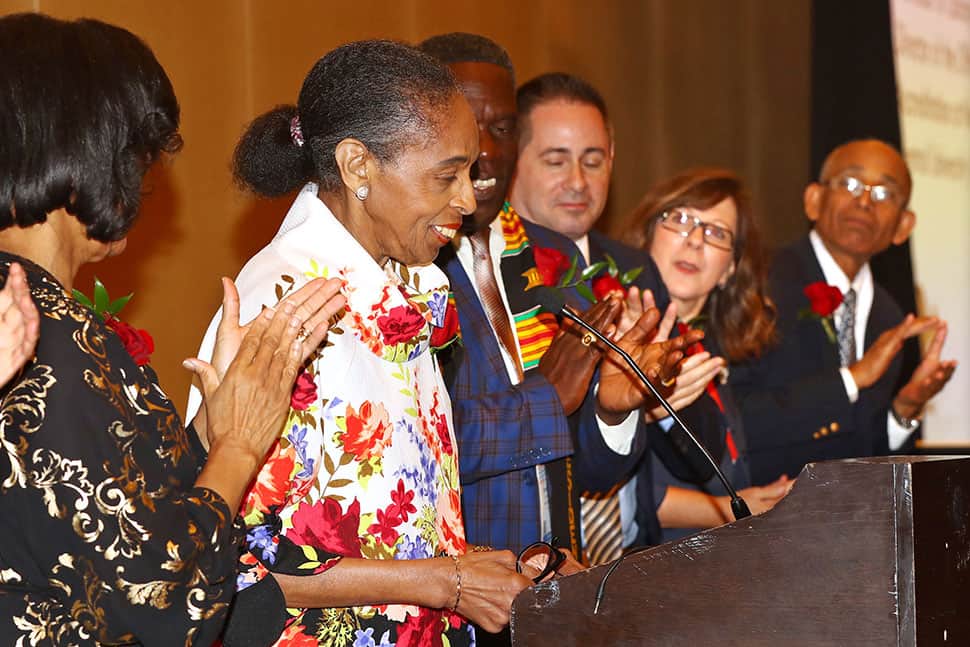 The Marriott Marquis (Washington, D.C.) Hotel's Marquis Ballroom was brimming with excitement. This excitement stemmed from a number of factors, such as 2019 marking the 50th anniversary of the Coretta Scott King (CSK) Book Awards.
The Coretta Scott King Book Awards are given annually to outstanding African American authors and illustrators of books for children and young adults that demonstrate an appreciation of African American culture and universal human values. The award commemorates the life and work of Dr. Martin Luther King, Jr., and honors his wife, Coretta Scott King, for her courage and determination to continue the work for peace and world brotherhood.
This year's CSK Book Award recipients were Claire Hartfield, author of A Few Red Drops: The Chicago Race Riot of 1919, and Ekua Holmes, illustrator of The Stuff of Stars.
"To get it right, we must write and read all of our diverse stories," Hartfield said during her acceptance speech.
In Holmes' acceptance speech, she said, "As an illustrator, you become an ambassador for the people in our past." As a child, she and her cousin would make their own books because there weren't books in her library about or for African American children. "These stories deserve to be heard and appreciated."
Hartfield and Holmes were celebrated for their literary and artistic genius along with a number of esteemed CSK Award honor recipients, which included authors Lesa Cline-Ransome (Finding Langston); Varian Johnson (The Parker Inheritance); and Kekla Magoon (The Season of Styx Malone).
Magoon said she's grateful for every teacher and librarian for sharing books. "It's an ordinary act until it's not. We never know how our ordinary acts may become extraordinary," she said.
Johnson dedicated his CSK honor award to his two daughters in a moving acceptance speech. "I can't protect you from this world, but I can prepare you for it" was Johnson's message to his daughters.
Honored illustrators were R. Gregory Christie (Memphis, Martin, and the Mountaintop: The Sanitation Strike of 1968); Laura Freeman (Hidden Figures: The True Story of Four Black Women and the Space Race); and Frank Morrison (Let the Children March).
Tiffany D. Jackson, author of Monday's Not Coming, and Oge Mora, author and illustrator of Thank You, Omu!, were recognized for receiving the John Steptoe Award for New Talent.
In her speech, Mora quoted what her father would always tell her: "A tree at the top of a hill can't hide…. Stand tall."
Pauletta Bracy, professor of library science and director of the Office of University Accreditation at North Carolina Central University (NCCU), received the Coretta Scott King-Virginia Hamilton Award for Lifetime Achievement for her years of dedicated service.