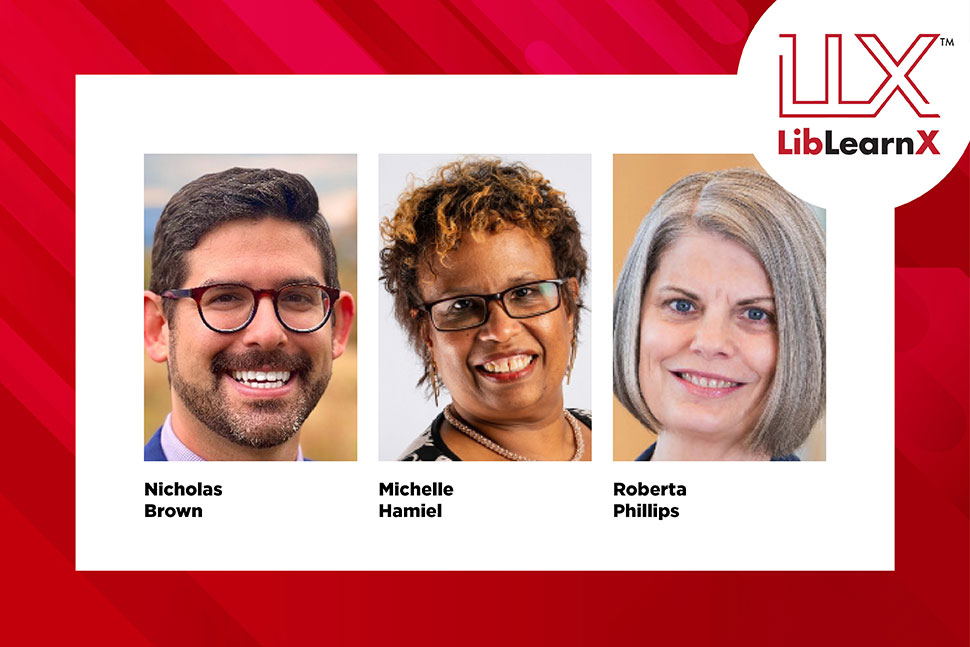 As US demographics change and as the push to become a more inclusive and equitable society grows, libraries must follow suit. That was the message at "Advancing Race and Social Equity in Library Communications," a January 22 session at ALA's LibLearnX virtual conference.
Three members of Prince George's County (Md.) Memorial Library System (PGCMLS) discussed the library's ongoing antiracism and social equity work, how that work is reflected in its communications, and how it has strengthened the library's role in the local and statewide community.
Panelists from PGCMLS included Nicholas A. Brown, chief operating officer for communication and outreach; Michelle Hamiel, chief operating officer for public services; and Roberta Phillips, chief executive officer.
The long-term goal, said Brown, is to be a better library system internally as well as externally, as populations and societies are changing, "and as we are collectively grappling with some of the systemic issues that have existed on these lands for hundreds of years."
Panelists discussed PGCMLS's strategic framework on race and social equity. "We wanted to go toward social impact," said Phillips, "and not just rely on a transactional organization." That aim led to a focus on five key strategic areas—inclusion, literacy and learning, personal achievement, creativity, and healthy living.
With a population of 967,000, Prince George's County serves diverse community groups: 64% of residents are Black, 20% are Hispanic/Latin, and 12% are non-Hispanic white. Two-thirds of children receive free lunch, and 22% of residents are immigrants.
To work toward the inclusion mandate among PGCMLS's 19 branches, Hamiel said it was critical for the library system to move "outside the brick and mortar." For example, staff members have visited apartment complexes to provide services to women and children who come from cultures where women don't often go out in public. They have also circulated a varying number of Chromebooks to different communities.
"It's about equity," said Hamiel, pointing out: "There's a difference between equity and fairness."
To advance equity goals and foster institutional support for them, Brown noted the importance of ensuring representation on library boards. He said he was proud that PGCMLS's board has diverse voices from various racial and ethnic groups, LGBTQ+ members, and an equal number of men and women.
The three also discussed how inter-departmental staff teams have helped further the library's framework. Brown said change at PGCMLS has been most effective when coming from its more than 41 teams rather than from leadership.
For example, Prince George's County has a diverse religious community that, he said, may not have been open to LGBTQ+ collections displays. But by implementing a system-wide and coordinated effort to support and promote such displays, "we went from five miles per hour to 150 miles per hour," said Brown. While there's still been some pushback, the institutional support from the board and from grassroots advocacy work has helped staff members point to the larger library mandate.
"It's our job as leaders to eliminate those barriers," said Phillips, "[and] to go boldly and fearlessly and to be courageous. It's not easy … but it's the right thing to do."