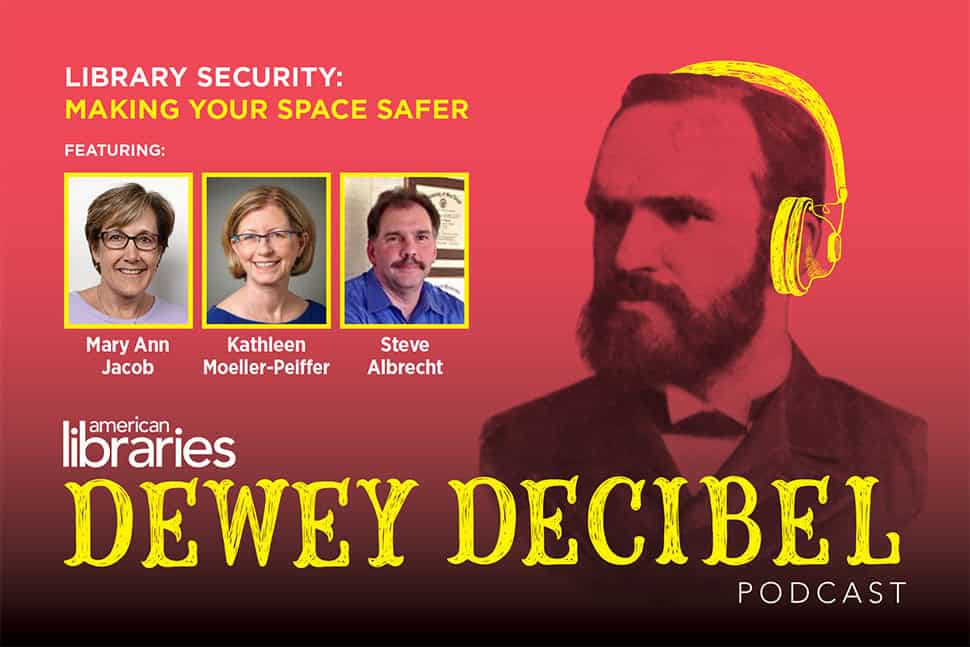 American Libraries can't thank you enough for the listens, follows, and overwhelmingly positive feedback we've gotten since premiering our first Dewey Decibel podcast episode last month.
In Episode Two, we bring you conversations on library security. It's not an easy topic to talk about, but it is an essential one. We welcome three people from the library world who work to help us understand how to handle safety issues—both large-scale, harrowing encounters and smaller but still disconcerting events—in our buildings and on our campuses.
Mary Ann Jacob, a library aide who works at Sandy Hook Elementary School in Newtown, Connecticut, and was present during the fatal shootings on December 14, 2012, shares her powerful story. She recounts how library staff reacted that day and how her community has since moved forward, including her work with Everytown for Gun Safety.
Kathleen Moeller-Peiffer, director of New Mexico State Library, explains some of the active shooter training programs she made available to her staff at the New Mexico and New Jersey state libraries. She talks about the programs' usefulness for frontline staff and the model that was used at Scott County (Ky.) Public Library.
Steve Albrecht, author of Library Security: Better Communication, Safer Facilities (ALA Editions, 2015), provides tips on what libraries can do to stay safe on a day-to-day basis, develop liaison relationships, and keep from overreacting or underreacting in a situation.
A delicate but important installment, we think this episode is especially valuable to library staff members and users. Give it a listen and let us know what you think at deweydecibel@ala.org.
Be sure to come back for Episode Three, featuring interviews with Nancy Pearl and winners of the Andrew Carnegie Medals for Excellence in Fiction and Nonfiction, airing June 25.