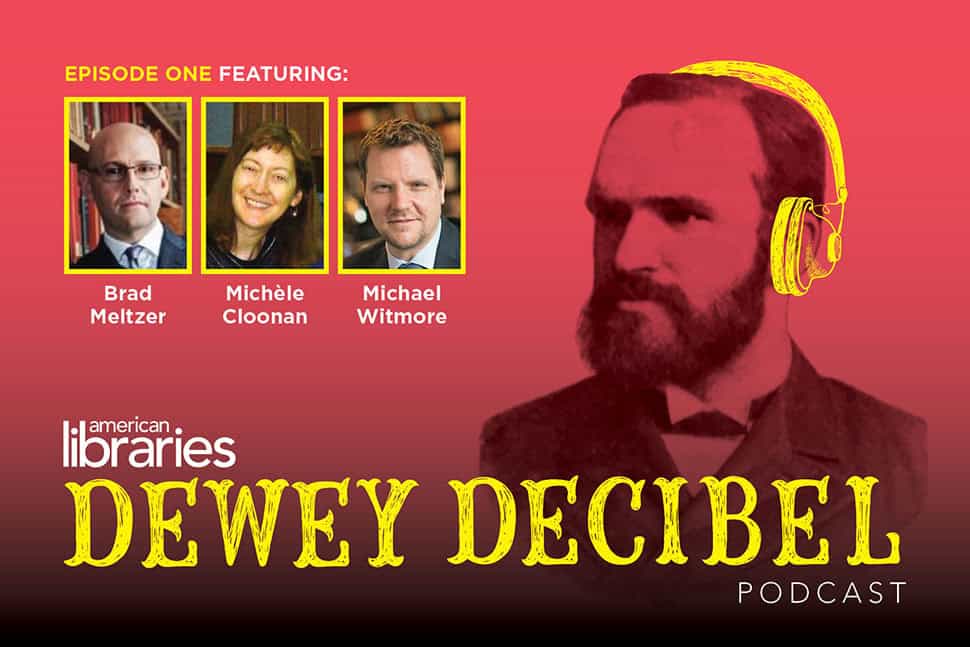 American Libraries is thrilled to bring you the very first episode of the Dewey Decibel podcast.
You can hear it in Dewey Decibel host and AL associate editor Phil Morehart's voice—just how darn excited we are to be sharing our conversations with librarians, authors, thinkers, scholars, and others, about topics from the library world and beyond, in this new monthly offering.
In the first podcast episode, "Preservation: If You Don't Have the Keepers, You Don't Have the History," Phil interviews three preservation experts in observance of ALA Preservation Week (April 24–30, 2016): Brad Meltzer, bestselling author, honorary chair of this year's Preservation Week, and host of Brad Meltzer's Decoded on the History Channel; Michèle Cloonan, dean and professor emerita of Simmons School of Library and Information Science and author of Preserving our Heritage: Perspectives from Antiquity to the Digital Age (ALA/Neal-Schuman, 2015); and Michael Witmore, director of the Folger Shakespeare Library in Washington, D.C.
What can you expect from our first episode?
Find out from self-proclaimed pack rat Brad Meltzer what's "far cooler than Indiana Jones," which institution's help he can't live without, and what type of "geeking out" he and Phil did that ended up on the cutting room floor.
Discover which advocacy movement Michèle Cloonan thinks librarians and archivists will be working with closely in the future, which Victorian-era critic she's been reading, and what excites her about preservation technology today.
Hear from Michael Witmore on why each of the 233 known copies of Shakespeare's First Folio are unique, which organization helped Folger plan the First Folio tour in all 50 states, and what considerations must be given to take the book on the road.
Listen to American Libraries Dewey Decibel podcast, share it with the people in your profession, and come back for episode two, airing May 23.
If you have any feedback, contact us at deweydecibel@ala.org.