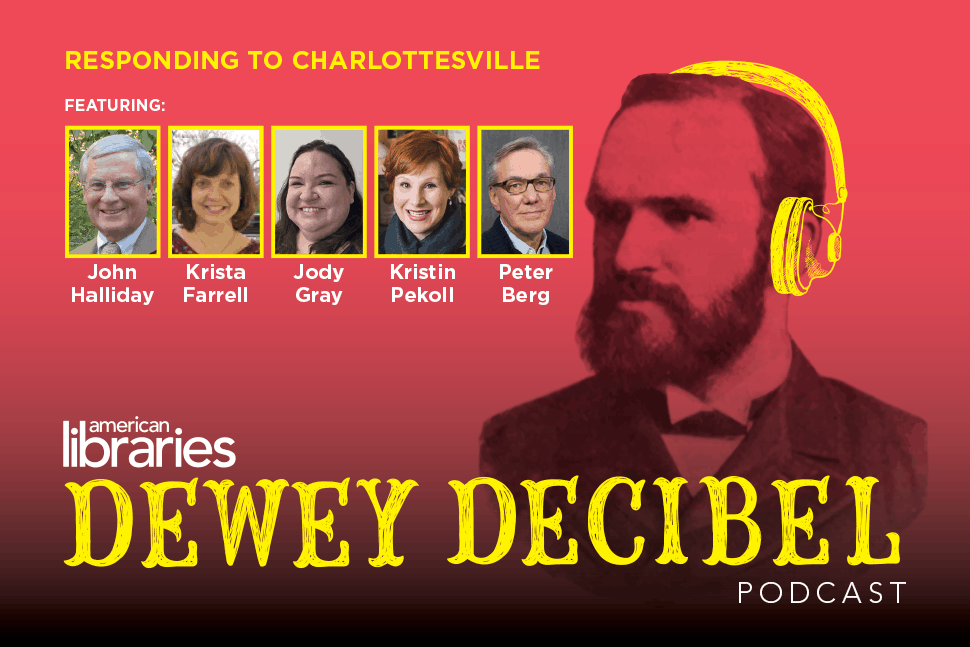 In Episode 17 of the Dewey Decibel podcast, American Libraries looks at the August 12 protests in Charlottesville, Virginia, from the perspective of the library world.
First, American Libraries Associate Editor and Dewey Decibel host Phil Morehart talks with John Halliday, director of Jefferson-Madison Regional Library in Charlottesville, and Krista Farrell, assistant director and manager of Jefferson-Madison's Central Library. The Central Library sits on what was the front lines of the protests. Halliday and Farrell share how their community handled the events of that day.
Next, Morehart sits down with Jody Gray, director of the American Library Association's (ALA) Office for Diversity, Literacy, and Outreach Services, and Kristin Pekoll, assistant director of ALA's Office for Intellectual Freedom, to discuss ALA's tracking of hate crimes at and in libraries and what libraries can do if they encounter hate.
Finally, Morehart talks with Peter Berg, associate director for special collections and preservation at Michigan State University (MSU) Libraries. MSU Libraries holds a massive collection of extremist literature, paraphernalia, and other materials. Berg explains why it's important for libraries and archives to save such materials.
If you have feedback for the Dewey Decibel team, email us at deweydecibel@ala.org. Tell us what you like, what you don't like, or what you'd like to see us cover. Follow us on Twitter and leave us a review on iTunes.