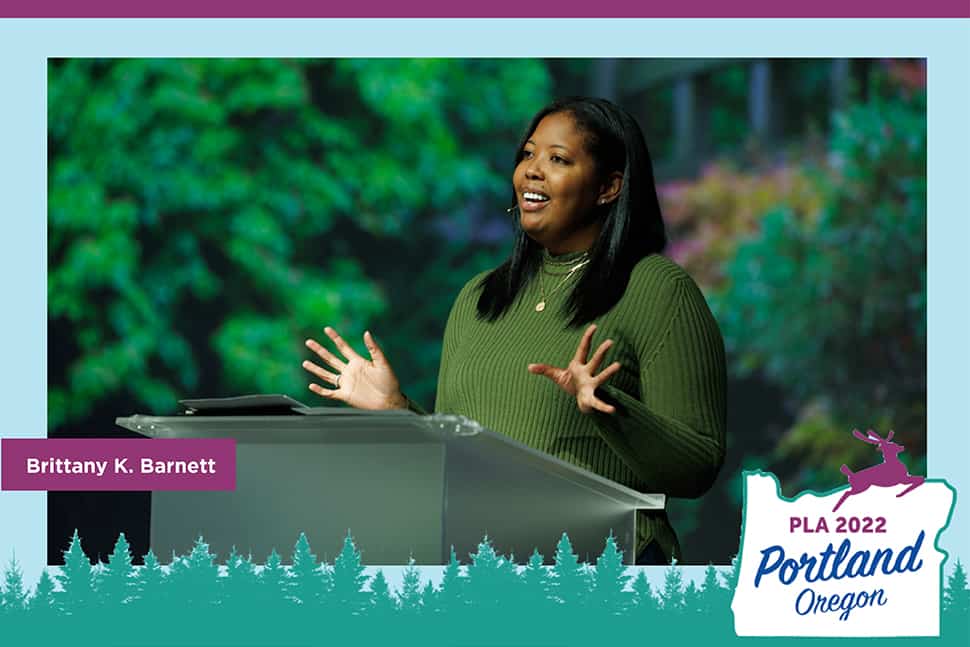 Brittany K. Barnett remembers visiting her mother in prison for the first time.
She was a young adult and her mother was serving time for a drug offense. She remembers "just how deceiving that three-inch plexiglass" was as she gripped the phone tightly during the contactless visitation. At that point, everyone she knew was somehow affected by the war on drugs, "which was really a war on Black people in poor communities," she said.
"Books were my escape; the library was my safe haven," Barnett told attendees of the Public Library Association (PLA) 2022 Conference in Portland, Oregon, on March 24. "The books that I chose to read, the time I spent in the library, how many books I could read in a week—this was stuff I could control … as the chaos was unfolding," she said.
In her Big Ideas session, Barnett—an attorney, entrepreneur, and author of the memoir A Knock at Midnight: A Story of Hope, Justice, and Freedom (2020)—also spoke about how seeing Black women represented in books and on TV informed her career aspirations.
"When I was a little girl, I wanted to be a lawyer like Clair Huxtable on The Cosby Show," she said. Reading Bebe Moore Campbell's Brothers and Sisters, Barnett saw herself climbing the ladder at a bank. Barnett did both: She got an accounting degree and became a corporate lawyer.
In her second year of law school she took a class on critical race theory. She learned about the disproportionate number of people in federal prison for drugs without possibility for parole—effectively death sentences, Barnett said—and she was moved to take on cases addressing these inequities.
A corporate lawyer by day, Barnett worked nights on pro bono cases seeking clemency for first-time drug offenders in federal prison. "I wanted to use my platform as a lawyer for the greater good," she said. "Clemency is where justice meets mercy."
Under former President Barack Obama, Barnett had seven clients who received executive clemency and left prison. "Some of the most brilliant people I've ever met in my life were my clients," she said. "They have left their fingerprints on my soul." Her client Sharanda, a talented chef, was released after 16 years in prison and started a food truck that employs formerly incarcerated people. Barnett's client Chris, who sat in the audience at PLA, had taught himself how to code in prison without access to a computer.
Barnett's experiences with the justice system prompted her to establish two nonprofits that help people like her and her clients (Girls Embracing Mothers, dedicated to empowering girls with mothers in prison, and the Buried Alive Project, which fights to free those in prisons serving federal drug sentences based on outdated policies) as well as the Manifest Freedom Fund, which provides capital to justice-impacted entrepreneurs.
"Their entrepreneur potential is exactly what our current crisis calls for," Barnett said. "When we lose sight of the humanity of those we unjustly sentence, we lose the brilliance they might bring into this world. We shackle our future."
Empowering the college-curious
Librarians may not be able to change the expensive and structurally unfair landscape of higher education, but they can embrace their role in supporting college-curious youth in their communities. That was the message at "The Library's Role in Equitable College Prep for Teens," a PLA 2022 session held March 24.
"[We can] use our librarian superpowers to somewhat hack the system," said Aryssa Damron, children's librarian at D.C. Public Library. The solo presenter discussed collection management, programming, and community resource strategies that can help low-income students apply to and prepare for college.
Damron knows firsthand the importance libraries can play in helping with the application process. "I used a public library fax machine to send in my financial aid forms," she said. While many of her classmates at Yale University had families that could afford private tutors, she joked that her SAT tutor was the 370s section in adult nonfiction.
Buying test prep books—such as those for the SAT, ACT, and AP exams—are only a small part of the equation, Damron said. Libraries must also weed these collections often; SAT books from a decade ago are no longer relevant, for example, because the test has since changed its scoring scale.
Other considerations for materials include accessibility (stocking large-print and braille books), findability (creating displays of test prep books where teens can discover them), and accuracy (Damron recommends resources from Princeton Review, Khan Academy, and Peterson's Test Prep).
When it comes to programming, Damron identified three areas where libraries can help: preadmissions prep, such as essay writing and résumé-building; college knowledge-building, which covers what teens and families need to know to make informed decisions; and precollege engagement, which prepares students for the college environment. For the latter category, she suggests libraries can hold Ask Me Anything sessions that bring older-teen college students into the building to answer their peers' questions: Do I need to bring a printer? Is Greek life necessary? How does my ACT score translate to academic success?
Damron reminded attendees not to overlook the community services they already provide: computers with internet access, printing and faxing, and notary and passport services. She also suggests slipping college and career readiness topics into existing programs, and being mindful of program scheduling. "All of your résumé workshops don't need to be held during school hours," she noted.
Key to keep in mind when doing this work, Damron said: "These workshops aren't just about dumping information. It's about engaging teens and creating a relationship with the library."