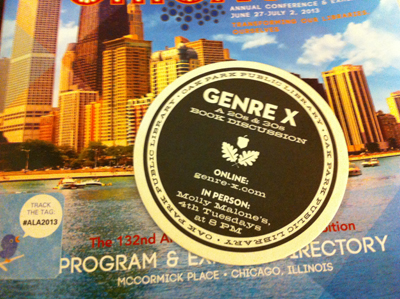 As I prepared to attend my first ALA Annual Conference, several colleagues advised me to attend a few sessions outside of the academic realm. For this reason, I found myself attending the Public Library Association–sponsored session, "Late Nights at the Library: After Hours Programming for Public Libraries." Based solely upon the energy radiating from this session, I could easily be persuaded to become a public librarian and am now considering how I can incorporate after-hours programming in my own university library.
Jennifer Czajka of Oak Park (Ill.) Public Library (OPPL) perfectly summarized her session topic when stating that after-hours library programming is the most fun you can have at work.
In this session, Czajka and her OPPL colleague Rebecca Malinowksi discussed how their library has leveraged after-hours programming as part of the Genre X initiative targeting people in their 20s and 30s. Examples of such events include trivia nights, speed dating, science fairs, and spelling bees. In addition to merely describing these events, Czajka and Malinowksi overviewed the entire planning process from marketing considerations to evaluation. Most importantly, they touched on the importance and value of reaching out to and providing unique fun services for this specific target population.
APRIL SCHWEIKHARD is reference and instructional services librarian at the Schusterman Library of the University of Oklahoma–Tulsa.