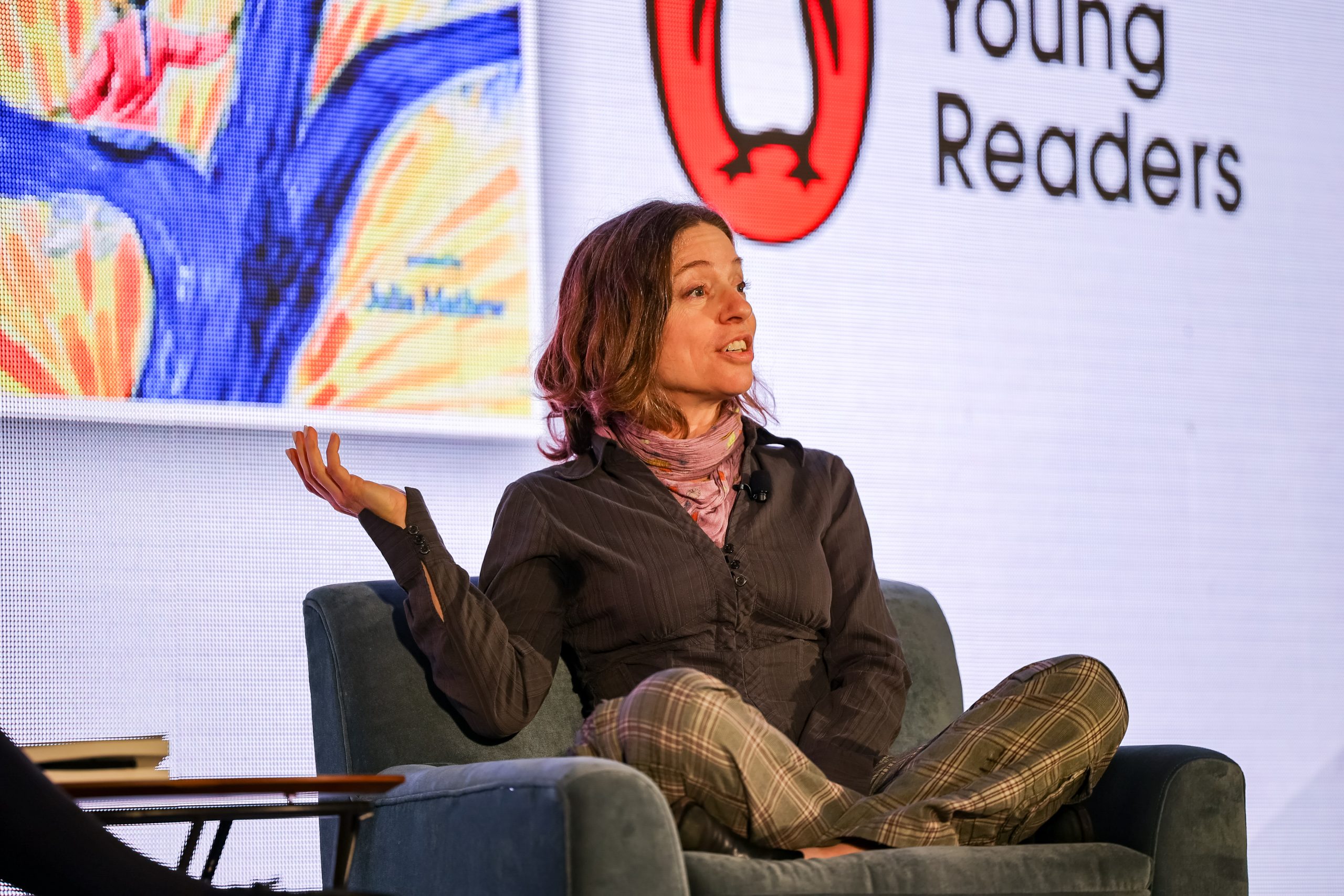 Over several decades of being a singer-songwriter and activist, Ani DiFranco says her favorite part of her work has been being a community builder.
Or, as she described it, a "community instigator"—connecting people and their shared experiences through music.
"I realized that I'm not alone, I'm not an aberration," she said. "That thing just goes in a circle, and then that circle becomes bigger than me. It becomes this spiraling thing that starts to hold us all. And it's so beautiful watching people, including myself, find themselves through community."
The Grammy Award–winner and bestselling author closed out the American Library Association's (ALA) 2023 LibLearnX conference in her home city of New Orleans on January 30, ahead of the release of her first children's book The Knowing.
The lullaby-style story, which she's also produced as a song, is about exploring our "inner light of consciousness," she said, without the cultural signifiers that people are labeled with and taught.
Written in first-person, the book's character lists things they have—physical qualities, family and friends, a home, favorite belongings, and beliefs.
but this is not all of who I am, the book reads.
underneath this is something more
all of these things are just what's showing
underneath all that I know is The Knowing
The narrative is meant to convey that our outer elements of culture and differences are beautiful, DiFranco said, but we shouldn't lose ourselves in them.
It's a premise that she said some may initially think is too sophisticated for children, but she views it as the opposite. It's the "cultural minutiae" humans are forced to learn—how we interact with people based on the external "uniform" they wear—that is more complicated.
"All of that stuff that we are led to believe and know that is social and cultural, it has its value, but it also has its traps," DiFranco said. "I wanted to speak to children about a thing that is much simpler and much more real in a lot of ways—[a thing] that I think children are much better at before they unlearn how to look at another human and another living thing, see themselves, and know it's all one tribe."
The Knowing is DiFranco's second book. Her memoir, No Walls and the Recurring Dream, was released in 2019. The pandemic, which halted her ability to tour, prompted her to take on the new venture writing stories for youth.
With her first book, learning to write in a nonlyrical format was difficult, she recalled. And as a metaphor-heavy lyricist, switching to writing for a younger crowd, who read text very literally, presented new challenges.
"It made me realize my writing hinges on this deep interaction with culture and challenging its presuppositions and blowing apart its clichés," DiFranco said. "And none of that means anything to a child."
DiFranco is a mom of two herself, to a 16-year-old daughter and a 9-year-old son. As a parent, she said she often had to put music-making on hold ("they approached it as the enemy, my other child," she joked).
But, to her surprise, the patience she learned from that improved her craft, for songwriting and writing in general.
"Stepping back was something [that] never occurred to me to do," DiFranco said. "The fact that I was forced was like, 'Whoa, there's a lot of perspective back here.' There's a lot of gifts that time can give your art."