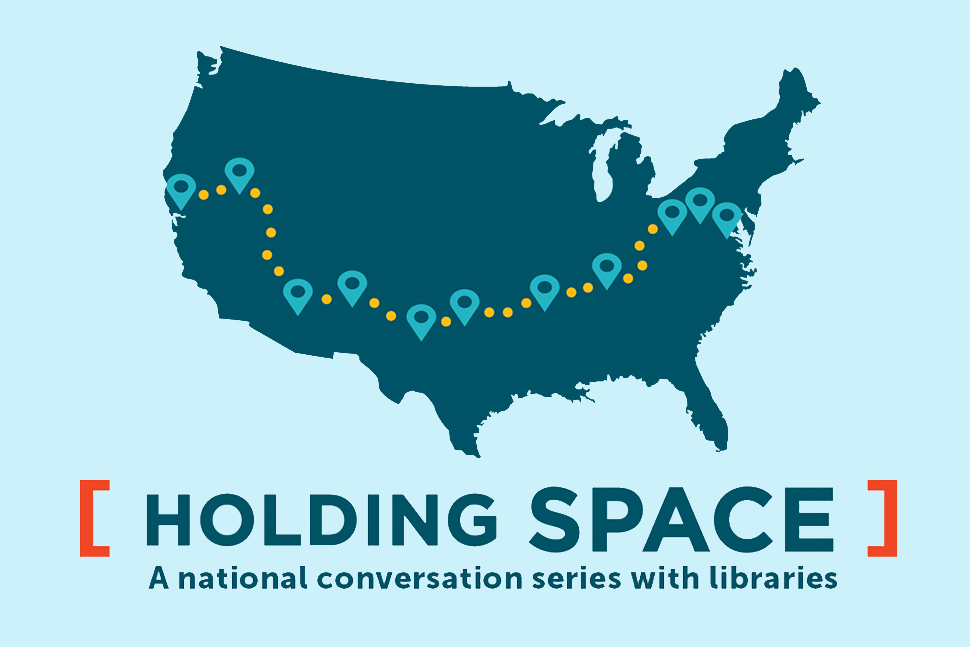 When we started laying the foundation for what would become "Holding Space" nine months ago, I imagined an adventure spanning thousands of miles. We'd rent a bus and take to the open road, crossing the US and visiting libraries along the way. It would be a road trip for the ages. But I'll be embarking on a different kind of journey now.
Rather than a celebration on wheels, "Holding Space" will take place virtually. The intent remains the same: As American Library Association (ALA) president, I want to elevate the stories and successes of libraries whose work takes place just out of the spotlight. Libraries improve lives every day, and though their services and delivery models may have changed, they still deserve our attention and support.
Today I'll "depart" from the Library of Congress, where I work as acting chief of Researcher and Reference Services. Over the next two weeks, I'll make 12 "stops" to talk with library leaders, state and local partners, elected officials, and ALA members to understand how libraries are addressing the needs of their diverse communities.
Although I can't be in the same room with participants, I'm glad that a virtual tour that is open to the public means that more observers can join the conversation. I look forward to the added presence of ALA members and stakeholders who can participate, wherever they are. After each stop, I'll share my notes from the road. This tour will be a start to a conversation that all ALA members can be a part of.
The world is very different than when we first started planning this tour. We are battling a deadly global pandemic that has upended our way of life. We also find ourselves in a moment of reckoning with the systemic racism the US was founded on.
The latter issue is particularly important to me, since equity, diversity, and inclusion are central to my presidential initiatives. I'm proud of the ALA Executive Board for issuing statements that acknowledge ALA's complicity in past racism and pledge to work toward a more equitable Association. We also stand with transgender people, BIPOC, and our colleagues in the Black Caucus of ALA and the Asian/Pacific American Library Association.
I plan to take deep dives into these topics when I meet with leaders at the University of Arkansas at Pine Bluff to talk about strengthening communities and developing leaders at historically black college and university libraries. I look forward to better understanding the challenges and opportunities facing tribal libraries when I visit Santo Domingo Pueblo Library in Kewa Pueblo, New Mexico, to learn about broadband internet initiatives in that community. And when I sit down with folks at Cordes Lakes (Ariz.) Public Library and Hawaii State Library, I am eager to learn about barriers to inclusion that exist in rural and remote library systems.
Libraries are—and have always been—community anchors, addressing challenges in times of peace and in times of crisis. I'm thrilled to spend the next two weeks examining our cultural moment through the lens of the most pressing issues in our profession.