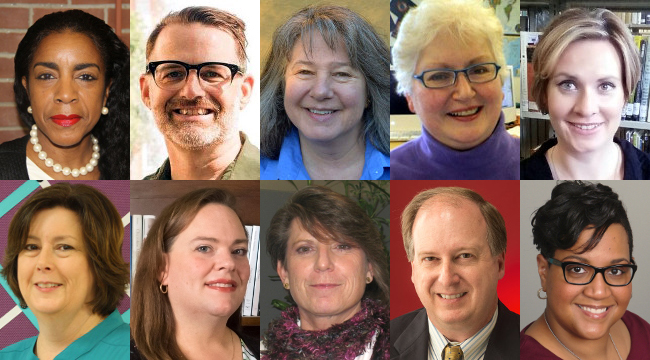 Ten librarians were honored with this year's I Love My Librarian Award for their exceptional public service to the community and ongoing commitment to transforming lives through education and lifelong learning.
The winning librarians were selected from a pool of more than 1,300 nominations submitted by library patrons nationwide who use public, school, college, community college, or university libraries. The nominations detailed stories about how their favorite librarians helped improve the quality of life in their communities.
The nation's 166,164 certified librarians play a vital role in assisting and inspiring all who seek information and access to technologies. The I Love My Librarian Award winners are living examples of how library professionals are expanding beyond their traditional functions and providing more opportunities for community engagement and delivering new services that connect closely with patrons' needs.
The 2015 I Love My Librarian Award recipients include four academic librarians, three public librarians, and three school librarians. The winners are:
Diane Brown, branch manager, New Haven (Conn.) Free Public Library, Stetson branch
Described as a "community activist librarian," Brown was able to offer a Civil Rights Forum, Youth Against Violence, a Black history program, family game night, and a health fair all without a program budget through collaboration with community organizations that subsidized these events.
Doug Campbell, library learning services librarian, Willis Library, University of North Texas, Denton
A teacher, mentor, and "library guru" who bikes around campus and once lived in a student dorm for a year, Campbell has inspired such affection in UNT students that they started a Facebook group called We Love UNT Librarian Doug.
Sylvia Cieply, teacher-librarian, Otto A. Fischer School Library, Orange County (Calif.) Juvenile Hall
A teacher-librarian in a detention facility, Cieply works with incarcerated youth whose exposure to reading is often limited. She is adept at finding appropriate, appealing material to stimulate her students into becoming lifelong learners and recreational readers.
Dona J. Helmer, librarian, College Gate Elementary School Library, Anchorage, Alaska
Helmer, 2013 Alaska School Librarian of the Year, has written 150 grant applications in the past three years for the school to fund book purchases and other programs in this low-income community, and she has coached other teachers on how to apply for their own grants. She runs a library club and a library store where kids earn "Dewey Dollars" to buy the supplies they cannot afford.
Courtney P. Kincaid, former library director, Hood County (Tex.) Library, Granbury
Kincaid stood up against censorship when a group of local citizens tried to have two LGBT-themed books removed from the library's children's section.
Leslie D. Koch, school library media coordinator, Armstrong Elementary School, Eastover, North Carolina
Upon arriving at Armstrong in 2012, Koch gave the library a "kid-friendly" makeover, updated the collection, organized book fairs to raise funds, and instituted flexible hours and self-checkout for students. As a result, circulation climbed to an average of 81 books per student last year, and reading scores at the school are up 27%.
April Roy, manager, Kansas City (Mo.) Public Library, Lucile H. Bluford branch
In a community with high rates of obesity and diabetes, Roy started health and wellness programs at her library, including chair workouts for older patrons, weight loss challenges, healthy eating classes, and couples fitness.
Elizabeth G. Rumery, library director, Avery Point Campus Library, University of Connecticut, Groton
Rumery's outreach efforts include opening campus events to residents of a public housing development, collaborating with veterans groups and retirees, and collecting unused cellphones for a domestic violence charity.
Christopher A. Shaffer, dean of university libraries, Troy (Ala.) University 
Shaffer fostered a deeper understanding of the world beyond rural southeastern Alabama by hosting French film festivals, expanding the library's collection of materials on Turkish and Middle Eastern history, creating programs for a Year of Holocaust Remembrance, and organizing an interfaith series of discussions on Islam.
Shugana Williams, librarian, Mississippi Gulf Coast Community College, Perkinston Campus
Williams helped create a campus event and lecture called Six Degrees West, which exposed students and the community to a different understanding of the Muslim world. She created a mini-collection of library materials covering Middle Eastern culture, providing learning opportunities through visual, auditory, and tactile resources.
"It is gratifying to have the I Love My Librarian Award bring much deserved recognition to librarians. As libraries transform so do librarians to support individual opportunity and community progress," said ALA President Sari Feldman. "Every day librarians connect library users with the books, information and critical technology resources they need to thrive in the digital age."
Each winning librarian will receive a $5,000 prize at an award ceremony and reception to be held December 3 in New York City, hosted by the philanthropic foundation Carnegie Corporation of New York, which sponsors the award. The New York Public Library and The New York Times are cosponsors of the award, which is administered by the ALA.
The librarians join an esteemed group of award recipients who are recognized as being catalysts for powerful individual and community change. Only 80 librarians have received the national award since its inception in 2008.
For more information regarding the 2015 I Love My Librarian Award recipients, please visit www.ilovelibraries.org/ilovemylibrarian.