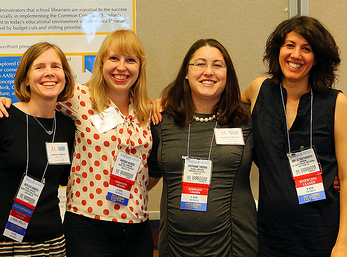 Let's start with ribbons. No one told me about ribbons. I read blog posts geared toward first-time conference attendees. My coworkers knew I was going. Other friends in the profession knew I was going. I didn't hear a peep about ribbons.
When I reported to the American Libraries tent on Friday morning, I received a small Press ribbon. I put it inside my lanyard, behind my name tag. I didn't know when or why I'd need it.
At "Conference 101," the second session I attended, I noticed a "1st Time Attendee" ribbon on the name tag of one of my tablemates.
"Oh, neat," I said. "My first time, too. Where'd you get those?"
"There was a box near the registration booth."
"Oh, I didn't know about that."
(Quick aside: If you're sitting at a table and a stranger colleague you haven't met yet asks if a seat near you is available, the best thing to do is read their name tag quickly and accurately before politely responding, "You know, actually, I was saving it for (insert the name you just read). It gets a laugh like 25% of the time—more than most of my jokes—and it breaks the ice.)
So, then I scanned the room and noticed more people with ribbons attached to their name tags. Shiny ribbons, colorful ribbons, hard-to-read ribbons. Then I figured it out.
Ribbons are a thing. Like sensible shoes and swag. I still have plenty of questions: Who regulates ribbons? Can I make a ribbon? What's the record for the most ribbon-related accidents at one ALA? Is there a black market for vintage ribbons I don't know about? But at least now I know there are ribbons.
I can't do a cartwheel, but I can Tumblr
My favorite part of the conference was "Set Phasers to Internet," the official Tumblarian social meet-up on Saturday night at Local 22. (If you don't mind the occasional Bruce Springsteen–related post, follow my Tumblr: ANotionDeepInside)
There was free beer and wine, Tumblr swag, and karaoke. More importantly, the event provided a time to interact with librarians removed from the "conferenceness" of the actual conference. I collected and passed out more business cards at Local 22 than I did during my three days at McCormick Place.
Here's a typical conversation between me and a non-librarian friend before my first-ever ALA:
"I won't be at softball this weekend; I'm going to the ALA Annual Conference."
"What?"
"It's a library conference thing."
"A what?"
"It's like a get-together for librarians with a bunch of different stuff for professional development."
" . . . "
So what is ALA Annual Conference?
It's a flowering plant. Picture a daisy. Pretty, right? There's a circular yellow center that's actually many tiny yellow flowers huddled together. A flower is the part of a plant that allows it to propagate. This yellow center is all of the different sessions, exhibits, programs, and events that happen at ALA. Each one has the ability to propagate a specific idea.
Surrounding the yellow center are white "petals," which are actually individual flowers themselves. So these white petals represent each individual library with a presence at ALA. Individual libraries, through a number of avenues, are able to propagate ideas. (There are other parts of a flowering plant—carpels, stamen, endosperms, etc. Irsquo;m going to take the liberty of saying that all of these are all lumped into the support system that makes an annual event possible. The Association itself, the vendors, the host city, etc.)
Okay, so we have individual libraries (white petals) and a plethora of opportunities to learn (yellow center). There is one crucial element missing at the moment: a catalyst for propagation. We need something, or someone, to take the knowledge gained at ALA and ensure that it propagates at the individual libraries across the country.
We need a bee. Librarians, you and I are the bees; we make sure the right ideas are propagated. Without us, Annual Conference would be pretty, but it wouldn't be valuable.
So, here's how the conversation with my non-librarian friends will go next year:
"I won't be at softball this weekend, I'm a bee, and there's an endless array of yummy flowers for me to pollinate.
"You're off the team."
P.S. I'll completely understand if ALA2014 decides to use a bee or daisy as its logo.
T. J. SZAFRANSKI is virtual services reference librarian at Lake Villa (Ill.) District Library.