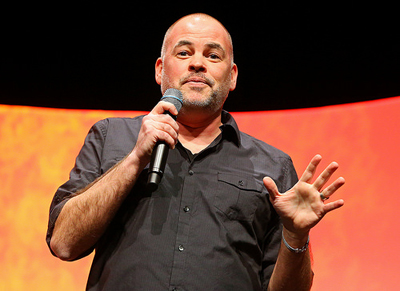 Matthew Quick, author of a slew of books, including the bestseller Silver Linings Playbook, which was transformed into an Oscar-winning film in 2013, was at the ALA Midwinter Meeting and Exhibits in Philadelphia to discuss his new book, The Good Luck of Right Now. Slated for release by Harper Collins on February 11, the book is about one man's journey to find himself and his life's meaning through the grieving process and the incredible synchronous levels of events that guide his path. It's a profound work, and also quite funny.
The Good Luck of Right Now's story is presented through a series of letters written by 39-year-old Bartholomew to actor Richard Gere. Bart's mother was a huge Richard Gere fan, and she had taken to calling her son by the actor's name in the last years of her life before dying of brain cancer. While cleaning out his mother's bedroom, Bart stumbles upon a form letter sent to his mother by Gere to persuade her, and countless others, to not support the 2008 Olympics in China because of the country's human rights violations in Tibet. After finding the letter, Bart decides to craft his own letters to Gere, in which he lays bare his life, his crush on a local librarian, and his mother's life philosophy, a mish-mash of Jungian psychology, Buddhism, and good old-fashioned optimism that she called the Good Luck of Right Now.
Quick spoke with American Libraries before delivering his Auditorium Speaker series talk. He discussed his inspirations, mental illness, librarianship, and more. Watch excerpts here (3:13).
---
See, hear, and read more about what went on at Midwinter.
Twitter: @alamw and #alamw14
Facebook: https://www.facebook.com/events/512164432210368
YouTube: youtube.com/user/AmLibraryAssociation
Flickr: flickr.com/groups/2422196@N23
Pinterest: pinterest.com/alamidwinter