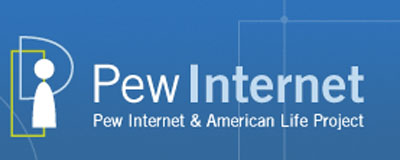 Lee Rainie, director of the Pew Research Center's Internet and American Life Project, led an energetic, insightful, and often humorous discussion of the project's latest research on the role of libraries in their communities and in the lives of their patrons on Sunday at the 2014 ALA Midwinter Meeting and Exhibits in Philadelphia. Rainie used his quick wit and fast way with words throughout the session to give zing and life to survey results about the library services patrons most appreciate and the different ways that various people think about libraries.
Rainie began the session with a brief overview of the Pew Research Center's history and modus operandi: that it exists to gather and present facts, not to advocate for one issue or another. This impartiality allows the Pew Center to become a trusted data source. As a result, Pew stats can be presented to library donors and patrons as validations of worth. Libraries will want to share the recent Pew numbers, without question.
The organization surveyed 6,224 people ages 16 and older from July 18 to September 30, 2013. Overall, they found that Americans believe libraries add value to their communities. Ninety-one percent of those surveyed said that libraries are important to the community, while 76% said that libraries are important to them and their families. However, only one in five library users are aware of the majority of services libraries offer. Also, more than half of Americans believe people do not need public libraries as much as they used to because they can find resources and information on their own using the internet or other means.
Rainie detailed the report's findings by breaking them into five key points:
Libraries are deeply appreciated, especially for their role and impact in the community. Ninety-six percent of those surveyed agreed that public libraries are important because they promote literacy and a love of reading. The same number agreed because libraries provide tech resources and access to materials. The technological aspect was crucial: a majority of people view libraries as leaders in technology.
The overall number of library visitors is shifting. From 2012 to 2013, there was a 5% drop in the number of people who visited the library or a bookmobile: from 53% to 48%. The biggest drops were in women, African-Americans, people aged 18–29, the parents of minorities, and households making $30,000 to $50,000 per year. There was a 5% increase in users of library websites, however, as well as an increase in African Americans, Hispanics, 16 to 29-year-olds, and those with some college education. Women are also 50% more likely to use the library than men.
Libraries have a mandate to intervene in public life. Seventy-seven percent want libraries to coordinate more closely with local schools in providing resources to kids. Seventy-seven percent want free early literacy programs for kids. Overall, people look to libraries to help fix struggling schools, help kids learn to navigate new technologies, and become critical thinkers.
Libraries are pressured by patrons about what to do heading into the future. People are divided about the use of library space. Twenty percent want libraries to free up space for tech centers, reading rooms, meeting rooms, and other services. Thirty-nine percent reported they may support such changes, but 36% opposed the idea altogether. Rainie broke down the age demographics of each group, noting that those who most supported library expansion were those who rarely used the library.
New insights into patrons and non-patrons can help libraries understand their communities better and compare them with national benchmarks. Most intriguing is a new widget developed by Pew that libraries can put on their website. The widget contains a quiz that patrons can take to determine what kind of library user they are. Libraries can use the data to get more accurate snapshots of their patrons' wants and needs.
The large crowd gathered for the presentation had many questions for Rainie. One librarian asked about the report's negative findings—about those surveyed who had no kind words for libraries whatsoever. Rainie said that the number was small—less than 7% of those questioned. He said that they felt the library was an alien place; a place where they did not feel welcome. The answer drew looks of disbelief from many in the audience.
The library findings of the Pew Research Center Internet and American Life Project are available for free download at libraries.pewinternet.org.
---
See, hear, and read more about what went on at Midwinter.
Twitter: @alamw and #alamw14
Facebook: https://www.facebook.com/events/512164432210368
YouTube: youtube.com/user/AmLibraryAssociation
Flickr: flickr.com/groups/2422196@N23
Pinterest: pinterest.com/alamidwinter