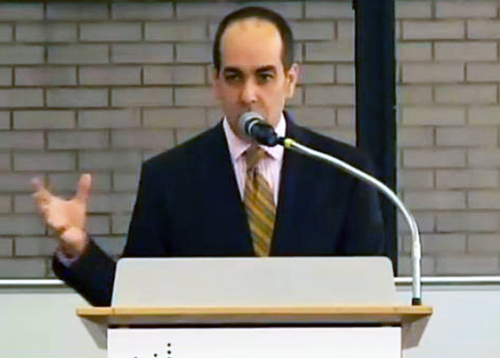 "The world has moved exclusively online and those who haven't are at risk," said D.C. Public Library (DCPL) director Richard Reyes-Gavilan as he opened "Libraries and Broadband: Urgency and Impact," a public hearing held on April 17. Organized by the Institute of Museum and Library Services (IMLS), the hearing focused on the impact of high-speed broadband connectivity in America's libraries. The crucial need for adequate broadband capabilities in all libraries, e-rate reform, and additional lobbying efforts in Washington were discussed as well. Conveners hoped that the hearing would help inform policy discussions and strategies to support increased broadband funding.
Testimony by Thomas Wheeler, chairman of the Federal Communications Commission (FCC), and Thomas Power, chief of staff, National Telecommunications and Information Administration, Department of Commerce, demonstrated the federal government's support of e-rate reform and increasing broadband accessibility. "The library has always been the on-ramp to the world of information and ideas," Wheeler said. "And now that on-ramp is at gigabit speeds." He stressed the importance of e-rate modernization. The keys to future success, he said, are consortia bidding, longer support periods with longer contracts and lower rates, and establishing a reference pricing system are keys to future success.
Senior Program Officer Chris Jowaisas detailed funding efforts by the Bill & Melinda Gates Foundation. In 1997, only 25% of US public libraries had internet access, he said. The Gates Library Foundation set a goal that year to improve those numbers and connect all libraries to the internet. By 2004, after a $240 million investment by the foundation's US Public Libraries Program, that figure had gone up to 99%.
Larra Clark, director of the Program on Networks and director of the Program on America's Libraries for the 21st Century at the ALA Office for Information Technology Policy, pulled from 20 years of research data to provide a thorough snapshot of current internet connectivity in the country's 16,400 public library buildings. She said that there are ongoing improvements but more are needed. "A significant number of libraries—66%—need more bandwidth," she said. "Upgrades are needed across the board. They aren't standing still, but many libraries are falling behind."
Panelists used personal success stories to demonstrate future solutions for high-speed connectivity, detailing how broadband capabilities in libraries are valuable tools to community growth. Reaching out to the community to understand their needs is essential, they said. Gary Wasdin, executive director of the Omaha (Neb.) Public Library System, relayed how his system partnered with local Fortune 500 businesses that looked to the library as a means to provide potential workers with digital skills. The collaboration helped both the library and the local economy.
Reed Hundt, chairman of the FCC from 1993 to 1997, provided brusque closing remarks.
"Library community: Folks, we need to step up our game," he said. "We are in the playoffs. We need to aim higher; we need to pull together; we need to fight more fiercely; and we need to understand that this game is definitely worth the candle."
Watch the entire hearing at cspan.org.