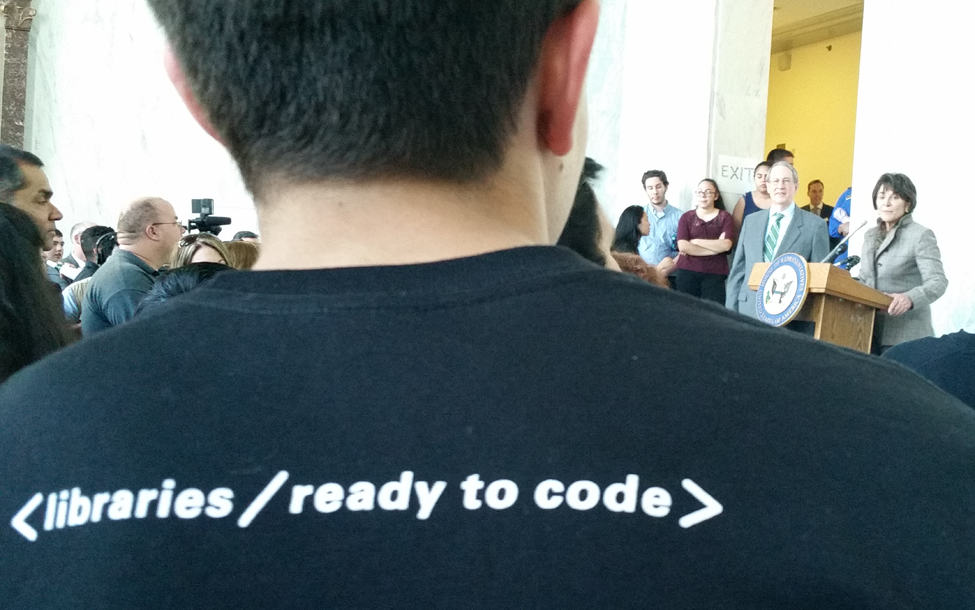 On April 4 Capitol Hill was flooded with teenagers sporting black and white T-shirts bearing the capitol-domed logo of the Congressional App Challenge. Roughly 100 high school students from around the country came to Washington, D.C., to celebrate winning their congressional district's competition for best original app and meet their representatives. The foyer of Rayburn House Office Building was transformed into the #HouseofCode with teams of bright and ambitious young people demonstrating their winning apps.
Some of this year's winners included:
Organized College Planner (Zach Burke, Illinois' 9th congressional district) keeps track of passwords, deadlines, and course application requirements.
Election Connection (Santiago Torres, Christopher Leung, Christopher Jhaveri, and Jason Kwan, California's 39th congressional district) provides information to help voters make more educated decisions about candidates and ballot propositions.
STEMLink (Nikhil Sharma, Michael Froid, Adriana Nazarko and Daniel Denison, Florida's 13th congressional district) brings together students, teachers, volunteers, and mentors in their county to promote events and pool knowledge, funding, and other resources that advance STEM education.
Libraries Ready to Code, a joint initiative between the American Library Association (ALA) and Google, was a sponsor of this year's #HouseofCode events. Since the project started in 2016, Ready to Code has highlighted computer science programs in all kinds of libraries across the country. From the Ak-Chin Indian Community Library in Maricopa, Arizona, to Queens Library in New York, libraries are helping young people develop the computational thinking skills fostered by coding and other computer science programs. These skills provide youth robust career options, in and out of computer science fields, and empower them to take on their futures, regardless of gender, socioeconomic background, or geography.
While many of the participants in the Congressional App Challenge learned coding in the classroom, most youth do not. Only 40% of schools offer computer science courses, and libraries help fill the gap. Even in schools that do offer computer science coursework, libraries offer the space and equipment students need to practice coding. Congressional App Challenge winners spend hundreds of hours developing their apps—much more time out of classrooms than in. Mineola (N.Y.) High School librarian and #HouseofCode attendee Jeff Appelbaum complements his school's computer science teacher Kuri DiFede by providing extracurricular coding and other CS activities for students. Many Mineola students used the library to build the apps their class submitted to the challenge.
Ready to Code's new goal is to ensure the nation's libraries have not only the equipment but also the expertise to teach coding. On April 7 the program announced seven new faculty fellows selected to develop graduate-level course models that equip LIS students to deliver coding programs through public and school libraries. The faculty cohort will create and pilot LIS courses that teach library professionals to design computer science programs that embed Ready to Code principles.
While LIS programs are working to fill the demand for expertise in teaching coding, a number of libraries already provide coding education through students themselves. Among the 2016 #HouseofCode participants were young people who taught coding at a library. As teaching assistant for the Millbrae (Calif.) Library Girls Who Code club, Kaitlin Chan organizes lessons each Saturday for 20 middle school girls to develop computer science skills and experience with new technologies. App winner Etash Kalra uses workspace at Parker (Colo.) Library as a volunteer to teach other young people coding and is creating a nonprofit to expand his efforts.
Developing coding and computational thinking skills brings economic opportunity and vitality to individuals and communities. Members of Congress know this, which is why 123 of them sponsored the Congressional App Challenge in their districts. Because all 115,000 of the nation's public and school libraries are crucial community partners to deliver that economic opportunity ALA members at National Library Legislative Day will be asking their congressional representatives to participate in the 2017 Congressional App Challenge. The more our nation's decision makers associate libraries with coding and STEAM education, the more likely they are to see how libraries can play a critical role in helping to build our nation's economy in countless other ways.
For information on how your library can get involved in the 2017 Congressional App Challenge (July 26–November 1), visit congressionalappchallenge.us.