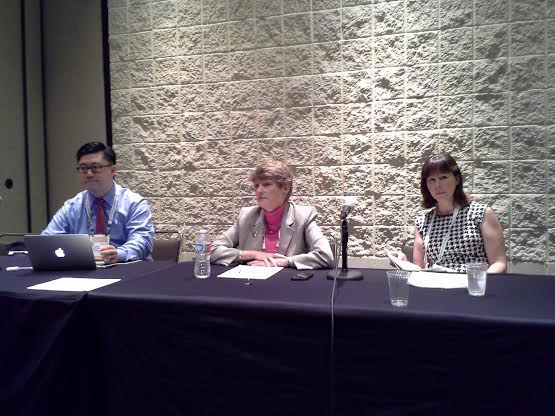 Listening goes a long way in making a successful library. That was the key message from the United for Libraries presentation and panel discussion "Listening to Our Customers, or, Listen, Digest, Respond: Trustees Becoming True Community Representatives," at the American Library Association's 2016 Annual Conference and Exhibition in Orlando, Florida, on Saturday, June 25.
Moderated by Dick Waters, principal consultant with Godfrey's Associates, the program offered both Friends group and library director perspectives on how leveraging what your customers and advocates tell you can create change.
Kate Park, executive director of Friends of the Dallas Public Library, talked about how when she started in 2012, the 23 Friends groups serving Dallas were fractured. "There was a lot of passion, but a lot of misinformation," she said. As a result, elected officials knew very little about what programs and services were being offered in the library. In the face of extreme fiscal strain—40% of the library's overall budget had been eliminated after the recession—Park knew they need fresh messaging and advocacy. The Friends group brought in Sally Gardner Reed, executive director of United for Libraries, and they started by listening.
"Your Friends are these passionate, ardent library supporters," said Park. "They have priorities and things close to their hearts." Over the course of two days, Park and Reed were able to hear from hundreds of the library's advocates in an effort to figure out the best talking points to present to the city council in order to secure more funding.
"We got everyone on message," Park said. "Because we went through the process together, we had a unified voice, and we were able to listen and unlock the library's potential."
The library requested a "reach ask" from the council—3% of the city budget—to get Dallas Public Library back to prerecession funding. When it became apparent city council members were not familiar with libraries in their districts, the Friends group mounted an education campaign that included distributing maps of Dallas that identified council districts and branch locations; taking elected officials on tours of the branch libraries; presenting peer city research comparing Dallas' libraries to other cities; and analyzing population, spending, and employee hours.
These efforts amounted to a successful campaign for Dallas Public Library. "In 2016, we are in a place where we're not afraid the library's budget will be devastated," said Park.
Barbara Gubbin, director of the Jacksonville (Fla.) Public Library, explained how in her geographically spread-out system—Jacksonville is the largest city by area in the contiguous states—listening to the community is at the center of her library's training programs.
"Active and responsive listening is a day-by-day, 24/7/365 activity," Gubbin said. "That's not just the library director's role—it's really critical your front-line staff knows how important listening and responding to your customers is." As such, the library tries to ensure that every staff member gets trained through its "Get to Yes" program and follows the "BLAST" philosophy—Believe, Listen, Ask, Satisfy, and Thank—and every employee performance plan is centered around leadership traits.
Gubbin also requires her staff members to attend community meetings. "Those citizen meetings and student advisory committee meetings—that's where we hear our customers," Gubbin said. Listening continues online, and the library uses a program called Counting Opinions to track feedback.
"Being active, listening, considering, and responding is really critical to the success of your library," Gubbin said.
This belief is shared by Skokie (Ill.) Public Library and its Community Engagement department, which was created in 2014. "We look at engagement a little differently," said Deputy Director Richard Kong.
The department is made up of full-time staff members who go out into community and act as liaisons to different groups, such as entrepreneurs, schools and child care centers, or new immigrants. "It can't happen without that investment of time and energy and staffing," said Kong.
Skokie Public Library also employs the Harwood Institute approach, which emphasizes "turning outward" to reorient toward the community. Listening is a big part of this strategy, and the library asks users, "What are your aspirations for the community?"
"When you ask 'What are the problems of the community?', that's not a healthy conversation," said Kong, explaining that the wording of that prompt is often followed by complaints or finger-pointing. "Ask instead, 'What are your aspirations for the community?' We looked at those themes and made them the center of our strategic planning."
Kong said Skokie Public Library was also big on collective impact and forming partnerships within the community to sustain initiatives. For instance, the library has relationships with local child care centers to operate early literacy programs and relationships with schools for summer learning programs.
"There's the idea that, to do anything lasting, you need to do it in partnership with others," Kong said.