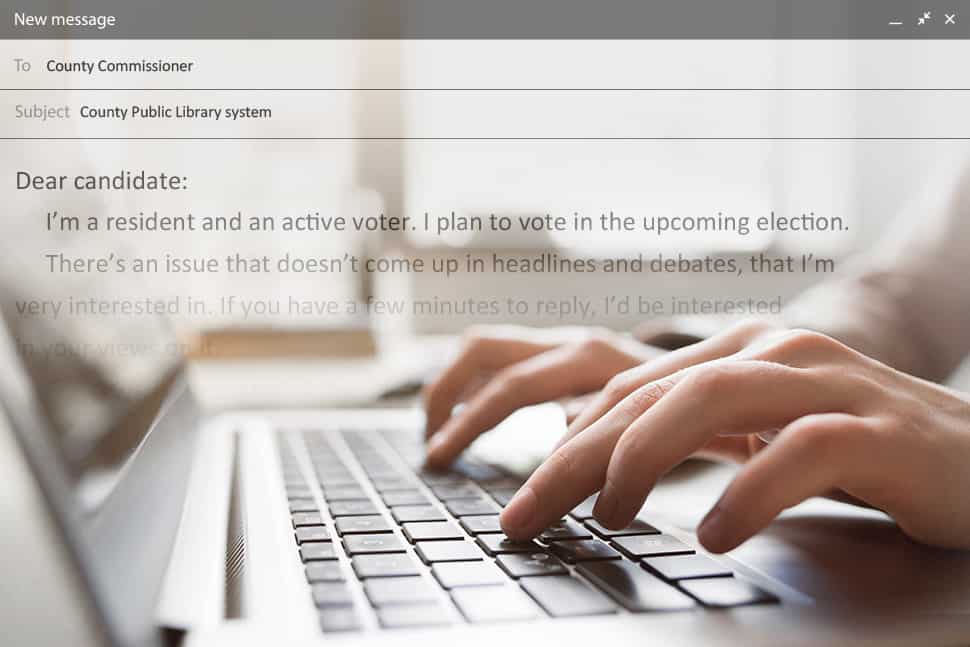 When it comes to advocacy for libraries, we often focus on communicating with officials who have already been elected. We may go to Capitol Hill in May for National Library Legislative Day or to our state legislatures during budget appropriation season.
But what would it look like to reach out to the would-be political decision makers before the election? I tried an experiment to find out.
My home state of Maryland had a very competitive open primary for county and state government on June 26. I emailed candidates for several county offices to ask their views on libraries. My email went something like this:
Dear ————-:
I'm a [local] resident and an active voter. I plan to vote in the upcoming primary election.
There's an issue that doesn't come up in headlines and debates that I'm very interested in. If you have a few minutes to reply, I'd like to know your views on it.
The issue is the county public library system. What are your thoughts on the status of the system, what should be done to develop it, and what role is it playing and should it play in the life of our county?
Thank you.
I sent this to 15 candidates and got a range of responses:
The email to one candidate bounced; the address on the person's campaign literature was apparently incorrect.
Five never responded.
The remaining nine all got back to me, with response times ranging from under an hour to 13 days.
Those nine candidates said they supported the public library. Some of their replies smacked of boilerplate language, but others were thoughtful and personalized enough to persuade me that the candidate had actually authored it. Five invited me to provide further input or offered to meet with me or to follow up in some other way.
My email alerted the candidates that there's a constituency for public libraries, and it may have sensitized them to pay attention to the library's needs.
It also opened up a communication channel for the future. Four of the nine who responded won their primaries and stand a good chance of being elected in November. Of those four, one specifically invited further dialogue, but regardless of that, I'll have a basis to communicate with any of them again if they take office.
These results were promising for a first attempt. I thought about how I could improve the process for the future, and what others could do to expand this effort.
Share results. I didn't do this, partly because the idea came to me late in the primary cycle, and partly because I didn't try to contact all the candidates for some offices. However, getting the word out increases your reach and might get other voters thinking about the public library's needs.
Get organized. Develop a formal questionnaire or organize a candidate forum and make sure libraries are on the agenda.
Form a group. This will not only help with questionnaires or forums, it will also multiply your influence. Your existing Friends group may be willing to take this work on.
No matter how we as librarians approach candidates, keep two goals in mind: alerting them to the constituency for public libraries, and electing officials who will be sympathetic to our concerns. That way, when it's time to approach them about funding and policy decisions, we'll know where they stand, and we'll be able to anticipate how they'll respond.