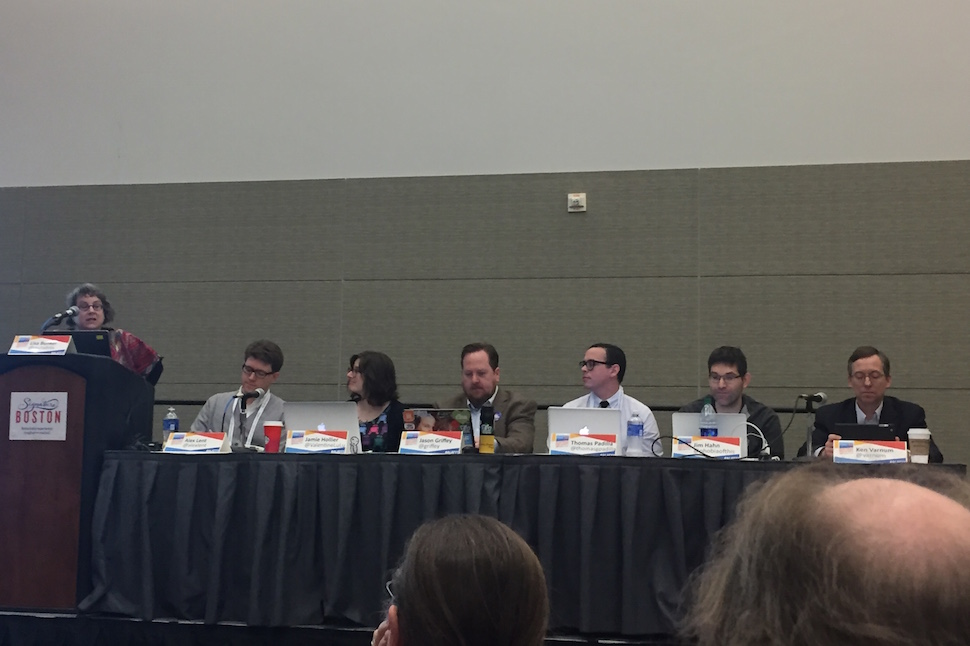 The ever-popular LITA Top Tech Trends panel opened to standing room at Midwinter.
The first panelist to speak was Jamie Hollier, co-owner and co-CEO of Anneal, a technology consulting company. Her first trend was an increase in interoperability related to data. She discussed ways that interoperability was important to communication, data standards, and infrastructure. With data standards, Hollier identified that the medical industry is creating standards for electronic health records with the Fast Healthcare Interoperability Resources framework. Related to infrastructure, she highlighted software containers—self-installed and self-contained environments that can help organizations share data across programming languages faster. A longer piece on the topic is available on Hollier's website.
Her second trend, which also happened to be panelist Jason Griffey's second trend, was autonomous agents. Robots and logic engines are using natural language well these days, and they can do anything from administrative tasks to bartending. Hollier described her experience using Amy, a logic engine for scheduling meetings. Amy works as personal assistant, and contacts individuals to schedule times based on the user's availability. Her emails were so good that Hollier's clients wanted to meet Amy in person.
Technology thought leader Jason Griffey, who is the founder and principal at Evenly Distributed (a technology consulting and creation firm for non-profits) and a fellow at the Berkman Center for Internet & Society at Harvard University, was the next to reveal trends. His first trend was Blockchain, the permissionless, peer-to-peer database supporting Bitcoin that could change the web, in Griffey's estimation. Functionally it's a ledger system that keeps track of who gave what to whom. It is a completely decentralized distribution system. In a world where libraries are using this kind of database to provide information, a library would function as an individual user, no different than any patron. Griffey sees this possibly changing circulation and web communication in 3-5 years.
In his turn to talk about autonomous agents, Griffey discussed how generalized machine learning has radically improved. Some robotic "doctors" are now better at diagnosing patients than human ones. To that point, he questioned what will machines kill first, reference or cataloging?
The third panelist, Jim Hahn, orientation services and environments librarian and associate professor at the University of Illinois, spoke about indoor positioning systems. He spoke about how beacons could change engagement with library spaces and finding materials by providing details about the spaces and materials that could be accessed on a mobile device. His library is planning to use Estimote to create more meaningful, mobile exploration of the space. Hahn did mention a drawback: beacons currently use batteries that have to be replaced.
Thomas Padilla spoke about his theory of broad data praxis, a theory of practice of working with data. Currently, data management is specialized by the group who is using the data. Padilla imagines a future of broad data praxis, in which the management and use of data is not structured by or for any one particular field. This would allow anyone to use it. He believes this could raise the social profile and data and libraries could be a leader in the area.
Ken Varnum, senior program manager for discovery, delivery, and learning analytics at the University of Michigan Library, spoke about campus learning analytics. His institution is planning a process for learning which features of academic institutions and which behaviors of college students contribute to academic success by tracking a student's movements through the university environment and comparing behavior to academic achievement. The university would be able to see things like which spaces students use on campus and which library materials they check out. The idea is that this information will allow the university to quantify successful education outcomes. Varnum also discussed the privacy concerns related to such a project. He referenced the Mellon grant to NISO to support the development of the Consensus Framework to Support Patron Privacy in Digital Library and Information Systems.
The final trendspotter, Alex Lent, director of the Millis (Mass.) Public Library, discussed open source technology and how it can save small libraries money. Lent's library is small, serving a population of 8,000, and he pulls double-duty as Library Director and Head of IT. During his time, he has moved the library's website to WordPress and spent less than $50 in the process. He also moved some library machines to the Linux-based operating system Ubuntu to save additional funds. Lent emphatically declared, "I am not a technologist." He Googles or YouTubes every question he encounters. The open source community is responsive, and he can figure out any Linux problem by asking on Twitter.
The conversation continued with a dynamic question and answer period and on Twitter under the #alattt hashtag. ​