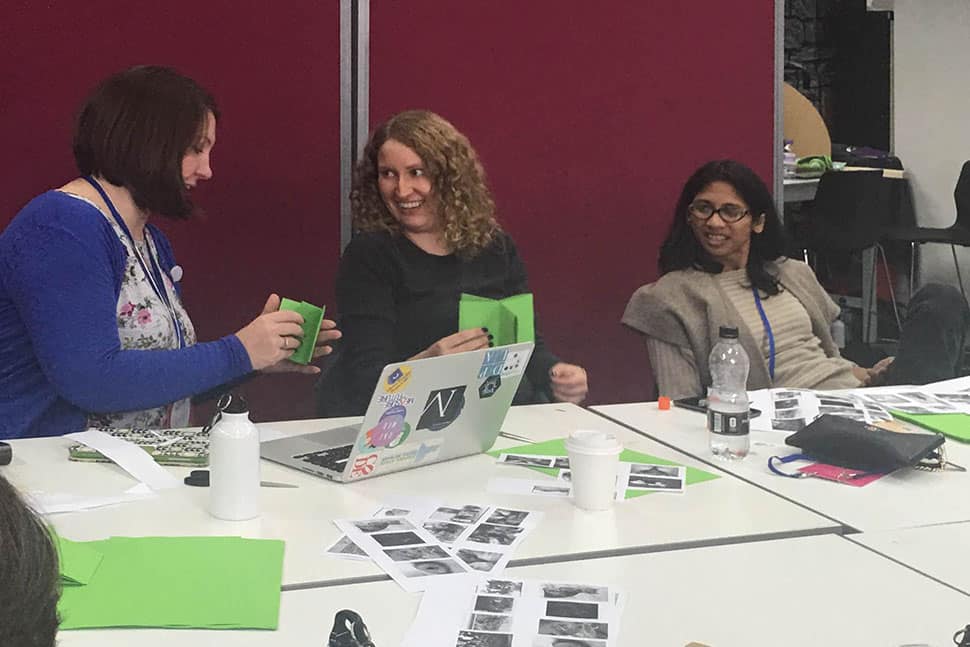 Leading a session at MozFest requires a different approach from your typical library conference presentation. Held in London October 28–29, MozFest is Mozilla Foundation's annual event. Its DIY, hands-on environment provided a wide avenue for facilitation methods of all kinds.
I had spent the week leading up to the conference with my colleagues Nate Hill (executive director, Metropolitan New York Library Council) and Matthew Kopel (research and development librarian, Central New York Library Resources Council) preparing our remarks on library, archive, and museum contributions to open image collections, the various options for Creative Commons licenses, and search strategies for open images on Europeana, Digital Public Library of America, and Wikipedia. We had also created three different activities, two of which involved online coding activities for teaching HTML and CSS.
But no such lecture was needed. Instead, our session turned into an interactive and fun zine-making collective. We shared how to fold a one-page zine and provided scissors and glue for adding preprinted images. Participants left with something to hold in their hands that they'd created using open resources provided by libraries and archives.
Current Events Comic Strip
In advance of our session, we prepared a sample of Mozilla's Current Events Comic Strip. This activity uses Thimble, an online code editor. By allowing users to add their own words and images to a premade comic strip, Current Events Comic Strip helps teach a wide range of skills to audiences who are just learning to code:
Storyboarding a six-panel narrative
Writing captions and speech bubbles
Identifying online images that are free for use
Cropping images to the right aspect ratio
Ensuring that images have their own URL (and uploading cropped images)
Editing code to reflect a vision for a comic strip
Librarians can also add a component to the activity where participants add citations for each image.
Zine-o-Matic
For our session, Kopel remixed the Current Events Comic Strip to make the Zine-o-Matic. This online activity allows users to swap in words and images to create their own printable one-page zine.
While the skills taught here are similar to the comic strip tool, this activity has the advantage of moving fluidly between an online product and one that can be safely printed. Facilitators can also use the activity to demonstrate paper prototyping, or using paper, pencils, and glue to create a sample zine before coding the online version.
Image ideas
We also highlighted online collections where participants can find open source material for their comic strips and zines:
Keeping the web open requires attention to rights statements on each image. In our session, we briefly talked about using only images that feature open licenses like those established by Creative Commons.
In order to create something tangible in a short time frame, we also put together sets of open images to use in this activity. They range from the historic to the mammalian, and we are happy to share them with others for use in their teaching activities.
Questions about this activity are more than welcome!